Gold ETF products GLD and IAU finished with more than 1% gains for the week as the Federal Reserve announced it would continue to keep rates low into 2014. Perhaps more material for gold ETF investors is what the Fed did not say. No indications were given for a QE3 or further liquidity measures thus keeping gold from a strong surge upward. Here's the physical gold ETF performance grid from GoldETFs.biz showing recent returns.

Click to enlarge
Physical gold ETFs are virtually now flat over the last four weeks after a plunge downward beginning in late February after Federal Reserve testimony. They still remain positive for the year however.
Gold stock ETF products had a good week as well. The largest gold stock ETFs, GDX and GDXJ, gained 1.4% and 3.7% respectively. Despite the solid week of performance, all ETFs in the peer group are negative year to date. It should be noted that GLDX, the worst performing gold ETF this year, had the best week of all gold ETFs by rebounding over 4%. GGGG retains its spot as performance leader year to date. Here's the gold stock ETF performance grid snapshot from GoldETFs.biz.

Click to enlarge
Gold ETF products head into the new week with European developments and U.S. market data likely to be key catalysts. The mood seems to be slightly bullish for gold as Bloomberg reports that fund managers have increased their gold stakes as of April 17th. In addition, half of the gold traders surveyed by Bloomberg expect gold to increase in price this week. That percentage is a two week high.
From a technical standpoint GLD, the largest physical gold ETF in the world, is trading slightly below its 150 day moving average and is on an upward swing. It will be interesting to see if GLD has enough momentum to cross over the 150 day, a feat that has been denied multiple times over the last 45 days. To conclude this week's Gold ETF Report, here's the GLD 150 day moving average chart to chew on from stockcharts.com.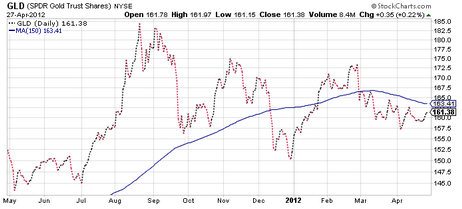 Disclosure: I have no positions in any stocks mentioned, and no plans to initiate any positions within the next 72 hours.
Additional disclosure: Christian Magoon publishes GoldETFs.biz.