F5 Networks (NASDAQ:FFIV) has seen quite the range in the last 52 weeks, trading near $70 at the end of last summer, and all the way back up to $140 a few weeks ago, for a perfect double. Since F5 hit that top in early April, it quickly descended back down to the mid-$120 range. Now it is finally breaking upwards again and making a ramp-up to $140, and I think this is a great opportunity for short-term traders, to take on a bearish position. Below is a chart showing F5, along with several moving averages, as well as displaying a set of bollinger bands.
Click to enlarge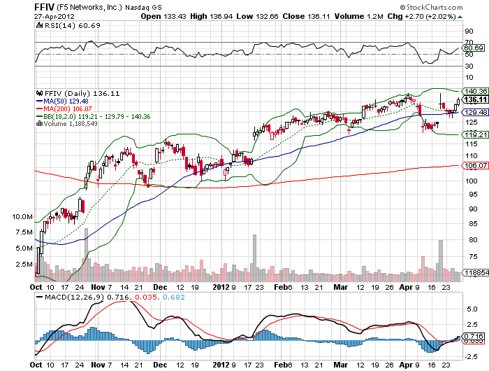 Above: 7-month chart of FFIV courtesy of stockcharts.com.
As you can see in the chart above, F5 is nearing the top channel on the upper bollinger band. It also had some stout support at the 50-day simple moving average, after having breached it several days before. However, should FFIV continue to rise, I would look to consider it a short candidate around the $140 area.
Above that there is not a significant amount of catalysts left to drive this higher, other than it being a former famed "mo-mo" stock. I think this name has risen too high too fast, and is sitting above its true value. However, it did report earning 10 days ago, which has been where the recent momentum has come from, and as it approaches the $140 mark, it should be carefully observed to make certain it is indeed running out of steam, or if there is still some gas left in the tank.
Don't get me wrong, I like F5 and the work it does in a new and upcoming field. I just don't think this $10 billion market cap company with a PE ratio over 40 can justify the current price. And as it approaches the top of its range on the upper bollinger band along with a rising RSI (though not in overbought territory), it is a candidate for a bearish trade.
Keep in mind that even though F5 is setting up as a bearish trade for the near future, this does not mean it will actually be a good trade on the short side. I can only write and talk about what I see, and what I see today may not be relevant three days from now. As we all know, the market can change in the blink of an eye, and everyone looking at this trade should consider that while it is setting up nicely at the moment, it may not be a good trade in the future. I will keep you updated, whether it means another article about the trade confirmation, or just in the "Comments section" displaying my new position.
Disclosure: I have no positions in any stocks mentioned, but may initiate a short position in FFIV over the next 72 hours.