Cellcom Israel Ltd. (NYSE:CEL) is a provider of cellular communications services in Israel. The Company offers a range of cellular services through its cellular networks. These services include basic and advanced cellular telephone services, text and multimedia messaging services, and advanced cellular content and data services.
As of December 31, 2006, Cellcom also offered international roaming services in 171 countries. It offers its subscribers a selection of handsets from various global manufacturers, as well as extended warranty and repair and replacement services. It also offers land line transmission and data services to business customers and telecommunications operators.
Since July 2006, Cellcom began offering land line telephony services to selected businesses. As of December 31, 2006, the Company provided cellular communications services to approximately 2.884 million subscribers, including basic cellular telephony services and value-added services, as well as handset sales.
FUNDAMENTALS:

Cellcom Israel is a company that posts a profit every year but struggles with consistency from year to year. That may be changing with 4 straight quarters of excellent quarter over quarter earnings growth of 107%, 59%, 55% and 61%. Sales growth could be a bit stronger but is solid with quarter over quarter growth of 23%, 21%, 10% and 15% over the past year.
Following year over year earnings growth of 18% in '06, the company is expected to post growth of 54% here in 2007, with estimates of 12% growth in '08. Those kinds of growth numbers aren't world beating like some of the other companies I've posted in the Stock of the Day section, but they are good and represent greater consistency in growth than in years past.
Where the company really shines is in Return on Equity which has spiked to 150% recently and indicates a strong management team. Net margins are good at 14% and have also spiked in the past year. Overall, this is a company with strong fundamentals.

TECHNICAL:
CEL is a stock that IPO'd back in February of this year and didn't take much time to break out from its first base just a couple months later. It ran up roughly 30% before falling into another shallow base with tight price action. Both characteristics of bullish action. I'd have to say that this is one of the best looking base formations and resulting breakouts out there right now. Following Tuesday's move it's a bit extended from a proper buy point, but any kind of minor pullback from here might offer a great spot to play it.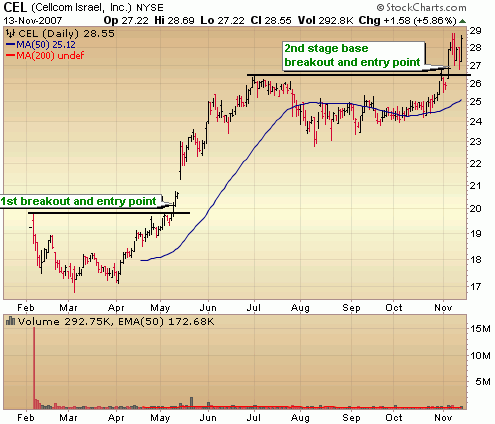 Full Disclosure/Disclaimer: The stock of the day is by no means a buy recommendation. Please do your own research and make a personal decision based on your own tolerance for risk. I currently do not own a position in Cellcom (CEL).