On April 25, 2012, Sprint Nextel (NYSE:S) reported results that exceeded everyone's expectations, including our own. We have seen a number of green shoots that we were looking at in order to justify our position in Sprint, as well as possibly adding more to it. We were blown away with the fact that revenue growth on the Sprint platform was over 16%, far exceeding the collective growth of Verizon (NYSE:VZ) and AT&T (NYSE:T).
Click to enlarge
Source: Company press releases
Areas we would like to see improvements

We were disappointed that losses and capital expenditures increased on a year-over-year basis. However 88% of the increased losses related to non-recurring events. The company received a one-time net benefit of $170M from the LightSquared spectrum hosting contract termination and incurred $543M of accelerated depreciation related to the company's planned shutdown of the Nextel iDEN platform. Sprint has shut down 1,300 iDEN sites and expects to shut down an additional 8,300 total iDEN sites by the end of the year.
We also rationalized the increased capital expenditures were due to Sprint's Network Vision Program. So far the company has approximately 600 sites on air meeting speed and coverage enhancement targets. Sprint expects to bring approximately 12,000 sites on air by the end of 2012 and launch 4G LTE in six major cities (Dallas, San Antonio, Atlanta, Houston, Baltimore and its home territory of Kansas City).
We are intrigued with Sprint launching 4G LTE in Dallas, San Antonio, Atlanta, and Houston, as those four cities are in the heart of AT&T's incumbent local exchange territory. Atlanta is where AT&T Mobility is headquartered, Dallas is where AT&T is headquartered and San Antonio is where AT&T's predecessor Southwestern Bell was headquartered. Also the increased CapEx has helped support Sprint's iPhone sales efforts
We are displeased that the postpaid Churn rate increased to 2.01% for the quarter, versus 1.98% for Q4 2011 and 1.81% in Q1 2011. We remembered that this was largely due to the involuntary churn impact of some acquisition activities in the second and third quarters of 2011. We continue to expect a step down in Sprint platform postpaid involuntary churn beginning in the second quarter, and improvements in voluntary churn longer-term, driven by the ongoing improvement in Sprint's customer experience and the iPhone.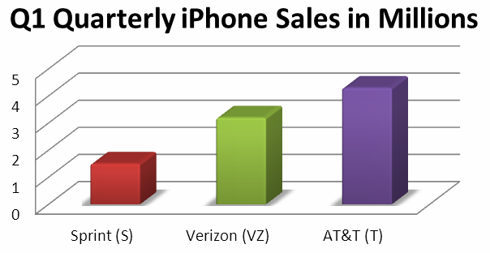 Click to enlarge
Source: Company press releases
We are disappointed that even though Sprint has the least expensive data plan, Sprint only sold 1.5M iPhone devices versus Verizon's 3.2M or AT&T's 4.3M. However, we're glad that Sprint saw a smaller quarter-on-quarter decline in iPhone sales than Verizon and AT&T.
Source: Company press releases
Areas we can see that progress is being made
Despite selling 1.5M iPhones from Apple (NASDAQ:AAPL), which carry $450 subsidies per phone, Sprint only lost $51M more money than last year, excluding previously identified non-recurring expenses. 44% of iPhone sales were to new customers and over 10% of its postpaid client base now has Apple's cutting edge iPhone smartphone. Analysts have raised concern that Sprint won't be able to satisfy its purchase commitment of $15.5B to Apple .
We ran a quick estimate in which we assumed that all 3.3M iPhones Sprint sold were the low-end iPhone 4 model at $550 wholesale cost and we estimated that Sprint has spent at least $1.815B on Apple iPhones, at this pace Sprint will be able to meet 94% of the contract assuming sales volumes remain constant. We expect that Sprint has sold an assortment of higher-end iPhone 4S models and that iPhone sales will steadily increase as people see Sprint's improvements in customer service.
The company has no debt redemptions until 2013 and bulked up its cash position with a $2B bond sale on March 1, 2012. The weighted average bond coupon was 8.0625%. Since Sprint generated positive free cash flows, it did not need to tap the bond proceeds this quarter. Gross cash and short-term investments were $7.57B as of Q1 2012, up from $5.6B as of Q1 2011.
We noticed that one bright spot for Sprint was its rapid growth in wholesaler & affiliate subscriptions in 2010 and 2011. Wholesales and affiliate subscriptions more than doubled (107.5%) from the end of 2009 to the end of 2011. Q1 2012 was no different, as the company added 785K net wholesale and affiliate subscribers, which exceeded the 389K added in Q1 2011, representing a 10.88% quarterly increase in wholesale subscribers and exceeding the 734K and 726K in total net new subscribers from Verizon and AT&T, respectively.
Sprint continues to dominate the prepaid segment. Sprint added 489K net prepaid customers during the quarter, as 381K customer losses from the Nextel platform were more than offset by the 870K added on the Sprint platform. Prepaid churn continued its decline, down 7bp from the linked quarter and 75bp on a year-over-year basis.
We're impressed that Sprint added more prepaid customers than its two bigger peers AT&T and Verizon combined, as well as more prepaid customers than Leap Wireless (LEAP) and MetroPCS (PCS) combined. We're glad Sprint's Board of Directors vetoed Dan Hesse's $8B proposed acquisition of MetroPCS as MetroPCS saw a sharp decline in operating income on a year-over-year basis today. We're also pleased that if one excluded Nextel, Sprint's quarterly prepaid customer growth exceeded the combined prepaid growth of the four other companies that reported.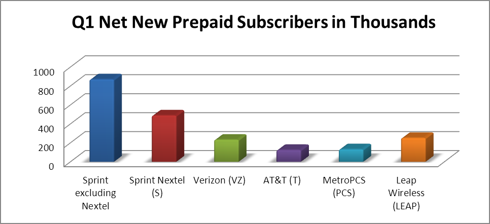 Click to enlarge
Source: Company press releases
Though Sprint saw a quarterly decline in postpaid subscribers by 192K, we noticed that the net decline came mainly from the Nextel platform. The Sprint postpaid platform added 263K net subscribers, a 4% increase from last year. Sprint reported that it was able to retain 46% of Nextel's churn during the quarter, up from 27% in the prior year period. Thanks to the addition of the iPhone, postpaid ARPU has increased by 6.6% year-over year.
ARPU vs VZ and T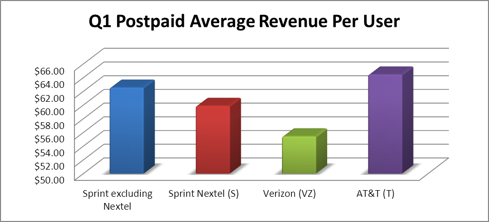 Click to enlarge
Source: Company press releases
While Verizon was the undisputed leader in Q1 postpaid adds, the Sprint platform managed to gain more postpaid contract customers than AT&T.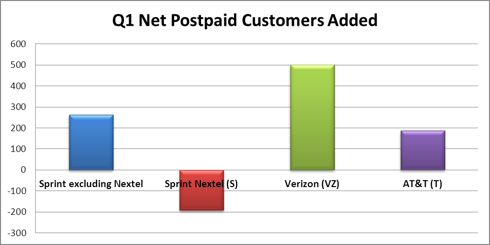 Click to enlarge
Source: Company press releases
Sprint's majority owned subsidiary Clearwire (CLWR) reports today after the close. We can see that CLWR had reduced losses versus the year ago period as Sprint's equity investment losses declined by nearly $140 versus the prior year period. Clearwire also signed Leap Wireless's Cricket Wireless brand to a 5-year wholesale LTE network agreement. Sprint achieved strong smartphone penetration during the quarter and has a greater share of its postpaid customer base on smartphones than AT&T and Verizon.

Click to enlarge
Source: Company press releases
In conclusion, not only will we maintain our holding in Sprint Nextel, but we intend to add more and we believe that investors should steadily accumulate shares of the company, especially during down days in the market. Sprint's improved customer service experience has yielded positive, tangible results, especially with regards to adding customers. Sprint even began reporting connected devices as a separate business operating metric.
Though Sprint's 3M connected devices scale is smaller than AT&T's 13M, we believe that Sprint has the potential to improve its results here as well. Finally, the reason why we are recommending investors purchase Sprint versus any other wireless company, particularly Verizon and AT&T is because the Sprint platform added more net customers in Q1 than Verizon, AT&T, Leap Wireless and MetroPCS combined.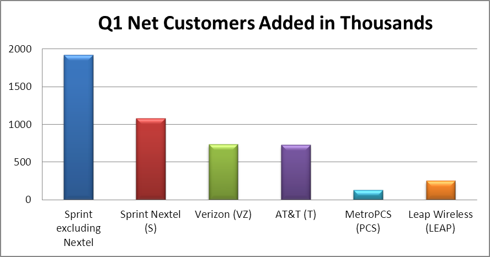 Click to enlarge
Source: Company press releases
Disclosure: I am long S, AAPL.
Additional disclosure: Saibus Research has not received compensation directly or indirectly for expressing the recommendation in this report. Under no circumstances must this report be considered an offer to buy, sell, subscribe for or trade securities or other instruments.