The five companies covered in this article have an average upside of greater than 30% based on median consensus analysts' estimates. Furthermore, these stocks are down on average nearly 40% from their 52 week highs. Finally, most of these stocks are trading significantly below their book values. On average, they are trading 15% below book value at .85 of book.
This screen is a value investing screen. Value investing is an investment paradigm based on the investment philosophies on of Ben Graham and David Dodd. Graham's most famous student is Warren Buffett. Value investing comprises purchasing securities whose shares seem underpriced fundamentally. Value securities predominately are stocks in public companies that have low price-to-book ratios.
Value investing has proven to be a successful investment strategy. Studies have consistently found that value stocks outperform growth stocks and the market as a whole. The question is… are these value trades or traps? Is the deep discount justified or does the market have it wrong and an opportunity exists? With the recent run up in the market, I believe investors may take profits on their winners and rotate into these value plays.
Now, simply screening for top S&P 500 stocks trading at less than book value and significantly below consensus estimates is only the first step to finding alpha. In the following sections, we will take a closer look at these stocks to determine if the discounts are justified. I will perform a brief review of the fundamental and technical state of each company. Additionally, we will discern if any upside potential exists based on sector, industry or company specific catalyst. The following table depicts summary statistics and Friday's performance for the stocks.

Citigroup, Inc. (C) and Morgan Stanley (MS)
Two banks topped the list, Citigroup being a large money center bank and Morgan being a leading investment brokerage. Nevertheless, they both are trading for approximately half their book values. The banks have had a rough time as of late. The global markets just can't seem to shake the fears of a financial crisis emanating from Europe. I posit this anxiety is overblown. The Eurozone has not fallen apart as many have incessantly predicted for the last two years. Moreover, the Eurozone appears to be losing its influence on the broader markets. Bond yields of the Eurozone fringe sovereigns which were rocketing higher have sunk to manageable levels with the back-door liquidity injections engineered by the ECB via the LTRO.
I am bullish on both these banks. I speculate there are several industry catalysts for the U.S. banking sector. U.S. banks are well ahead of their European peers with regard to capital requirements. The sector is flush with liquidity, capital and reserves. U.S. banks are trading at low price-to-earnings multiples even when taking into account lower earnings expectations and are trading at approximately five multiples below normal. Also, the European banks will inevitably have to retract certain credit lines to meet new requirements, creating an opening for U.S. banks to take market share. Let's take a closer look at Citigroup's and Morgan Stanley's current fundamental and technical statistics as well as possible company specific catalysts.
Citigroup, Inc.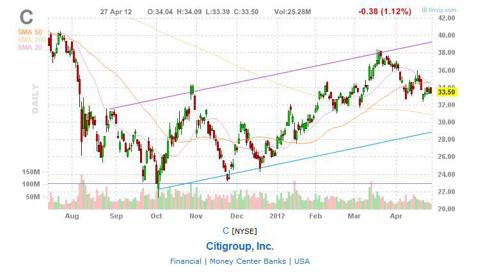 Citigroup looks vastly undervalued with a forward P/E of 7.11 and a price to book ratio of .54. Although Citi did not pass the stress tests, it was by a hair and only due to Citi including an increase in its dividend. The stock recently achieved the coveted Golden Cross where the 50 day crosses the 200 day sma. Although the stock has pulled back to below its 50 day sma, the uptrend remains intact. Citigroup has significant upside potential with a mean consensus estimated price target of 24 analysts of $44.50 and a current share price of $34, Citigroup has 30% upside potential.
Citigroup has partnered with Google (NASDAQ:GOOG) to provide a service called Google Wallet in the massive growth industry referred to as mobile payments. Google Wallet is a service that allows users pay for goods and services with Android phones. I see this as an excellent buying opportunity.
Morgan Stanley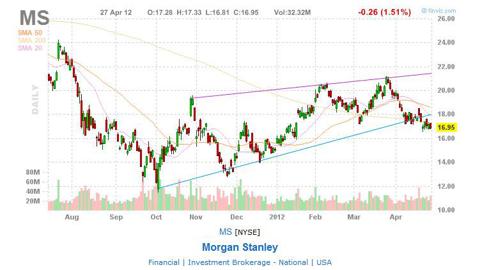 Morgan Stanley looks undervalued with a forward P/E of 6.95 and a price to book ratio of .54. Although the stock has pulled back to below its 200 day sma, I posit this is due to baseless macro risks. Morgan has significant upside potential with a mean consensus estimated price target of 26 analysts of $23 and a current share price of $17, Morgan has 35% upside potential. Morgan's quarterly EPS and ROE are at multiyear highs. Morgan scored the upcoming Facebook (NASDAQ:FB) IPO which may not have that material of an impact on Morgan Stanley's revenue, although it is brand building to be sure. I am contemplating starting a position this week.
Hewlett-Packard Company (NYSE:HPQ)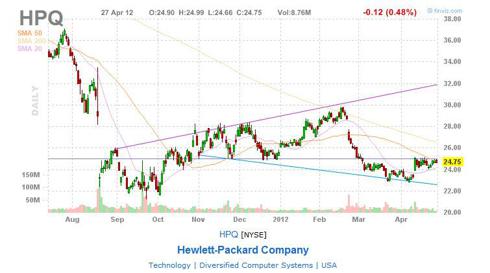 HP has had a rough go of it as of late. The stock took a shellacking when they missed the street's estimates last quarter. Moreover, Meg Whitman, president and chief executive officer, changed her tune regarding guidance implementing the under promise and hopefully over deliver axiom.
HP looks undervalued with a forward P/E of 5.59 and a price to book ratio of 1.25. Although the stock has pulled back to below its 200 day sma, it has been consolidating at this level for the past two months and formed a solid base.
Additionally, HP appears to be making all the right moves and may become a big player in the cloud computing industry. Advanced Micro Devices (NYSE:AMD) recently selected HP to provide a cloud data center for them. AMD stated standardizing with HP will help them reduce their data center footprint by more than 50 percent. Another growth catalyst for HP is the Big Data industry. HP recently agreed to purchase a Big Data player called Vertica. Vertica is a market leader in big data and may assist HP advance substantially in the big data market. HP did $550M big data business in 2011.
The prospects are huge for cloud and big data computing. Cloud data center and big data opportunities are prevalent and mushrooming. This is a multi-year secular growth story of epic proportions. If you expect to outperform the major market indices, I would suggest having some exposure to this industry.
HP has significant upside potential with a mean consensus estimated price target of 23 analysts of $30 and a current share price of $24.75, HP has 21% upside potential. I like the stock here.
Baker Hughes Incorporated (NYSE:BHI)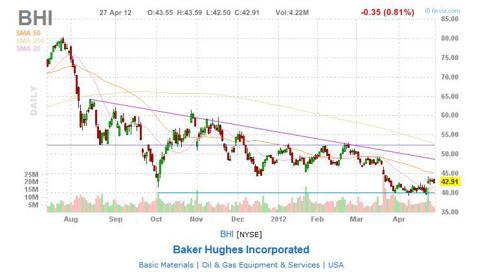 Baker has many fundamental positives. The stock is trading down 47% from its 52 week high and approximately 28% below consensus estimates. Baker has a forward P/E ratio of 9.05 and a price to book ratio of 1.19.
Baker had disappointing earnings and was severely oversold in my opinion. I am bullish on the sector. Recent reports from competitors Halliburton (NYSE:HAL) and Schlumberger Limited (NYSE:SLB) were positive. This is a buy low, sell high opportunity. With EPS projected to grow by 31.30% next year, Baker shares appear undervalued at current levels. I like the stock here.
Chesapeake Energy Corporation (NYSE:CHK)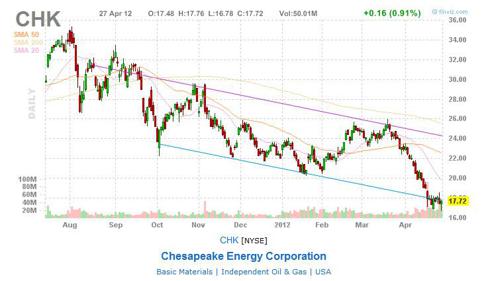 The stock is trading down 50% from its 52 week high and 57% below consensus analysts' estimates after getting severely beaten down due to another round of shenanigans by Aubrey McClendon. Although the company has many fundamental positives, stay away from this one at least until after earnings. I don't see earning going so well due to the recent downturn in natural gas prices. Chesapeake is in the process of switching from nat gas to liquids, nonetheless, that process will take some time. I posit they will get caught short on both the top and bottom lines pushing the stock even lower. At some point in the not too distant future I see this as a buying opportunity and a potential buyout candidate. Nevertheless, I recommend avoiding it for now.
Conclusion
Four of the five stocks appear to be value trades rather than traps and merit further due diligence. Chesapeake may become a buying opportunity at some point. When you see the stock hold up as more bad news gets released, that may be a sign the stock has bottomed.
I have been around long enough to know macro headline risk provides great opportunities to buy sound companies at discount prices. As we all know, in life, timing is everything. This could be your last chance to pick up these stocks at this level once investors realize things aren't as bad as they seem. Widespread pessimism about a stock can drive a price so low that it overstates the company's risks, and understates its prospects for returning to profitability. Identifying and purchasing such distressed stocks, and selling them after the company recovers, can lead to above-average gains.
Use this information as a starting point for your own due diligence and research methods before determining whether or not to buy or sell a security. If you choose to start a position in any stock, I suggest layering in a quarter at a time on a weekly basis to reduce risk. If you want to minimize losses even further consider setting a 5% trailing stop loss order as well.
Disclosure: I have no positions in any stocks mentioned, but may initiate a long position in BHI, MS, C, HPQ over the next 72 hours.