With over half the S&P 500 (SPY) constituents reporting earnings, results have been broadly positive as earnings per share have expanded by 6.74%. Constituents showing positive year-over-year growth have more than doubled those showing declines (179:84). Companies beating consensus analyst estimates have more than tripled those disappointing (203:64). Most of the earnings growth was driven by top-line sales, which expanded by 5.68%. Net income has grown by 6.32% with the remainder of EPS growth driven by a reduction in shares outstanding as corporations continue share buybacks with their cash-rich balance sheets.
The gains have been relatively broad based with information technology companies (XLK) leading the way and materials producers (XLB) and utilities (XLU) lagging. Below is a chart of quarter-to-date earnings performance by sector.
(click to enlarge)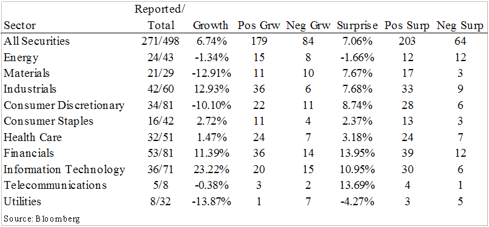 While earnings growth has moderated (see chart below), many market participants have been calling for flat or negative earnings growth as top-line results were presumed to be pressured by the economic malaise in Europe and fiscal drag from the government sector domestically. Others have contended that earnings growth has been spurred mostly by driving margins to unsustainably high levels through expenditure reductions in this low economic growth environment. Earnings have continued to defy analysts' downward revisions as earnings growth thus far through the reporting cycle is only marginally lower than the trailing fifty year average S&P 500 earnings growth rate of 7.9%. While growth has slowed, readers should remember that the trailing period comparables are becoming tougher as we move further past the end of the recession.
(click to enlarge)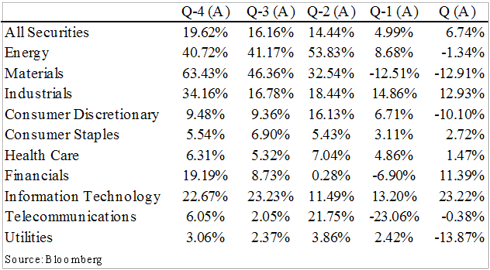 A 6.74% annual earnings growth rate would produce 2012 earnings per share of $101.45. At Friday's close of 1403.36, the S&P 500 would need to climb 20% to return to its historical earnings multiple applied to the current price level. Investors can make there own determination about whether the risk premium inherent in equity prices is sufficient, but corporate earnings thus far side with the bulls.