On March 8th, 2012, Molycorp (MCP) announced a critically important acquisition of Rare Earth Processor Neo Material Technologies. The next day, the market responded by sending MCP shares up 19%. Almost two months later, the enthusiasm has clearly waned with most of the post-acquisition gains now lost. The chart below shows the subsequent post-acquisition rally stopped cold at $35 at the bottom of a large unfilled gap down from November.
(click to enlarge)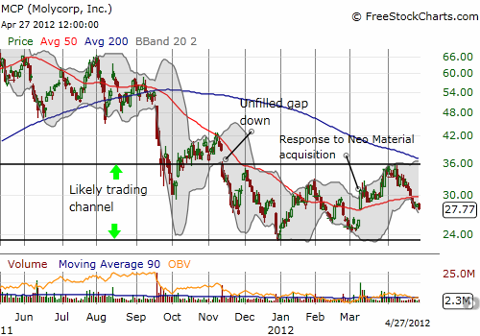 Molycorp likely trapped in a trading range for now
Source: FreeStockCharts.com
I am guessing that the initial response was so strong because short interest approached or reached a 52-week peak ahead of the announcement. By the end of March, short interest fell back 10%. Undeterred, shorts are climbing aboard again. As of the last settlement date, April 13, shorts were a hefty 40% of MCP's float.
(click to enlarge)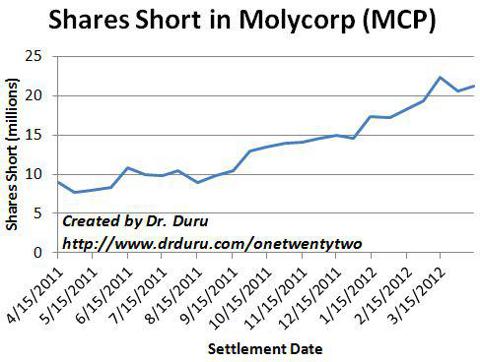 Shorts continue to ramp against Molycorp
Source: NASDAQ.com short interest for MCP
Commodity-related stocks in general have lagged in 2012. While MCP is up for the year, it has sorely lagged over the past year. I asked a friend of mine for his thoughts on MCP's latest inability to maintain its gains. He gave me several bullets:
Rare earth element (REE) prices are dropping again.
Prices of Neo Material's products (refined REEs e.g. metals rather than oxides) are also falling.
The market has a propensity to overshoot.
Near-weekly "we're ready to start" press releases from Lynas (OTCPK:LYSCF).
Molycorp's ramp-up schedule not being press release ready for several months yet.
He added that this price weakness SHOULD be a buying opportunity assuming previous statements or implications from Molycorp remain true:
The acquisition makes MCP less sensitive to REE prices, because cheaper REEs lower Neo Material's costs.
Prices going back to "normal" calms REE consumers' fears and prevents demand destruction.
I think until MCP's ramp-up begins in earnest and the evidence of that ramp becomes undeniably palpable, the market will continue to ignore MCP's positive longer-term story. Short interest will also increasingly weigh on the stock. Accordingly, I continue to recommend protecting long positions in MCP. I have alternatively bought protective puts and/or sold calls against existing positions on rallies. I used last week's weakness to close out the bulk of those positions.
Be careful out there!