Annaly (NYSE:NLY), American Capital Agency (NASDAQ:AGNC), Chimera (NYSE:CIM), Armour Residential (NYSE:ARR), Invesco Mortgage (NYSE:IVR) and Hatteras Financial (NYSE:HTS) are all major U.S. listed mREITs that offer dividend yields between 12% and 17%. The only reason that long investors consider these stocks is for their dividend. Declining revenues, earnings, cash flows, distributions and warnings (partly from industry executives) about the adverse impact of improving economic conditions on this industry, are readily ignored.
In my last article, I argued that large payout ratios and the interest rate cycle are convincing fundamental indicators that point to decreasing yields and stock prices. Instead of facing that payout ratios of 100% and more are unsustainable, capital increases are diluting shareholders and distributions must be reduced, investors rationalize that fundamentals are still supporting an mREIT investment as they assume, in a self-deluding manner, they can precisely predict when the Federal Reserve is changing interest rates or when interest hike expectations are more credibly priced into markets.
Vehemently arguing to buy a mREIT, or a bond for that matter, while transitioning into an expansion indicates to me that economic realities might be ignored. Even a reduction of 27% of NLY's peak distributions in Q4 2009 or falling distributions in seven out of the last nine quarters do not convince long investors otherwise, as they are blinded by a dividend yield that will eventually come down to reflect economic realities.
Stock prices have to come down for returns to be risk-adjusted. This is a proven economic fact that is ignored by the majority of long investors. As a contrarian, the louder the other side defends its position, and the less substantiated it is (GAAP numbers and ratios are irrelevant, accusations of a lack of knowledge aimed at others who dare to question an investment thesis, a lack of modeling expertise etc.), the more attractive the opposite side of the investment. It oftentimes marks the end of a bullish case when market participants are not susceptible to the most fundamental economic principles.
The only representative of a longer-term distribution record is NLY. Other mREITs have significantly shorter distribution records and are more severely exposed once rates rise or rise faster than expected. It is sometimes argued that NLY has historically had a dividend yield of over 10%, and should be doing just as well going forward. What this argument ignores is that the yield is skewed as both length and depth of the last recession favors NLY's performance presentation. A deep recession and a prolonged phase of zero interest rates is a low-probability event and should not be extrapolated. NLY is going to reduce its distributions massively going forward and should be expected to earn more normalized distributions of $0.2-0.3 per quarter. It just takes a dividend reduction like the one which occurred for Q3 2003 to see that the time for mREITs is over.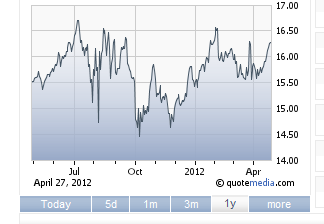 I am short NLY with a price target of $12.
Disclosure: I am short NLY.