The recent events in the fiscal life of Procter & Gamble Co (PG) caused the stock to drop about 10% on a huge gap down. Often these reactionary gaps backtrack and end up "filling" themselves in over a period of days or a couple weeks. In trading circles, this is known as "closing the gap." But with the news and events leading up to this we are not sure this is the case with Procter & Gamble.
It was a devastating blow for the company and has followed a familiar pattern this first quarter. Earnings came in better than expected at $0.94 (down from $0.96 a year ago but ahead of the $0.93 expected. Sale rose 2% to $20.19 Billion but just below expectations of $20.29 billion. This has been a disappointing pattern for companies as of late but it is not what caused investors to react so aggressively against it.
It was the downward adjusted EPS of ($0.79-$0.85) that sent negative vibes through the markets. Because of the difficult macro economic environment in Western Europe and the deceleration of U.S. market growth investors do not see much of a reason to put their money in the company right now. This is the reason for the reactionary gap down. Consumer Edge Research analyst Javier Escalante said.
"We think that the market won't pay for P&G savings, unless P&G sales growth is at par with peers."
Free cash flow did improve for a second straight quarter, coming in at $1.4 billion after the dividend payout. P&G's cash flow has been pressured by elevated commodity costs and money spent developing new products. P&G has taken a journey to spend 4 years cutting costs by $10 billion but with the failed price hikes of last year, it may not be enough to help in the near future. Analysts are frustrated that the company's restructuring wasn't yielding results fast enough, as P&G continued to under-perform its peers.
For this reason, the stock may continue in a bearish trend for the next couple quarters-or at least not move up much and stay in a trading range. It may find support at (62-63.25) as it presently trades at 64.44 and we would not be surprised if it trended clear down to the 60 support level.
(click to enlarge)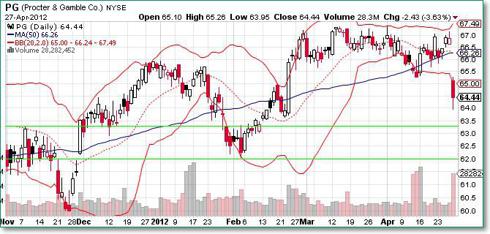 There is not doubt the stock is not in favor with analysts or investors until it can prove it will keep up with its peers and stop underperforming. This takes time but we can take advantage of the stock's bearish trend short term with a bearish options play.
The Options Play
We do like a straight up put option purchase on this one short term.
Buy the July 2012 put with a 62.50 strike (priced at $1.04)
Strategically, we will be looking for a resale of the option at some point.
Reasoning behind the Trade
The stock has fallen out of favor with investors and analysts.
It will take time to turn the stock around. Bears will prevail short term.
It has support between (60-65.25) so it should be able to drop to or close to the strike price of the option.
At a certain profit point, resale of the option would be the strategy.
Procter & Gamble gapped down but we do not expect that gap to be filled on account of three things. The company readjusting future EPS projections down; price hikes failing and the company having to backtrack on them; and analysts' impatience with the lack of results from the company's restructuring efforts.