Entertainment software company Gigamedia Ltd (NASDAQ: GIGM) has been on the downslide since October 31, 2007, dropping from a high over $24 per share to a low on November 12, 2007 in the mid $16 range.
Now on Tuesday, in anticipation of Gigamedia's earnings announcement this morning, the stock jumped $4.67 to close at $21.10 on over 3.1 million shares traded. The average analyst estimate is 14 cents per share.
I want investors to really look at this stock because the run on Tuesday was too strong for an anticipated earnings announcement for this particular company. Unless something extraordinary is happening with Gigamedia such as an acquisition or a merger of sorts then this run will probably be very short lived.
I would not be shocked at all if Gigamedia slipped back into the mid teens, possibly the $16 range, once the true value is realized by investors. The stocks run was gradual on the way up from the $16 range back in September to its 52-week high of $25.42 earlier this month. But after slipping back to the $18 range a few days ago, the stock shot up like a rocket.
In my opinion it was all hype and momentum in Tuesday's trading session; once this settles in, probably by the open today, the stock may just shave off a few points as it goes to where it should be and that is in the $16 range.
As I said, unless something really special is announced at 8am today, this badboy doesn't really deserve to be this high.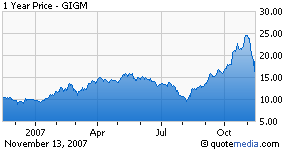 Disclosure: none