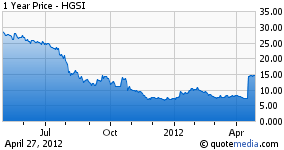 Recently, Human Genome Sciences (HGSI) chose to reject a $2.59 billion takeover bid by GlaxoSmithKline (NYSE:GSK).
The bid from GlaxoSmithKline was, as it must be pointed out, unsolicited. GlaxoSmithKline was responsible for assisting the smaller company to put its first drug on the market, devoting nearly twenty years to this end. However, Human Genome rejected the bid because, as it alleged, GlaxoSmithKline undervalued the company. It expects to get a better offer and intends to explore other options. Human Genome Sciences has hired Goldman Sachs and Credit Suisse to assist in its decision about where to go from here. The company invited GlaxoSmithKline to explore with it.
GlaxoSmithKline is, unsurprisingly, disappointed by the rejection of the offer. Apparently the CEO of GlaxoSmithKline considers the merger to be strategic and that costs will be reduced significantly if it can buy Human Genome Sciences. Investors in Human Genome Sciences would also receive immediate and certain value, which they are currently not privy to. Thus, Glaxo's attempt to buy Human Genome is not really a surprise. Speculation regarding the possibility that the larger company would one day attempt to acquire the smaller one has been ongoing for a long time.
GlaxoSmithKline, along with Human Genome Sciences, currently share profits from the sale of Benlysta. Benlysta is the first new drug to be developed for treating lupus in over fifty years. However, the drug focuses on treating the symptoms rather than the disease. Despite this, sales have been lower than expected. I do believe, however, that, in the long run, the drug could represent a major source of revenue for the two companies. Because Benlysta has not made a huge impact on the market so far, many think that Human Genome Sciences will have difficulty finding another suitable buyer. GlaxoSmithKline may yet be its best option. GlaxoSmithKline will most likely NOT increase the bid, especially if it believes that no other companies will step forward.
As far as Benlysta's underperforming, we need only to remember one thing: GlaxoSmithKline wants to buy Human Genome Sciences. For me, this indicates that the larger company still has some faith in the future success of the drug. The question will be whether other large pharmaceutical companies see any long-term growth and revenue possibility.
Human Genome Sciences is not, generally speaking, a great stock option. The only other drug that it has apart from under-selling Benlysta is Abthrax, which treats anthrax poisoning. The drug is sold to the government for stockpiling and that's really its only marketable possibility for now.
When the company first arrived on the scene, there was a lot of excitement about its drug development plans. It proposed ideas for isolating genes and developing drugs based on these discoveries. However, none of these early experiments managed to yield significant results. In general, Human Genome Sciences has largely been a disappointment.
However, the company's rejection of GlaxoSmithKline's may be a very strategic move. Instead of quietly rejecting Glaxo's offer, Human Genome Sciences made the bid public. The move showed Human Genome's power in rejected the money, claiming that Glaxo had undervalued the company. It is essentially challenging Glaxo and other companies to bid higher as well as inviting GlaxoSmithKline along in the process to find alternative solutions for acquisition. Whether this move pays off in the company's stock price will remain to be seen, but it certainly isn't going to be strong-armed by the larger Glaxo.
Some of Human Genome Science's main competitors in the industry are also making changes that will affect the industry. Amgen (NASDAQ:AMGN) and Pfizer (NYSE:PFE) intend to dissolve their partnership. At this point, Amgen will take control of the marketing of the anti-inflammatory drug, Enbrel within the US while Pfizer will continue to market the drug outside the U.S. The agreement between the two companies will expire near the end of 2013. The move to hand over the U.S. marketing of Enbrel to Amgen will be made to ensure customer service continuity. Pfizer intends to soon launch a competitor to the drug, part of the reason why it is willing to give up some marketing rights to Enbrel.
A major competitor is Gilead Sciences (NASDAQ:GILD). Gilead was recently lauded as a leader among healthcare companies. The bay area company brought in sales of $8.4 billion last year, and has moved to become one of the leaders in the industry. As Gilead continues to profit on the sales of its variety of treatment offerings, Human Genome Sciences remains stuck in a possible mind war with GlaxoSmtihKline. It would better serve the company, perhaps, to develop new treatments to introduce to the market.
Another competitor, Biogen Idec (NYSE:GS), recently reinforced its commitment to deliver promising therapies for unmet needs in neurodegenerative diseases. Recently, representatives from the company were featured at the 64th American Academy of Neurology Annual Meeting where they highlighted the company's efforts to produce novel treatments in the area. Among the diseases it is trying to combat are multiple sclerosis and amyotrophic lateral sclerosis, both of which do not, at present, have effective treatments. The company basically aims to use novel sciences to combat diseases such as these. If Biogen Idec succeeds where others have failed there is a very good chance that the future of this company will look bright.
All around, Human Genome Sciences must see its competitors thrive on sales of breakthrough drugs and treatments. Once such a promising possibility, Human Genome Sciences has moved to become a minor player in the market. GlaxoSmithKline must see something in the company, or else it would use its proposed $2.59 billion to research a groundbreaking new drug. What Glaxo sees in Human Genome Sciences may stay a mystery until the larger company can complete an acquisition and profit on its hunch. If a buyout looms, Human Genome Science stock may rise, but nothing else on the horizon seems likely to promote any growth.
Disclosure: I have no positions in any stocks mentioned, and no plans to initiate any positions within the next 72 hours.