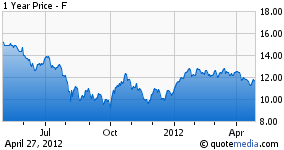 Automaker and best-ideas portfolio member Ford (F) posted first-quarter results Friday that were about in-line with our expectations. Revenue fell about 2% as a result of weakness internationally, and profits fell to $0.39 per share for the first quarter, lower than the $0.47 in earnings the company posted in the first quarter of 2011. The automaker also recently received an upgrade in its credit rating to investment grade from Fitch, which we think will lower borrowing costs and increase the profitability of Ford Credit going forward. We're sticking with our fair value estimate of the automaker.
Pre-tax operating profit in North America grew to a record $2.1 billion, with the segment's operating margin growing to 11.5% from 10.3% a year ago thanks to lower compensation costs and better pricing. The company increased its full-year SAAR (seasonally-adjusted annual rate) assumption to 14.5-15 million auto units in the U.S., after the SAAR came in at 14.9 million units during the first quarter. In fact, the only negative factor that we could point to in its U.S. performance was that Ford might not have been able to increase supply fast enough to keep up with consumer demand.
Unfortunately, weakness in Europe and Asia resulted in the lower profitability versus the same quarter a year ago. Europe posted a loss of $149 million, compared to a profit of $293 million in last year's first quarter, and revenue declined $1.5 billion. We think austerity measures will continue to impair economic growth in Europe for the foreseeable future, and it's likely auto sales in the region will remain weak. However, we think Ford will be able to deliver on a number of cost-savings endeavors, but not enough to operate profitably in the region this year. Specifically, the company predicts a full-year loss of $500-600 million. However, this isn't terrible given the well-documented weakness in Europe.
Profits in Asia weren't any better, as Ford swung to a pre-tax operating loss of $95 million versus a profit of $33 million in the first quarter of 2011. However, revenue increased almost 10% in the region, and management attributes the geographic loss to investments made for future growth. We like the company's strategy for success in China, even though General Motors (GM) currently has a stronger market presence. We think the market resembles the US in the early part of the twentieth century, with several small players fighting to gain share in what will be an enormous auto market. Ford's superior small-car product mix and low-cost structure will make it a favorite to do very well in Asia over the long term, in our view. Unlike Europe, the company expects to post an operating profit in the region for the full year.
Ford Credit also struggled in the first quarter, as its pre-tax operating profit fell to $452 million thanks to a reduction in the number of lease terminations, which resulted in fewer cars sold at a gain. We think Ford Credit will remain profitable, but not nearly as much as last year, since the company will be working through 2009 auto sales, which were extremely weak (meaning fewer cars were leased). However, we think leasing will accelerate again in 2013 and beyond, especially with the current inventory of used cars still severely undersupplied.
Perhaps the most interesting nugget of information was the announcement that the company intends to tender lump-sum payment offers to eligible retirees and former workers to settle pension obligations. We think the underfunded pension is one of the factors investors are very worried about, so any movement to lower this obligation substantially could be a positive catalyst for the long term.
All things considered, we are reiterating our view that Ford's shares are significantly undervalued. Though the dividend isn't very meaningful (a 1.7% annual yield at current levels), we think it provides some downside protection to the shares as well as some income for long-term holders, while the company works through issues in Europe and its pension obligations. The stock still looks inexpensive at 8 times 2012 earnings, and we continue to believe it remains a core holding in the portfolio of our Best Ideas Newsletter.
Additional disclosure: F is included in the portfolio of our Best Ideas Newsletter.