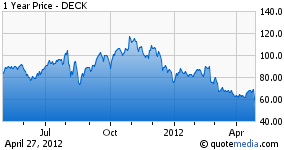 Ugg boots maker Deckers (NASDAQ:DECK) reported first-quarter earnings Thursday that fell short of consensus estimates and sent shares tumbling over 25% during Friday's trading session. The revised guidance of 14% year-over-year revenue growth and earnings that management believes will fall 9% to 10% next year has caused us to lower our fair value estimate for the firm to $73 per share (click here to learn more about our DCF valuation process). However, with $52 per share representing the lower end of our fair value range, we're growing more constructive on the firm's shares. We use a margin-of-safety band to capture the risk surrounding our fair value estimate of firms in our coverage universe.
For the first quarter, sales increased 20% to $246 million, while earnings per share fell 59% to $0.20. Yet, Ugg brand sales only grew 6.5%, and Teva, the company's sandal giant, saw sales dip 1% compared to the first quarter of 2011. Higher input costs pressured gross margins, which fell to 46% from 50% in the same quarter last year. Though these numbers were expected, we think guidance is what investors are really worried about.
Management expects the company to post a $0.60 loss in the second quarter (versus a loss of $0.19 in the same period a year ago) and thinks its gross margin will fall to 43% for the year. Furthermore, the company's decision to open new retail stores will boost fixed costs and hurt profitability through the course of 2012. Inventories nearly doubled over last year, though they fell slightly sequentially. However, we aren't as worried about growing inventories given the rise in raw material costs for Ugg boots. Plus, the company can sell Uggs any year since they don't actually change from one year to the next.
Even though the company has a few different brands, we think Deckers really comes down to Uggs. We think the exceptionally mild weather created a tough selling environment, which dragged down sales and hurt pricing in the first quarter. We also think some pent-up demand may accumulate because consumers didn't really have the opportunity to dress for the weather as much as they might in other years. Further, we believe Ugg boots aren't merely a fad, but rather a staple of the American female's closest. We think the brand can grow internationally given the boot's growing reputation for quality and comfort.
While we weren't very surprised about the weakness in the first quarter, we think it is prudent to ratchet down our estimates going forward. Deckers fair value of $73 per share represents a forward price-to-earnings ratio of 16, which is lower than many of its fast-growing peers like Nike (NYSE:NKE), Lululemon (NASDAQ:LULU) and Coach (NYSE:COH), but more reasonable given our tempered expectations.
Disclosure: I have no positions in any stocks mentioned, and no plans to initiate any positions within the next 72 hours.