Clearing Houses: The Next Too Big To Fail?
Fed Chairman Ben Bernanke quoted a great line from Mark Twain's character Pudd'nhead Wilson recently:
"If you put all your eggs into one basket, you better watch that basket."
It appears that all eyes are not watching the same basket. The giant game of "hot potato", a game I thought was over and done with, has an additional round or two yet to come. The existing TBTF institutions have managed to mitigate the impact of any default(s), of their own making, by flipping the concentration of risk onto the Clearing Houses themselves. The organizations responsible to honor and settle most derivative contracts will at some point in the future get exercised on their "short puts" and pay the lender in cases of default.
Clearing houses are not new. They have been in existence in the US for at least 150 years as an integral and necessary function in guaranteeing the flow of capital. The Clearing House was established in 1853 and is the elder banking association and payments company in the US. Eighteen international owner banks: Banco Santander, Bank of America, Bank New York Mellon, BB&T, Capital One, Citibank, Comerica, Deutsche Bank, HSBC, JP Morgan Chase, KeyBank, PNC, RBS Citizens, Regions, UBS, U.S. Bank, Union Bank and Wells Fargo employ well over 2 million people and hold over 50 percent of all U.S. deposits.
Background/History
According to Wikipedia.com (click here for additional history):
A clearing house is a financial institution that provides clearing and settlement services for financial and commodities derivatives and securities transactions. These transactions may be executed on a futures exchange or securities exchange, as well as off-exchange in the over-the-counter (OTC) market. A clearing house stands between two clearing firms (also known as member firms or clearing participants) and its purpose is to reduce the risk of one (or more) clearing firm failing to honor its trade settlement obligations. A clearing house reduces the settlement risks by netting offsetting transactions between multiple counterparties, by requiring collateral deposits (aka margin deposits), by providing independent valuation of trades and collateral, by monitoring the credit worthiness of the clearing firms, and in many cases, by providing a guarantee fund that can be used to cover losses that exceed a defaulting clearing firm's collateral on deposit.
Here's the kicker: many are becoming more worried as G20 policymakers continue to consider Clearing Houses as part of the solution to the problems created by the over-the-counter (OTC) derivatives markets. The same area that contributed heavily to the financial market collapses of 2008-2009. Bringing on the meltdown was the open unnoticed trades being hashed out bank to bank or business to business. Below the radar trades were being done without any clearing process to speak of. Defaults became pandemic taking down many companies while the American taxpayer became the lender of choice to bail out the considered "too big to fail" companies.
Since 2009, policymakers in the US and Europe have joined hands around the proverbial campfire with a choir of financial lobbyists singing kumbaya. To be fair, the reasoning process behind looks good, but all derivatives are not created equal or properly cleared or collateralized.
Policy change and total implementation (scheduled to be completed by December 2012) have increased margin requirements and expanded the role regulatory agencies play in implementing and enforcing new requirements placed on the various banks, clearing houses, and insurance companies.
Transparency achieved - check. Collateral (margin) requirements tightened - check. Insurance guaranteed against losses to the buyer in case of default - check. Are you smiling yet?
There are always losers in a game of "musical chairs" - logic tells us that. Consider this, the number of Clearing Houses is not expanding in number, but the amount of risk being taken on has increased exponentially over the last three years. Just as in the game there are never enough chairs to accommodate the number of players, similarly there doesn't appear to be enough collateral put up or fees collected to pay should one or more Clearing Houses go down. Can't happen you say - so went the thought as Lehman Brothers, Bear Stearns, AIG, Merrill Lynch, and a host of others went down in 2008-2009.
Regulators (policymakers) believe new policy set into place since 2009 is sound and seek to allow clearing houses to assume more risk as they pass stricter collateral rules. As of June 2011, OTC derivatives totaled an estimated $700 trillion, leaving the $83 trillion on listed exchanges miniscule in comparison. That is nearly $800 trillion worth of "hot potato" being slung around amongst a small group of global clearing and trust banks and insurance companies.
Research
Using the Revere Data Hierarchy, I drilled down the following sector path Finance (1,236 companies), Investment (353 companies), Securities, Sales & Trading (204 companies) to the Clearing, Custody and Settlement sector comprising 84 companies, of which 5 are focused (generate 50% or more of revenue) within clearing, custody or settlement. The graph speaks for itself in that some out there have already recognized the danger lurking within the new regulations. My personal thoughts are that they are the same institutions that are backing the policy change. Lesson learned - sort of - they are not going to be left out when the defaults begin and capital is shifted. Check out how credit default swaps are traded and used to understand more.
Name
Ticker
Market Cap.
3 Month Return %
YTD Return %
2 yr return %
3 YR Return %
Dividend Yield
1 Day
Bank of New York Mellon Corp
BK
27969.8
9%
17%
-25%
-21%
2.29
Northern Trust Corp
NTRS
11039.9
8%
17%
-18%
-26%
2.62
SEI Investments Company
SEIC
3617.8
6%
14%
-14%
37%
1.51
State Street Corp
STT
22464.7
9%
12%
-4%
31%
2.15
United Western Bancorp Inc
UWBK.PK
5.6
9%
227%
-92%
-98%
0.00
S&P 500
SPX
4%
9%
17%
60%
Average
13019.5
8%
57%
-31%
-15%
1.72
Total
65097.7
8.58
Nonetheless, some major clearing banks have not participated as fully as others in the recovery off of the 2009 lows. For the most part, upside didn't begin in earnest until 2012, and while there may be more to come before the executioner swings into action (more on this below), the overall picture is lackluster at best.
Four Focused Companies To Consider
Research and analysis presented on Bank New York Mellon and Northern Trust below. State Street Corp and SEI Investment Co will be covered in a forthcoming article.

Bank New York Mellon Corp (NYSE:BK)
Here is the view from within, taken from the November 2011 edition of Think Algo magazine "In Conversation" with BNY Mellon's Scott Linden, Managing Director Derivatives Collateral Management Services. The italics emphasis was added by me.
..the rule making process has led to, in some cases, more questions than answers. Scott D O'Malia, Commissioner of the Commodity Futures Trading Commission, addressed this in recent testimony before the Commission.

He also shared the observation that while the schedule for reform is converging internationally, the underlying policies aren't converging at the same pace. Faced with these challenges, and a mandate to put central clearing in effect by Q4 2012, a lot of firms could find themselves in for a rude awakening.

It's becoming a consensus that we're looking at an increase in collateral requirements to the magnitude of 2-3 trillion USD. ISDA's last survey estimated that the amount of collateral in circulation in the OTC derivatives market was approximately $2.9 trillion by year-end 2010. If the rules are implemented as currently discussed, it's going to have an enormous impact on liquidity.

Some of the rules that have been proposed around what remains OTC will require significantly higher margin requirements, initial margins or independent amounts and lower or zero credit thresholds or no credit thresholds will also be a factor. Depending how everything gets finalized, and whether some client sectors such as insurers get an exemption, there are numerous variables that are going to affect the final picture. But everything that I've seen, and I think the industry has seen similar studies, indicates that there's going to be a huge increase in demand in the market to acquire good collateral. And there's only so much to go around. Source:Think Algo Magazine November 2011 - emphasis: by MJF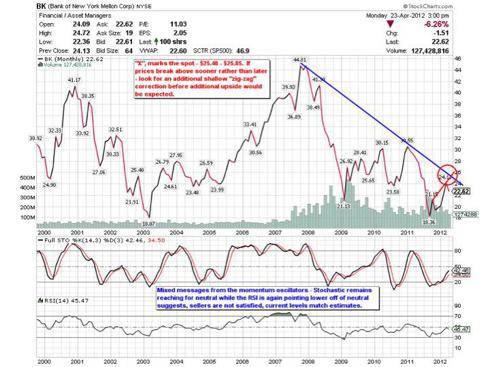 The mid- to long-term picture reveals the BK actually bottomed (thus far) in 2011, while the majority of the financial sector bottomed along with the balance of the market is March of 2009. Prices need to hold above 21.15 to keep a more positive mid-term outlook in place. A break below 21.15 turns things negative. I wouldn't think this will happen without a jolt to kick it down. Therefore, expectations are for the advance in progress to continue - however, having said that, near term it appears that an additional push into the zone at $25.40 to $25.85 is set before prices relax, correct and prepare for the second leg up. Longer-term resistance around the $31 area may contain rally attempts.
Northern Trust Corp (NASDAQ:NTRS)
From the Annual 10K Report as of December 31, 2011
Risk Factors:
Inability of our internal controls to keep pace with our expansion may result in losses. In recent years, we have expanded the operational support located in certain jurisdictions where the electricity, communications, new personnel, and other systems necessary to support our activities may not be as strong as in the U.S. and established Northern Trust Hedge Fund Services LLC, a unit created in connection with the Omnium acquisition, which serves hedge funds and large institutional investors with complex portfolios. These expansions increase the risk that problems with our systems may occur and disrupt our operations, resulting in losses. Our internal controls might not keep up with the rate of growth resulting in losses.

Note 27 - Off-Balance Sheet Financial Instruments

Commitments and Letters of Credit. Northern Trust, in the normal course of business, enters into various types of commitments and issues letters of credit to meet the liquidity and credit enhancement needs of its clients. The contractual amounts of these instruments represent the potential credit exposure should the instrument be fully drawn upon and the client default. To control the credit risk associated with entering into commitments and issuing letters of credit, Northern Trust subjects such activities to the same credit quality and monitoring controls as its lending activities. Commitments and letters of credit consist of - Standby Letters of Credit obligate Northern Trust to meet certain financial obligations of its clients, if, under the contractual terms of the agreement, the clients are unable to do so. These instruments are primarily issued to support public and private financial commitments, including commercial paper, bond financing, initial margin requirements on futures exchanges, and similar transactions. Northern Trust is obligated to meet the entire financial obligation of these agreements and in certain cases is able to recover the amounts paid through recourse against collateral received or other participants.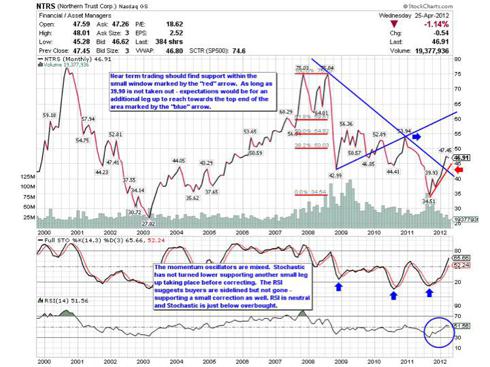 The mid-term outlook for Northern Trust would remain positive unless a break below 39.90 occurs. Near-term look for an additional high above 47.45 before a small correction takes over. As long as downside is contained above 39.90, expectations would be for an additional leg-up (similar to the one that began off of 34.50) carrying prices towards the upper resistance area just above 60.
Conclusion

Title VII of the Dodd-Frank Act imposes a new regulatory structure on the over-the-counter derivatives market, including requirements for clearing, exchange trading, capital, margin, reporting, and recordkeeping. In addition, certain swaps and other derivatives activities are required to be "pushed out" of insured depository institutions and conducted in separately capitalized non-bank affiliates.
The Commodities Futures Trading Commission (CFTC), SEC and other US regulators are in the process of adopting regulations to implement Title VII. This rule-making process should further clarify reporting and recordkeeping obligations, margin and capital requirements, the scope of registrations requirements, and what swaps are required to be centrally cleared and exchange-traded.
Until fully implemented it appears that nothing has changed. Many TBTF institutions have continued down the path previously taken without hesitation and at this point while the Act itself appears sound it doesn't appear thus far that its reach is far enough in reducing the massive risk the OTC derivatives market has created and is now in the process of pushing to Clearing Houses both here in the US and off shore.
Within the vast world of finance it has become increasingly clear to many that the global economies have managed to avoid a total "melt down" thus far. It is no longer a matter of "if" but one of "when". The writing on the wall is there for all to see.
Northern Trust and Bank New York Mellon are multi-billion dollar companies. That is clear - what isn't clear is what would it take to bring one or more down. What would the conditions be? Inflation? Deflation? What would be happening in the multi-trillion dollar Forex market? How large of a company or sovereign national debt would have to default to bring down a clearing bank as large or larger? How fast would it happen and would there be ample time to react?
Panic in the markets is a foregone conclusion. But out of that panic will come more opportunities to participate in and take advantage of. I just hope the system(s) in place will continue to function before giving up the ghost.
Disclosure: I have no positions in any stocks mentioned, and no plans to initiate any positions within the next 72 hours.