ImmunoCellular Therapeutics (NYSEMKT:IMUC) is one of my favorite companies in the biotechnology space, as a long-term investment. I bought shares in the company back in February, but just recently added to my position at $2.80. The stock has been one of the better under-the-radar performers of 2012. It has a technology that very few question, a number of advantages over similar companies, and several catalysts for both the immediate and long-term future. However, it is an OTC stock, which has been an area of concern for investors. Yet, recent rumors surrounding the likelihood of its upcoming listing on a large exchange have sparked a new round of optimism. Therefore, let's look at why this potential development could be so crucial for investors.
IMUC has traded higher in 2012 thanks to a realization of potential for its lead candidate ICT-107. The candidate treats glioblastoma, one of the most deadly forms of brain cancer, and treats it with significant improvements over standard care alone. The key to its treatment is immunotherapy, which is using the body's own immune system to fight the disease. But in addition, it targets cancer stem cells (CSC's) and six antigens, and is testing countless others that are highly expressed in glioblastoma, along with other cancers. Therefore, ICT-107 could very well treat a number of cancers with just one vaccine. The drug is easy to manufacture, cheap to develop, and can be stored along with countless other benefits. Not to mention, 40% of the patients treated with ICT-107 have surpassed three years of life while 6% will live three years with standard care alone.
The potential of ICT-107 almost makes you forget that IMUC is an OTC stock. Investopedia defines Over-The-Counter "OTC" as:
A security traded in some context other than on a formal exchange such as the NYSE, TSX, AMEX, etc. The phrase "over-the-counter" can be used to refer to stocks that trade via a dealer network as opposed to on a centralized exchange. It also refers to debt securities and other financial instruments such as derivatives, which are traded through a dealer network.
When a company trades on an OTC network it is usually looked down upon by investors. These stocks are typically viewed as riskier investments to own, as they are not mandated by the same rules and regulations to which a company on a larger exchange would have to adhere. A company that trades on the OTC is usually due to its size, not always, but often.
Most likely, IMUC trades on the OTC because of its size. The company now trades with a market cap over $100 million, but is a stock that has typically traded with a market cap around $50 million. Now, that the company has returned such large gains, and has exceeded a market cap over $100 million for a consistent period of time it makes sense that it would apply to a larger exchange. Below shows the listing requirements for the AMEX: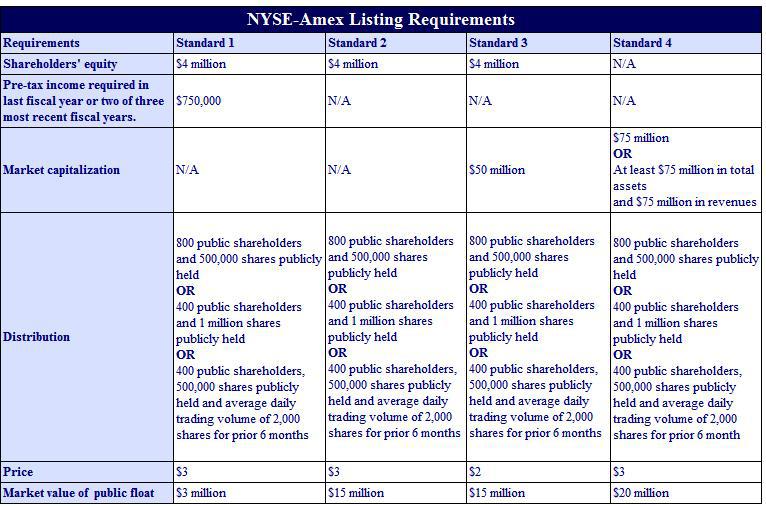 As you can see there are four standards for listing requirements on the AMEX; and IMUC fits into the third. The company has now met the minimum price requirement and should be able to hold it throughout the remainder of its clinical trials. It far exceeds the market capitalization standard, along with distribution. Therefore, it makes sense that IMUC would upgrade in the near future, which could open up a number of possibilities for the company.
Back in March, when the company surpassed and held a price above $2, I suggested the possibility of the company moving to a larger exchange. I believed a price below $2 per share was preventing the company from the listing. However, there is one other possibility that could explain why the company is yet to announce its listing. Perhaps it's because IMUC plans to apply (pdf) to the NASDAQ, a market that has changed its listing requirement (pdf) to $2.00 with a net asset value over $2.0 million. This means IMUC could be eligible for both the NASDAQ and AMEX. Either change could have significant advantages for this company and give it access to investors and capital that do not exist for the OTC stock.
Besides the label of being an OTC stock there are several disadvantages for a company such as IMUC that does not trade on one of the larger exchanges. For one, many institutional investors are restricted from an OTC stock. A common trend among institutional investors, money managers, and funds alike is index investing and to chase milestones during this volatile economy. For example, a money manager may buy into funds that mimic the performance of the S&P 500 (NYSEARCA:SPY) or an industry such as biotechnology, in order to perform with an industry. This has become a common trend among money managers due to the effects of a sideways and very volatile market. Yet because IMUC is an OTC stock it is not included in any of these funds and misses out on the additional value that being included within an index could provide.
The most popular small-cap index is perhaps the Russell 2000 (NYSEARCA:IWM). This index is widely regarded as one of the best because it provides value in both capital and recognition to be involved with the index. Yet despite the fact that IMUC may be one of the better small-cap investments, it is not eligible for such an opportunity of being included in the index because of it being an OTC stock. However, IMUC's likely listing to a larger exchange in the near future may be perfect timing for the company to be included in an index such as the Russell 2000. The Russell 2000 is balancing this summer, and if IMUC has a market cap that exceeds $130 million then it has a good shot at being included (last year the smallest company was about $130 million).
The possibilities for IMUC and current investors if the company is listed on a large exchange are seemingly limitless. Obviously, I don't know for sure, but I have to believe that this is a company that funds and large investors would be willing to buy because of its low valuation and early results that cannot be denied. Some individual investors cannot buy IMUC because of restrictions with their online brokerage firm. And like I said, some investors who use professionals may not have access due to the limitations of the firm. Therefore, the fact that it has posted a year-to-date gain of 100%, despite such limitations, is incredible and further speaks to the level of optimism surrounding the company. This is a company with early results that cannot be questioned, and I imagine that if it announces a listing on a large exchange it could lead to large gains and a significant amount of interest among institutional investors. Therefore, I think it's a stock worth watching over the next few weeks, because it seems logical that with the company meeting all noticeable requirements that it would want to make the change as soon as possible.
Disclosure: I am long IMUC.
Disclaimer: The information in this article is speculative and is the opinions of only the author. No investment decisions should be determined by this article alone, more due diligence is required.