On April 26, 2012, Dynavax Technologies Corporation (NASDAQ:DVAX) announced it submitted a U.S. Biologics License Application, or BLA, to the FDA for Heplisav, its treatment for hepatitis B. The company is pursuing an indication for immunization against infection caused by all known subtypes of hepatitis B virus in adults 18 through 70 years of age. The submission, comprising some 305 volumes, was submitted ahead of schedule, a surprise to some on the Street, given that it required revisions to accommodate the expansion of the indicated age group.
I initiated coverage of DVAX in late February, 2012, with the announcement that the results of a pivotal Phase 3 trial for it lead drug HEPLISAV for hepatitis B had been published in the journal VACCINE. The article was entitled "Comparison of Safety and Immunogenicity of Two Doses of Investigational Hepatitis B Virus Surface Antigen Co-administered with an Immunostimulatory Phosphorothioate Oligodeoxyribonucleotide and Three Doses of a Licensed Hepatitis B Vaccine in Healthy Adults 18-55 Years of Age." In it, Dr. Scott Halperin of Dalhousie University, the principal investigator and lead author, demonstrated how, in a comparison of Heplisav with Engerix-B [from GlaxoSmithKline (NYSE:GSK)] in 2,415 adults randomized in a ratio of 3:1, Heplisav to Engerix-B, the seroprotection rate at the primary endpoint after two doses for Heplisav (91%) was significantly higher than after three doses for Engerix-B (81%).
Given the data above, DVAX requested priority review for Heplisav. Why? Because the company believes, and the data confirm, the new treatment is a significant improvement compared to products currently on the market. Heplisav also is easier to administer. GSK's Engerix-B, according to the manufacturer, is given in a series of three shots, with the booster shots sometimes given 1 month and 6 months after the first shots. Heplisav, on the other hand, is administered as two shots, at 0 and 1 month, offering the patient considerable convenience.
According to the company, "[T]he total worldwide market for adult monovalent hepatitis B vaccines is estimated to exceed $400 million annually. Current vaccines leave unmet needs for more rapid and increased protection, particularly for less responsive, underserved populations."
The $400 million market cited above is interesting, because the total market capitalization for Dynavax today is only $746 million. Clearly, approval and subsequent ramp-up in HEPLISAV sales will have a significant impact on the market value of the company.
Dynavax anticipates submitting a European Marketing Authorization Application, or MAA, for Heplisav in 3Q12. Under an agreement with the FDA, and upon approval of the initial Heplisav BLA, Dynavax also plans to submit a supplemental BLA in the US with an indication and 3-dose primary vaccination regimen for patients with chronic kidney disease, or CKD. According to the company, "… the chronic kidney disease market is large, growing rapidly, and is widely recommended for vaccination. In 2008, there were approximately 750,000 end-stage renal disease, or ESRD, patients in the United States and major European markets, with approximately 150,000 new patients added annually."
In addition to its Heplisav hepatitis B vaccine, Dynavax has a pipeline comprising clinical programs in a universal flu vaccine (phase 1) and in hepatitis B therapy (phase 1) as well as partnered programs in autoimmunity/inflammation (phase 1; GlaxoSmithKline ) and in asthma/COPD (pre-clinical; AstraZeneca; (NYSE:AZN)). Dynavax's first quarter 2012 financial results can be found here.
Technical Analysis
The Daily chart, courtesy StockChart.com, shows the stock, after touching the 50-day moving average (blue line), has recovered and appears to have begun a new uptrend. The MACD data, though still negative, give signs of turning positive. On Friday, April 27th, MLV Equity Research raised its price target from $8 to $10, and rated the stock a BUY.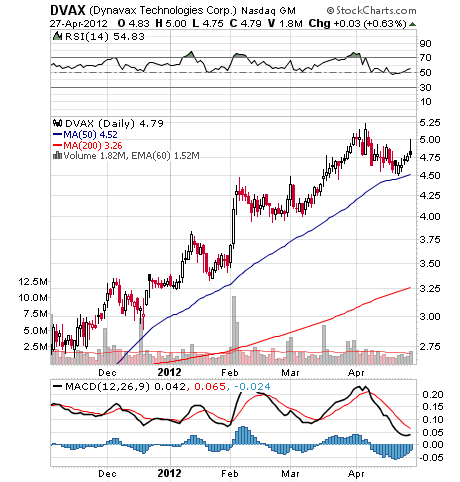 The Weekly technical data conflict with the Daily data. They show the Relative Strength just coming off an overbought condition, with the MACD showing the stock about to enter a period of distribution. Whether or not this contradiction will be resolved by the stock moving sideways to slightly downward for a period of time (as it did early in 2011) until it meets a rising 50-week moving average (blue line) can only be determined with the passage of time.
Disclosure: I am long DVAX.
Additional disclosure: I am long DVAX and will not alter my position within 72 hours of the time of publication of this article. I am not a registered investment advisor and do not provide specific investment advice. The information contained herein is for informational purposes only. Nothing in this article should be taken as a solicitation to purchase or sell securities. Before buying or selling any stock you should do your own research and reach your own conclusion. It is up to investors to make the correct decision after necessary research. Investing includes risks, including loss of principal.