By: Brendan Gilmartin
Broadcom (BRCM) is scheduled to report 1Q 2012 earnings after the close of trading on Tuesday, May 1. Results are usually available at 4:05 p.m. EST and will follow with a conference call at 4:45 p.m. EST. Expectations are quite high headed into the release given the company's exposure to the Apple iPhone. According to iFixit, Broadcom's Bluetooth and Wi-Fi combo chip are embedded in the popular device, along with a host of other premier smartphones.

Outliers & Strategy
Key measures:
Non-GAAP Earnings Per Share: The Street estimate is $0.55 (Source: Yahoo! Finance), at the high end of the projected range ($0.51 - $0.58).
Revenues: Broadcom said back in January it expects revenues between $1.7 billion and $1.8 billion. The estimate is at $1.8 bln, with a high estimate of $1.83 bln. The firm noted sequential revenues for Broadband Communications and Mobil & Wireless are expected to be down, while Infrastructure Networking is forecast to come in flat.
Revenues Guidance: The current consensus is $1.97 bln. If the low end of the outlook is above this estimate, Broadcom may extend its advance. If the high end of the range falls short of the consensus, look for a potential pullback.
Sympathy Plays: MIPS Technologies (MIPS), Marvell Technology (MRVL), MaxLinear (MXL), PMC-Sierra (PMCS), and EZchip Semiconductor (EZCH).
Broadcom is now trading at just 11.4x forward earnings, resulting in a Forward PEG ratio of just 0.84, implying the shares are trading at roughly a 15% discount to the estimated earnings growth rate.
Broadcom shares rallied more than 6% on April 25 in response to stronger than expected earnings from Apple (AAPL).
Recent News
· 03/29: Auriga Research maintained a Buy rating and raised the price target on Broadcom to $45, according to a post on StreetInsider.com. The firm cited competitive advantages versus competitors, including Qualcomm (QCOM), as well as the potential to gain significant market share in switching.
· 03/23: Susquehanna Investment Group told investors that Broadcom should benefit from Apple products, according to a post on Barrons.com. The report also indicated Broadcom may up its forecast for 2Q 2012.
· 03/07: Lazard Capital reiterated a Buy rating and $45 target on Broadcom, according to Barrons.com. The report suggested Amazon may use Broadcom's chips in the new version of the Kindle Fire, helping to lift Broadcom's profile in the tablet market.
Technical Review
Broadcom shares are up about 25% YTD, but 8% below the 52-week high of $39.66 established on March 27. The shares recently tested and held a key support level near $34.00, just below the 200-Day SMA. After a recent Apple-inspired bounce, the candlesticks have shortened and the volume has tapered off, suggesting momentum is waning ahead of the upcoming release. Current support is at $36.00, with downside risk to the aforementioned $34.00 level. Resistance is at the 50-Day SMA near $37.00, followed by $38.00. (Chart courtesy of StockCharts.com)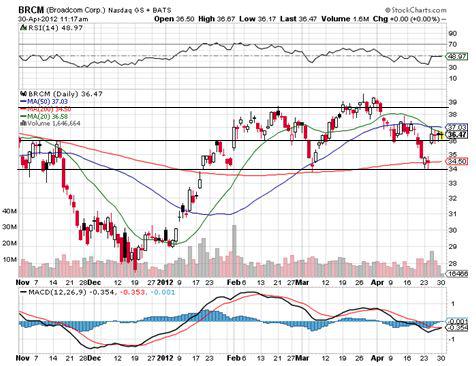 Summary
Expectations are quite high surrounding Broadcom ahead of the 1Q earnings release on May 1. But while the shares are off about 8% from the recent 52-week high, Broadcom needs to post results well above consensus for the 1Q 2012 period and offer up a solid outlook for 2Q in order to support the shares at these levels. Note that the Street is already modeling for Broadcom to beat the high end of its guidance provided for the 1Q. Failure to reach these targets could prove disappointing in the wake of the recent Apple-inspired run-up.
DISCLAIMER: By using this report, you acknowledge that Selerity, Inc. is in no way liable for losses or gains arising out of commentary, analysis, and or data in this report. Your investment decisions and recommendations are made entirely at your discretion. Selerity does not own securities in companies that they write about, is not an investment adviser, and the content contained herein is not an endorsement to buy or sell any securities. No content published as part of this report constitutes a recommendation that any particular investment, security, portfolio of securities, transaction or investment strategy is suitable for any specific person.
Disclosure: I have no positions in any stocks mentioned, and no plans to initiate any positions within the next 72 hours.