Sohu (NASDAQ:SOHU) reported its Q1 2012 results this morning, as follows:
Revenue: $227 million, +30% y/y and beating consensus of $225 million
Brand advertising revenue: $61 million, +7% y/y
Sogou revenue: $23 million, +184% y/y
Online gaming: $127 million, +34% y/y
GAAP EPS: $0.53 per share
Non-GAAP EPS: $0.61 per share
What I liked: Search and Online Video Continue to Show Robust Results
Sogou continues to deliver robust top-line results in which revenue increased by 184% y/y, compared to Baidu's 75% y/y over the quarter. Daily pageviews on Sogou also increased by 65% in March, which indicates continued strength in user adoption of Sogou products.
The top five advertising categories on Sogou are ecommerce, IT, FMCG, insurance, and education.
Click to enlarge image.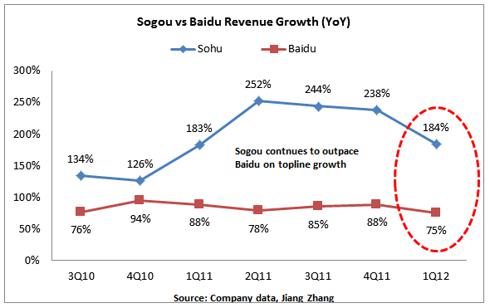 Sohu continues to build its online video platform by adding compelling content and improving quality. The unit recently aired a TV-series titled "Country Love," which was directed by Zhao Benshan, a well-known Chinese comedian. The series attracted over 260 million video views in the 30 days after the first airing.
Sohu is also partnering with Hunan Television Station to produce its original reality TV show, XiangShangbaShaoNian (向上吧!少年), which is similar to American Idol but features much younger contestants who are in their late teens and early 20s. The show has attracted over 150,000 contestant applications so far.
In the near term, Sohu TV likely will continue to face a bit of cost pressure due to the fact that most of the content was acquired when prices were at a peak. However, heading forward, cost will be mitigated due to industry consolidation and alliances. Note that Sohu will split the cost evenly with Baidu (NASDAQ:BIDU) and Tencent when purchasing content in their recent online video alliance. For a closer look at my analysis of the partnership, please refer to my April 26th article, "Sohu-Baidu-Tencent Bringing The Fight To Youku-Tudou."
Despite an alliance with Baidu and Tencent, CEO Charles Zhang has indicated that Sohu will be open to the acquisition of other video sites in China. As of last quarter, Sohu has $792 million in cash and short-term investments on the balance sheet, allowing the company to pursue strategic acquisitions of smaller players in the online video market.
What concerned me: Soft Brand Advertising
Brand advertising revenue was $61 million, +7% y/y and down 22% sequentially q/q due to concerns of economic slowdown in China. Note that advertisers from real estate and auto are cutting back their advertising budgets on Sohu, as both industries face macro headwind. However, I would also like to point out that brand advertising from e-commerce and FMCG continue to show robust results as these two segments are not facing as severe headwind as real estate and auto sectors.
Disclosure: I have no positions in any stocks mentioned, and no plans to initiate any positions within the next 72 hours.