American Tower leases cellular tower space to large network operators, primarily Verizon(NYSE:V) and Sprint (NYSE:S) and ATT (NYSE:T) in the United States, as well as Telefonica (NYSE:TEF) and Millicom (MICC) overseas.
While initially quite successful in the US, this success has attracted enormous competition which escalates as AMT loses control over its assets as leases expire.
There are four separate issues each of which could have billion dollar or greater impact on American Tower.
Issue #1: Loss of Control of Most Valuable US Towers
Issue #2: Property Taxes (ad valorem Taxation on higher basis from leasehold transactions)
Issue #3: India - Substantial Impairment Charges at Best, Total Write-Off Possible
Issue #4: SEC Investigation, Whistleblowers and other pests
Issue #1:
Leasehold Aggregation Activity
As I have discussed in earlier articles, one of the largest threats to AMT is the activity of leasehold aggregators. The goal of the aggregators is to secure the land leases under the top 5% of AMT's towers.
Leasehold aggregators are not afraid to put their money where their mouth is and commit substantial capital well in advance of the actual leasehold expiry. There are many companies engaged in this activity perhaps the most high-profile being Tristar Investors which is the largest single private landlord of American Tower. Aggregators have enjoyed substantial success which presents a very fundamental threat to the sustainability of American Tower's revenue and cash flow. These leasehold aggregation companies identify towers with enduring value and work with landowners to share future revenues from the tenants on the tower. AMT has been dismissive of the aggregators, as the saying goes; pride goeth before the fall.
Background on "Quality Drain"
Time is not the friend of American Tower. As time goes by the terms of its leases get shorter, which means that the eventual day of reckoning draws nearer. Certain cell towers are highly valuable, while others are not. The valuable towers have high tenancy rates and can be worth up to $2 million each. The owners of the land under these towers have been solicited by smart, well-funded aggregators who offer improved terms to the landowners if they allow the aggregator to control the land after the expiration of the current lease. This creates a "Quality Drain" effect within the tower portfolio of American Tower. The best and most profitable assets have largely been cherry-picked by the market. When the lease expires, the name on the fence will change and the network operators payments will no longer be made to American Tower. This is a problem for a company with a valuation in excess of 20x it's Funds From Operations.
Just Change the Sign on Your Way Out…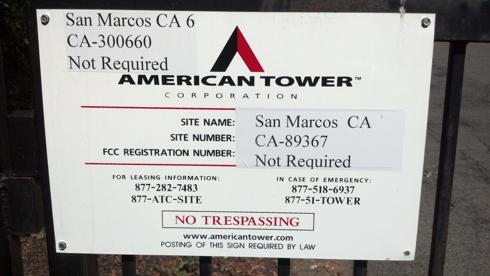 Issue #2: Property Taxes
American Tower does not own 87% of the land under its towers. It also does not own a large (but undisclosed) amount of its towers. The "ownership" which AMT claims of their towers is based upon sublease arrangements and purchase options it owns. AMT has a strong incentive to not purchase the land interests under its towers, primarily due to the change in their property tax liability it would cause. The trouble is that AMT may not have a choice.
As land aggregators secure property interests under AMT's towers, it can trigger a tax reassessment by local municipalities. AMT has thousands of leases and does not disclose details of any of them, however industry standard would indicate that the bulk of the cell tower leases and subleases are net-leases indicating that the lessee be responsible for payment of property taxes. In the case of AMT this can present a substantial cost.
In many jurisdictions the local assessor can reassess the value of towers at any time based upon the income generated from them. Municipalities have been slow to realize the value of some of the towers within their taxable base. A consulting industry has blossomed recently to help tax authorities identify valuable assets.
Commercial property tax rates vary widely by county and municipality, from less than 1% in some areas to over 5% in New York City.

Source: Limitedgovernment.org
Applying the national average of 2% to the difference between what AMT paid for its property and equipment, and the market value applied by AMT's current Enterprise Value yields a $520 Million tax bill, every year. (over $8.2 Billion in present value terms discounted at 6.5%)
Disclaimer: I understand that this methodology is debatable; I present these calculations as food for thought

Issue #3 India - Substantial Impairment Charges at Best, Total Write-Off Possible
American Tower (NYSE:AMT) has spent billions of dollars investing in its operations in emerging and frontier markets like India, Uganda, and Ghana. I have previously written in some detail about the very difficult position AMT finds itself in India. One of the threats is around a unified licensing regime, which will subject AMT to a variety of new license fees and revenue based taxation.
This week senior executives from AMT are on their way to India to plead their case with the minister of telecommunications Kabil Sibal (his predecessor is currently in Jail on corruption charges). In my opinion AMT is unlikely to get a very warm reception. The Indian government is trying to plug a structural deficit, and foreign companies like AMT are very popular targets for taxation in the eyes of the electorate. The new taxes from the unified licenses are just one of the headaches AMT faces in India.
AMT's Indian woes include:
Aside from the difficulty of acquiring assets in India without paying some form of graft, I am very interested to know if is possible to effectively operate 8,700 locations in municipal and state jurisdictions all over India without paying a bribe? As I have mentioned in earlier articles, I am prepared to travel to India immediately to seek answers to this and other questions about AMT's operations there. The other key question is what AMT's tenancy levels are in India. My contacts in India suspect that it could be less than 1, which does not make for a profitable tower operation.
Photos: K. Haliq
Industry sources have indicated to me that all options are still on the table relative to AMT's future in India. This would include a complete write-off and departure. This action would not inspire confidence in the wisdom of AMT's international growth strategy.
AMT has invested around a billion dollars in India since they went on an acquisition binge immediately after the former CFO left. That would be a lot of dollars to walk away from, but it might be the only choice. The recent upheaval in the telco regulatory framework in India has caused other major companies to walk away from similar investments in the last few months:
Telenor (Norway) - Walks away from $2 billion Indian Investment
Etisalat (NASDAQ:UAE) - Shuts down India JV, takes $829 million writedown
Bahrain Telecom (Batelco) - pulls out of India
The other countries where AMT is counting on growth are not looking much better; recent news out of Ghana shows that profitable tenant density levels are still a long ways off.
A Whole Lot Of Nothing…
| | |
| --- | --- |
| Nyakrom, Agona District, Ghana. | Larabanga, Northern Region, Ghana |
| | |
Photos: N.Ambodolu
Build It And They Might Come…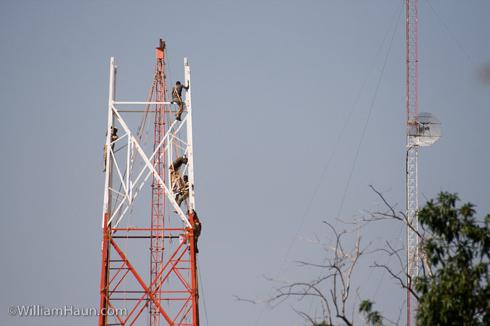 Photo: William Haun
Issue #4 SEC Investigation
AMT was served a subpoena in June of 2011 for documents dating back to 2007. This coincidentally was the period immediately preceding the abrupt departure of the highly regarded CFO Brad Singer in early 2008. The formal investigation has been grinding along for nearly a year now. Historically the longer an investigation takes the more invested the government becomes in the process and less likely to go away quietly. There are a host of items which could be under the microscope. AMT has disclosed Tax-issues as an aspect of the investigation which they feel is material (otherwise they would not have been required to disclose it). My opinion is that the investigation has nearly certainly spread beyond the realm of taxation. Historically if the US government does not find a reasonable cause for enforcement on the first item of suspicion (in this case taxes), they will generally say so within 6 months of obtaining the information under subpoena. As time goes on the plot only thickens.
Expectations for Q1
There are a few key moving parts in the American Tower story which have had substantial changes during Q1. I expect AMT to be compelled to address some of these in the upcoming Q1 earnings call on May 3rd.
Impairments Likely
AMT carries the value of it's Indian assets at cost (less accumulated Depreciation and Amortization). Given the very material shift in business outlook in India which transpired in Q1, I would expect that AMT is likely to need to write-down substantially the carrying value of these assets.
Overall, with the substantial increase in the rate of insider selling since the SEC Subpoena in June of last year, the rapidly evolving nature of telecommunications architecture, the deteriorating operational and regulatory environment within India, I think AMT is unlikely to stay at this lofty valuation for long.
Don't Follow the Leader
AMT historically has been the largest listed tower company. Recent strategic differences have emerged among it's competitors SBA Communications (NASDAQ:SBAC), and Crown Castle (NYSE:CCI).
AMT's strategy is to attempt to replicate the success it enjoyed in the US into a variety of emerging markets. I believe that AMT's experience in India is as good of a barometer as any of the types of problems that can arise with this kind of growth strategy.
Disclosure: I am short AMT.
Additional disclosure: I have options positions which will increase in value from a fall in AMT's share price.