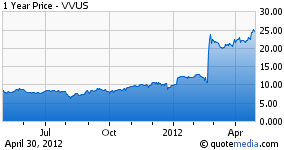 With a drug to treat erectile dysfunction (ED) approved and another to treat obesity rounding the turn, heading for home, these should be happy days at Vivus (NASDAQ:VVUS).
In some ways they are. Not many companies sport a $2.16 billion market cap despite zero dollars in sales. Not many companies propose selling 8.5 million new shares as the share price pops, spurred by an initial yes from a panel looking at Qnexa, its weight loss drug, in February.
Why all the excitement? Consider that the anti-obesity drug market, now estimated at $2 billion in 2017, could be worth even more if something safe and effective were available. And that despite insurers resisting payments, the ED market is estimated to be worth $3 billion.
The Vivus preparations have advantages in both these areas.
Then there is the real wild card in all this. Assuming Qnexa is approved, how much will Vivus have to spend in order to crack these markets? Can the wizards of Madison Avenue, so long criticized for leading patients to demand drugs from doctors rather than have doctors recommend to them - pull another rabbit out of the hat?
And what of these drugs' efficacy? Guaranteed success before the FDA will require Vivus to increase the size of its public policy team, and its lobbying budget. These conditions are shark-infested waters.
Still. You're looking at markets worth $5 billion, and the likelihood that most of the revenue Vivus gains from both drugs heading straight to the bottom line. We're talking profit markets that would put Apple (NASDAQ:AAPL) to shame.
Maybe.
Vatalyst sees the drug skyrocketing. I'm not as certain. I think success is going to put a very big target on Vivus' back, and I want to see the go-to-market strategy before I put any money to work with it. The announcement to wait for has to be that of the company's ad agency.
Disclosure: I am long AAPL. I sort of mentioned Apple as a joke, given their profit margins. This story is not about Apple at all, but I'm disclosing my 10 shares.