This year, the utilities sector has underperformed the broad market, however, expectations for strong earnings and economic indicators are pointing to stronger growth later in 2012. Exchange traded funds offer investors diversified exposure for the sector once the trend turns around.
Since the start of 2012, the broad market S&P 500 has returned around 9.4% , while the S&P 500 Utilities Sector Index was a negative 2.2%. S&P Capital IQ estimates that the consensus for utilities stocks will be 3.8% lower than 2011 results this year.
"One of the reasons for lower utilities earnings expectations in 2012 is the extremely strong earnings seen in 2011, which resulted from the extremely hot Summer weather that boosted demand for electricity to power air conditioners and the cold weather in the first quarter that increased heating demand," Chris Muir, S&P Capital IQ Equity Researcher, wrote in a recent report.
Gas utilities are facing earnings pressure as a result of natural gas prices through trading, exploring, production and marketing. Earnings from natural gas marketing businesses are down due to a glut in natural gas supply. Falling natural gas prices can have a negative impact upon some utilities earnings, reports Muir.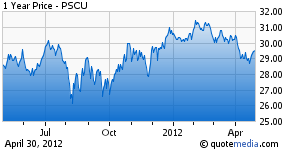 PowerShares S&P Small Cap Utilities Portfolio (PSCU) is an ETF that offers a large portion of the portfolio to natural gas. About 41% of the portfolio is dedicated to natural gas, with 13.7% invested in sub-industries. A low expense ratio of 0.29% is attractive and earns the fund a positive sentiment in the Cost Factors category by S&P Capital IQ.
Furthermore, electric prices remain low and stable, which is cutting into profit margins. Lower natural gas prices have kept peak power prices lower, and this trend is expected to last most of the year. The utility sector will remain in this state and stronger earnings may materialize after the second half of 2012.
Tisha Guerrero contributed to this article.