In this article, I attempt to find a few facts regarding the relationship between oil prices and economic markets. In particular, I pose two questions:
Do higher crude oil prices signal a slowdown in the economy, or are they merely a response to the (previous) economy's good health?
Do crude oil prices influence oil company stocks similar to the broader market?
Question 1: Crude Oil prices versus economy
Oil, really energy in general, can be traced to influence the bottom line of virtually any business. Obviously, some businesses are affected by it more than others. For example, if oil prices rise, I would expect a business like United Parcel Service (UPS) to struggle, while an oil retailer, like Exxon Mobil (XOM) should prosper, right? Not quite so simple. Turns out the old supply-demand curve has a lot to say here. The real question becomes: what caused the oil price to rise in the first place? If UPS had a boom in business, the extra transportation demand would cause oil prices to rise. Hence, this would represent a negative feedback, or an opposite reaction to the action as Isaac Newton said. Then, to throw in the icing, add in the occasional speculator and it quickly becomes a nightmare to figure out cause-and-effect.
The chart below shows the price of a barrel of crude oil and the S&P 500 (SPY) index going back to 1986.
(click to enlarge)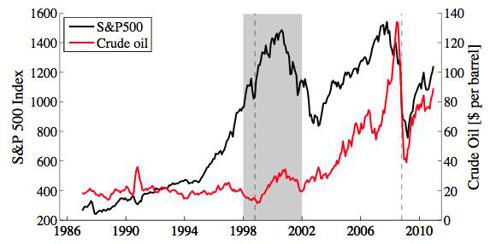 Comparing the movement of the two over this entire period yields little information. The correlation between the monthly % change in S&P500 and the monthly % change in crude oil is very small. As has been noted before, for example in this article, the reason for the small overall correlation is due to conflicting relationships between separate periods. However, in an attempt to simplify, I suggest splitting the chart above into three periods, marked by the dashed vertical lines:
Before 1998: Crude was extremely cheap due to relatively small global demand (virtually entirely from developed nations) and relatively plentiful discoveries. I like to compare this view to the present situation with ample natural gas stocks (large supply) and the weather being abnormally warm (low demand). There was actually a significant negative correlation between the crude oil price movement and the stock market.
1998~2008: Accelerating economic growth by the developing nations, coupled with more expensive drilling and fewer oil discoveries led to oil generally mirroring stock market movement. However, and this is key, oil prices lagged the stock market. For example, if we blow up the area in gray of the chart above, we see that when the S&P500 peaked between 2000 and 2001, oil prices only peaked one to three months later.
(click to enlarge)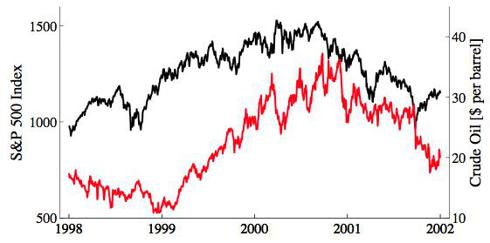 Since 2008: Since the speculation-induced crash in late 2008, oil prices have moved in remarkable unison with the stock market. Perhaps even more remarkable is that the movement has been in sync, and not with oil prices lagging, as in the 1998-2008 period. I present two different explanations for the tighter relationship between crude oil and the stock market. First, we assume the price of oil is "correct," implying an equilibrium between upward pressure from enhanced global demand and downward pressure from the increasing financial burden higher oil prices impose on the average company. Second, we assume that the price of oil is not correct, and the tight relationship is merely a demand for risk, regardless of the underlying instrument. Relatively recent comments by Exxon's Rex Tillerson stating that oil is overpriced suggest that the second argument is more likely. It remains to be seen whether there are ceilings in crude oil price that mark a potent ba to economic productivity. An economics textbook would have you believe so.
Thus, the short answer to question (1) is that the footprint of oil on economic activity has changed dramatically over time. Initially, with oil cheap and plentiful, a barrel of oil was an enormous leverage in nearly any business. Think big: how about the jump from horse transportation to cars. However, it is clear that this has slowly evolved to a more intimate relationship where at current levels, the price of oil is likely to be a substantial obstacle to our future growth.
A quick recap:
| | | | |
| --- | --- | --- | --- |
| | 1987-1998 | 1998-2008 | 2008-now |
| Correlation | -0.22 | 0.55 | 0.86 |
| Relationship | out of phase | S&P leads by 3 months | in sync |
Keep in mind the relatively low correlations before 2008 are still strongly significant. Given the myriad of factors affecting stock price movement, we can expect correlations anywhere close to 1. It is also possible that after several more years, the post-2008 correlation will drop off. In my opinion, as long as movement is in unison, this will not degrade the main conclusion.
Question 2: Crude Oil Prices versus the Oil Sector
Now switching topics a bit, I wanted to investigate whether oil company stocks respond differently to oil prices than the general market. I arbitrarily chose to look at Exxon Mobil , Chevron (CVX) and Anadarko Petroleum (APC), mainly because they have been around for so long. Below I show the price movement of all the indices under consideration, the three oil stocks, the S&P500 and crude oil.
It turns out that two big generalizations can be made from looking at this data, one on long scales, one on short scales. On longer scales, as seen in the chart below, oil company stocks follow the price of oil much more closely the the S&P500. Note the near complete absence of a high in the oil stocks around 2000, even though the S&P500 had a notable high. Given the fact that the oil stocks prices are a function of crude oil and risk appetite, plus the fact that they all pay out generous dividends, from an economics perspective, these are extremely low-risk, high-reward investments. (The only problem is the environmentalist in me will not give oil companies a single penny more than I have to, despite all the tree-hugging crap they try to promote through their PR campaigns. The invisible external costs they inflict on the environment are way to high.)
(click to enlarge)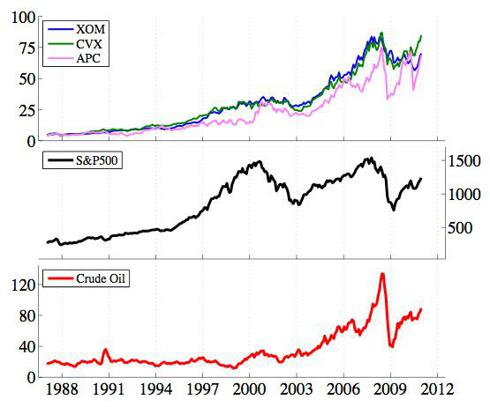 The second finding I wanted to show was quite a surprise to me, and is shown below. Unlike the charts above, which are monthly averages, the graph below compares the correlation between daily crude oil price movement (in %) and daily change (also in %) of Exxon Mobil's stock price. The use of XOM is not important; CVX and APC give the same result. I have tested this correlation when either oil or XOM lead the other by the number of days shown on the x-axis. First, the boring finding: for any forecast over 1 day, XOM and oil prices are uncorrelated. Keep in mind, these are daily prices with lots of noise. Hence, the results I have explained from part 1 will not be seen until we start averaging over weeks and months. However, note that during the same day, XOM and oil prices are certainly correlated. Now the real surprise: if we separate the data into 4-5 year periods, we see that there has gradually been a rather substantial increase in this relationship. In fact, compared with the 1987-1991 period, the past few years have seen a 5X increase in the correlation. I still don't have a good explanation for this, but it certainly suggests that investor behavior has dramatically changed.
(click to enlarge)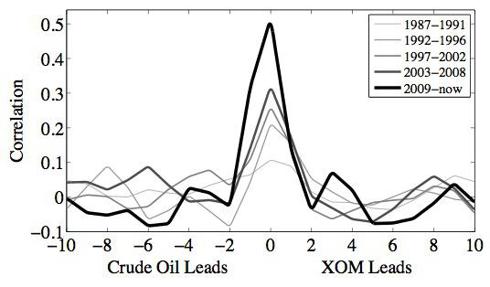 To summarize, I think two main things are worth noting. The way that crude oil impacts the markets has changed. It has increased in importance and will provide a constant check on the speed of economy. However, the way investors assess crude oil's importance has also changed, where now it is rather closely associated with most oil companies' stock movement.