Mirror mirror on the wall … in the age of Botox, chemical peels and facelifts, when more people, particularly women, are trying various ways to stave away and even erase the markings of time, Thermage Inc. (Nasdaq: THRM) is right in the thick of things. With its expanding line of non-invasive wrinkle treatments, Thermage has emerged quite fare from an otherwise blemished start.
One of the leaders in non-invasive age-defying technology, Thermage, based in Hayward Calif., was founded in 1995, and is focused on developing contouring and skin tightening procedures using radiofrequency technology. Its breadwinner, the ThermaCool system, uses radiofrequency to heat and shrink collagen, tighten the epidermis and encourage new collagen growth while simultaneously cooling and protecting the skin. The company claims that patients see immediate results and continuous improvement for up to six months after a treatment.
The company's dual business model of generators and recurring revenue stream from single-use tips is just one appealing factor for investors. Physicians purchase a ThermaCool generator for about $40,000 and then use disposable tips, which range in price from $150 to $900 per tip, for each treatment. A spokesperson for Thermage says the tips provide revenue stability and predictability for investors, not to mention steady cash flow for the company.
Thermage went public in November 2006 with less than stellar results, however, including a $7 IPO that fell well short of $11 to $14 expectations, along with a net loss for the year. In its second quarter ended June 30, 2007, however, Thermage bounced back, announcing record earnings and a huge turnaround from a tough year-earlier period. Revenue for the second quarter was $17.5 million, up 20% from $14.6 million for the quarter ended June 30, 2006, and net income was $1.3 million, versus a net loss of $1 million for the same quarter in 2006.
However it's not all sunbeams and starlight for this company. Thermage still faces criticism from some physicians and customers looking for more dramatic results from the product. Its stock price has drifted lower from a recent peak Oct. 10 of $7.98 a share, closing Tuesday at $6.65.
Third-quarter results, released last week, missed analyst expectations, partly because Thermage representatives spent an inordinate amount of time installing generators and training physicians who bought the product the previous three months, according to the company. Revenue came in at $13.9 million, an 11% increase from a year earlier, but below the $16 million expected by analysts. Net income totaled $423,000, or $0.02 a share, versus a $1 million net loss in the same period of 2006.
Still some analysts maintain the stock is undervalued. And with its strong gross profit margins of 78%, they believe the company's long-term prospects look good. The mean target price of four analysts surveyed by Thomson/First call is $12.25, about 80% above current levels.
Thermage CEO Stephen Fanning last week told investors that the company will be working to hire more sales staff and focusing on infrastructure so it can efficiently recruit new customers as well as maintain existing ones.
The company expects to have continued growth in the foreseeable future as the Baby Boomer population continues to age. Already this decade, from 2000 to 2006, the total number of aesthetic procedures in the United States doubled to 11.5 million, and noninvasive procedures rose to 9.5 million from 4.3 million, according to the American Society for Aesthetic Plastic Surgery. In 2006, more than $12 billion was spent on aesthetic procedures.
October was also a big month for Thermage. It revealed new tips approved to be used on other parts of the body, including arms, thighs, the buttocks and abdomen. The company also signed its first distribution agreement in the United States with Eclipse Medical Ltd. a distributor of advanced aesthetic technology. Eclipse will market Thermage's products in the south western part of the country. The company also plans to debut a new cellulite reducing procedure in 2008.
Getting a quick lip or eye treatment without injections or going under the knife has its appeal and will continue to be attractive as more people jump on the age-defying bandwagon. Thermage (THRM) may be just the kind of lift your portfolio needs.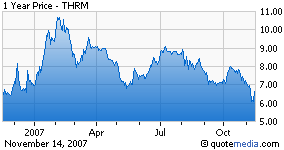 Disclosure: none