The world of television viewing is in a major transition. Just as over-the-air TV broadcasting was once upstaged by satellite and cable, there is a huge transition under way for video programming delivered over the Internet. Just as companies like Blockbuster and Borders fell by the wayside in technological tsunamis of the past -- while Netflix (NASDAQ:NFLX) and Amazon (NASDAQ:AMZN) rode the waves -- this particular transition will bring out its own winners and losers. Time Warner Cable (TWC), for instance, lost 94,000 residential video (cable TV) subscribers in Q1 2012 on top of the 129,000 it had lost in Q4 2011. At the same time, it continues to add high-speed data customers. This is an illustration of this complex, ongoing trend, and we look at where investors could go long and short. We also recommend one pure play company -- KIT Digital (OTC:KITD), a highly undervalued infrastructure play in this space.
Cutting the Cable TV Cord
According to Nielson, consumers in the U.S. who skipped cable TV offerings and stuck to broadcast TV and broadband grew 22.8% yr/yr in Q3 2011 vs. Q3 2010.
Click to enlarge all images.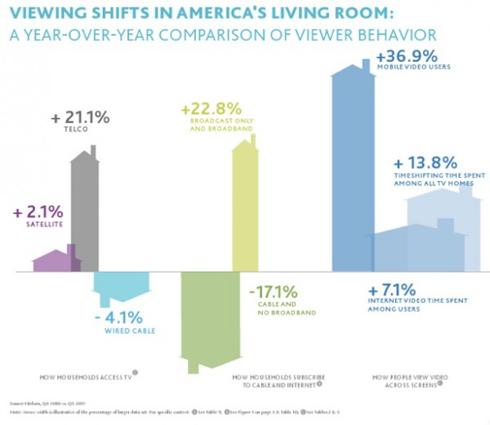 Nielson also reported that in a three-year period, the number of people watching video on the Internet increased by 21.7% while the number of those watching on a mobile phone grew a whopping 205.7%. These trends are even more clear when seen in the context of the age demographics, where the amount of those watching video on the Internet and mobile phones is much greater in the 18-50 age groups, foretelling future trends.

The Earth is Moving
All the players in the field are scrambling to position themselves for this huge shift in trend.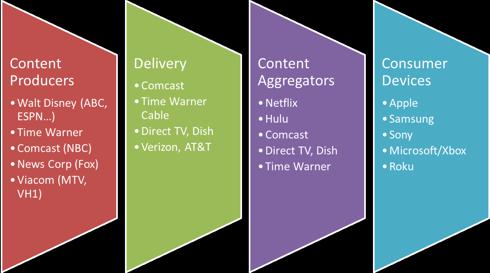 This includes content producers and aggregators like Walt Disney (NYSE:DIS), Time Warner (NYSE:TWX), Comcast (NASDAQ:CMCSA) -- with its NBC acquisition from GE (NYSE:GE) -- News Corp (NASDAQ:NWS), and Viacom(NYSE:VIA). It also includes those owning pipes and delivery mechanisms such as Verizon(NYSE:VZ), AT&T (NYSE:T), Time Warner Cable, Comcast and Direct TV (DTV) and Dish Network (NASDAQ:DISH), as well as new content aggregators like Netflix and Hulu. Finally, the trend also affects consumer device manufacturers, where companies like Apple (NASDAQ:AAPL) with the iPhone and iPad have both spurred this trend as well as benefited from it. Samsung, Sony (NYSE:SNE), Microsoft (NASDAQ:MSFT), with its Xbox offering, Nintendo with its Wii, and upstarts like Roku are also players on the consumer device end. Google's (NASDAQ:GOOG) YouTube is another dominant player in this new video consumption and delivery paradigm.
The existing players are scrambling to protect their turf by launching streaming offerings. Comcast has invested in Hulu launched Xfinity Streampix, Dish Network is augmenting its offerings with Blockbuster streaming service, and AT&T has launched UVerse. Amazon has also jumped into streaming with Amazon Prime. Netflix remains the player with the most paid subscribers in streaming video.
How to Profit From This Shift
On the short side, it is clear that companies that survived solely as traditional content aggregators, such as cable and satellite TV, will be the most affected. However, each of these is quickly trying to find a way to leverage its existing assets, most notably Comcast and Time Warner Cable with their shift to providing broadband Internet and phone service. Dish Networks and Direct TV remain more at risk, although there is some potential that their spectrums could be valuable for building out a 4G network.
In the mobile device space, Apple has been a clear winner and Research In Motion (RIMM) -- and its business-centric devices -- has been a loser, while Samsung has been eating Sony's lunch in electronics. Microsoft has been beating out rivals in gaming consoles with its Xbox, and Google is clearly a player to watch with the continued monetization of YouTube. However, all these are huge companies affected by multiple trends. As a pure play in video streaming, Netflix comes the closest as a content aggregator to bet on, despite its recent missteps. Even if you are bearish on Netflix, it has proven to be an important catalyst to spur the other players into action, and there are other opportunities to profit from the trend it represents.
In every gold rush, it is worth looking at who is making the tools. This shift from broadcast TV to multiscreen, Internet-based TV is a complicated technical challenge. It is prohibitive for every player in this game to roll out their own solution. On the other hand, there are very few providers that offer a "lens to lens" solution for the entire range of players. Lens to lens means a solution that starts from the lens of the camera where the video is captured to the eyes of the consumer where the video is viewed.
Within all this there is digital asset management, digital rights management, managing the physical bandwidth and streaming challenges, and converting/sizing the video for different screen resolutions, network bandwidths and latencies and aspect ratios. It is a challenge to put all of that together. One player that is encompassing the entire range as an SaaS provider is KIT Digital, with its vision of "powering the global transformation of traditional broadcast to multiscreen broadband TV. "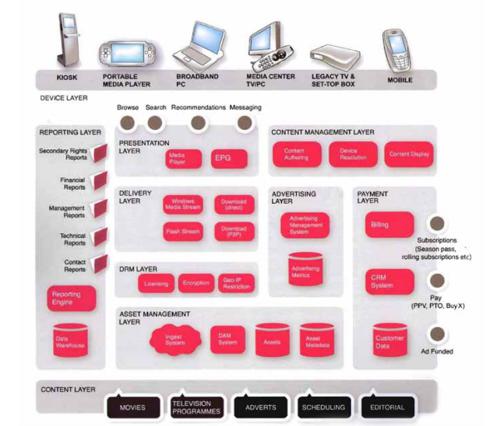 Source: Architecture from ioko, acquired by KIT Digital; Broadband Journal, August 2011.
KIT Digital has put together an impressive array of acquisitions in this space over the last three years, including ioko, which powers AT&T's UVerse offering, and has a global footprint with clients ranging from Walt Disney's ABC to British Sky Broadcasting's Sky Go. It powers Vodafone's (NASDAQ:VOD) video on demand and mobile TV offering in 19 markets, and over 500 mobile and tablet devices for Telecom Argentina's OTT offering. The stock trades at a multiyear low because of recent management changes.
Other players offering technical solutions and services in this area include system integrators such as IBM (NYSE:IBM), which recently partnered with KIT Digital, to video delivery players like Brightcove (NASDAQ:BCOV). Among the small caps we also like Infinera (NASDAQ:INFN), which is a bet that consumer demand for bandwidth spurred by the increased adoption of Internet video will require greater and smarter investments in managing the physical optical broadband network.