There are two ways to think of dividends: 1) As a long-term investing philosophy; 2) As a short-term risk-on/risk-off volatility play.
Since 1927, dividend paying stocks have returned 11% per year vs. 8% for non dividend paying stocks. Moreover, they have outperformed with less volatility. (Source) This alone is a compelling reason to invest in dividends for the long-run. (Without deeply diving into the merits of a dividend strategy, I'll simply state that dividend paying companies tend to benefit from more efficient allocation of capital and better management discipline.)
In 2011, a dividend strategy paid off. The following chart shows 2011 performance for dividend payers vs. non payers: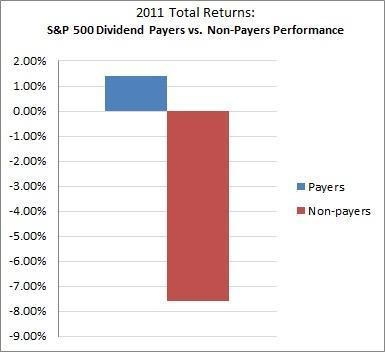 However, more recently the tides have temporarily turned. The risk rally of Q1 2012 pushed high-beta stocks ahead of less risky issues. Consequently, dividend payers - which tend to be more stable companies - underperformed.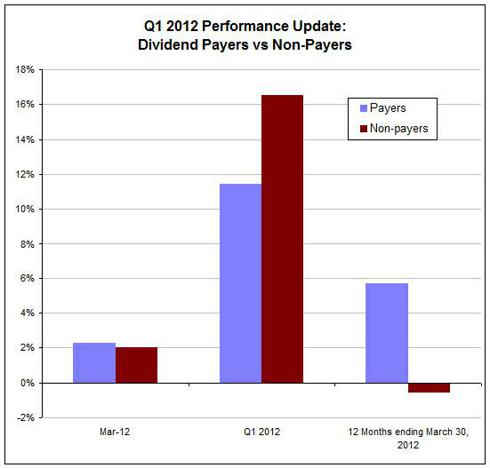 I don't consider the Q1 2012 results to be a long-term shift away from the benefits of dividend paying companies. Despite this, one must realize that the landscape for taxable dividends may be changing very soon. With uncertainty around dividend tax rates, there might be good reason to limit dividends exposure to tax-deferred accounts (speak to a tax advisor for your particular situation).
Investors looking for simple, cost effective exposure to dividend paying stocks might consider the following ETFs:
Disclaimer: Data source: S&P Indices. This is not advice. While Plan B Economics makes every effort to provide high quality information, the information is not guaranteed to be accurate and should not be relied on. Investing involves risk and you could lose all your money. Consult a professional advisor before making any investing decisions.
Disclosure: I have no positions in any stocks mentioned, and no plans to initiate any positions within the next 72 hours.