Gold has been in a trading range since the aggressive price action last fall when it briefly tested $1900. The performance of gold for the last 6 months has disappointed many gold bulls who expected the price to be over $2,000 by now. And as we approach the summer months, there are reasons to believe that gold will remain flat in the near future.
Throughout this bull market, Gold has shown a consistent pattern of weakness during the spring and the summer months and strength during the fall and the winter months. Although May has generally been a good month- June, July, and August have usually been weak months.
However, this may be a golden opportunity to take advantages of bargains, both in the physical market and in the shares. While the price of gold has not done much the last couple of months, there seems to be a consensus among many industry leaders that gold will make new highs towards the end of this year. If gold does not make new highs this year, it would be the first time in 11 years. The chart shows the average seasonal strength of gold since the beginning of the bull market in year 2000.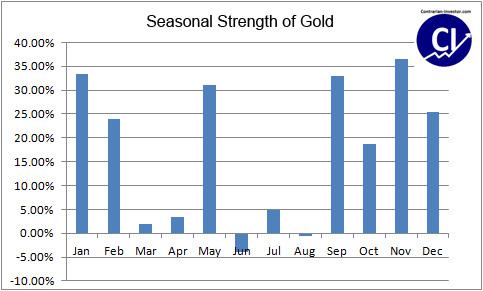 The summer doldrums may also present an opportunity for stock pickers to take out their wish list and scope out some bargain gold mining shares. Gold equities have lagged behind the price of gold. Many gold mining companies are screaming bargains at these price levels. Some of these companies are trading at the same levels they did 3 to 4 years ago, despite the fact that the price of gold has doubled. Many in the gold industry believe that this fall may be the time when the equities finally breakout of their trading range and make new highs. The chart below shows the seasonal strength of the gold bugs index (HUI).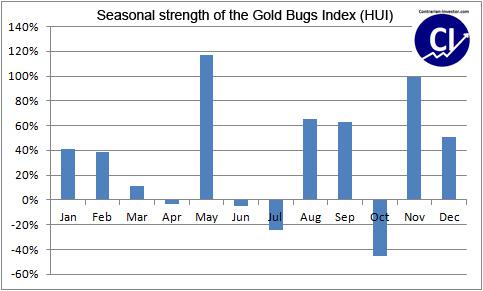 The sentiment is close to an all time low for the mining shares, but profitability is up significantly. We have also seen an increase in mergers and acquisitions, which may be an early indicator that things are about to turn around. The time to buy is when everyone is selling, and this summer might just be the time to step in and pick up some bargain deals.
I recommend retail investors to buy things like, McEwen Mining (NYSE:MUX), Eurasian Minerals (NYSEMKT:EMXX), Yamana Gold (NYSE:AUY), Newmont Mining (NYSE:NEM), Goldcorp (NYSE:GG), Barrick Gold (NYSE:ABX), New Gold (NYSEMKT:NGD). For the more conservative investors, EFT's like SPDR Gold Trust (NYSEARCA:GLD), and Central Fund of Canada (NYSEMKT:CEF), might be a better option.