In two previous articles posted on Jan. 29, 2012, and March 8, 2012, related to McDonald's (NYSE:MCD), a bull-put credit spread was considered. The initial 2012 March 82.5/92.5 bull-put credit spread was rolled in order to realize additional potential return using a 2012 April 80/90 bull-put credit spread.
With April options expiration, the position realized the full potential return of 7.2% (17.4% annualized), as the $95.94 price of the stock at April expiration was above the $90 short put option strike price.
McDonald's stock price appears to be stuck in a trading range between $94 and $101 as shown below: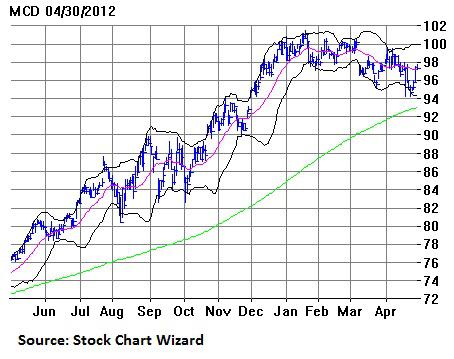 With a potential dividend payment in the neighborhood of $0.70 forthcoming in the next few weeks, a protected covered call for McDonalds is considered. A protected covered call may be entered by selling a call option against a stock and using some of the proceeds to purchase a put option for protection. The protected covered call position enables receipt of dividend payments, yet a put option protects the position from a large drop in stock price.
Using PowerOptions tools, a protected covered call was found for McDonald's with a potential return of 3.2% (8.1% annualized) with a maximum potential loss of 4.8%. The maximum potential loss is 4.8%, even if the price of the stock goes to zero. The potential return and the maximum potential loss include assumed dividend payments totaling $1.40 during the holding time for the position. The specific call option to sell is the 2012 September 97.5 at $3.15 and the put option to purchase is the 2012 September 90 at $1.71. A profit/loss graph for one contract of the McDonald's protected covered call position is shown below: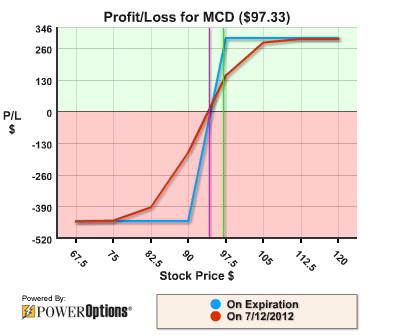 For a stock price below $90, the value of the protected covered call remains unchanged (at expiration). Additionally, for a price of the stock around $110, the position can most likely be rolled in order to realize additional potential return.
Even though McDonald's stock price appears stagnant, the company is not stagnant as it continues to tweak its menu offering. Although the company's head chef Dan Coudreaut is not about to use his fine dining background to tamper with core menu items like the Big Mac and fries, it's not hard to see his influence when it comes to the grilled honey mustard snack wrap (only 13% fat) and the caramel apple parfait (only 3% fat). Along with healthier kids' meals, these moves sit well with McDonald's "Changing Together" initiative, which includes promises to significantly reduce sodium, sugar, and saturated fat content by 2020.
This squarely profit-driven decision appears to be paying off. Latest results for the quarter ended March 31, 2012, reveal higher revenue of $6.5 million (up 7%), higher operating income of $2 million (up 8%), and increased earnings per share of $1.23 (up 7%). U.S. business was the star, with operating income 10% higher. According to the company, that business benefited from 'the ongoing popularity of McDonald's classic core favorites," "menu innovations," and "the enhanced customer experience of McDonald's re-imaged restaurants." Similarly strong results were achieved in the combined Asia-Pacific/Middle East/Africa (APMEA) region, while Europe posted operating income growth of 4% despite tough economic challenges and severe February weather.
Many McDonald's restaurants have recently been remodeled -- or "re-imaged," to use the company's own expression -- to reinforce the brand's development into a more relevant and contemporary destination serving nutritious food choices. The introduction of high-quality beverages at McCafé counters is a part of this plan, allowing McDonald's to compete more effectively with the likes of Starbucks (NASDAQ:SBUX). Yet the conventional fast-food service chains remain its major competitors: privately held Burger King and Subway; Wendy's (NYSE:WEN); and KFC, Pizza Hut, and Taco Bell, owned by Yum Brands (NYSE:YUM).
McDonald's credits its continuing success to two main factors: its "Plan to Win" (People, Products, Place, Price, and Promotion) and its key partners (employees, suppliers, and franchisees). Around 80% of the company's 33,000 restaurants in 119 countries are franchised, and franchise income (a combination of rent and sales-percentage royalties) is the cornerstone of McDonald's. While company-owned restaurants make a higher contribution to revenue ($18 billion out of $27 billion in 2011), they also account for the lion's share of directly attributable operating expenses ($14.8 out of $16.3 billion). So in 2011, franchised restaurants delivered $7.2 billion of operating profit before selling, general and administrative expenses, significantly more than the $3.5 billion contribution of the company's own restaurants.
It's also important to look at comparable sales growth generated by existing restaurants, especially in markets like North America, which must eventually reach saturation point. In 2011, comparable sales grew by 4.8% in the U.S., 5.9% in Europe, and 4.7% in APMEA. This compares with respective growth of 5%, 14%, and 16%, including new openings and a significant positive foreign exchange effect. So it's easy to see that the underlying growth rate is about 5% everywhere. New restaurants in Europe are mainly company-owned and are responsible for 40% of revenue, so that region has received by far the largest share of capital expenditure in recent years. This is a decision McDonald's may be regretting in the short term. (See the financial highlights here.)
Company guidance for 2012 predicts a 6% rise in selling, general and administrative expenses, a 4.5%-5.5% commodity cost increase in the U.S., and $2.9 billion in capital expenditure (including more than 1,300 new restaurants). McDonald's management also warns of the potential effect of foreign currency exchange rates, in both positive and negative directions. In 2011, foreign exchange rates had a $195 million positive impact on net income of $5.5 billion. The company mitigates its exposure by trying to finance and supply overseas operations in local currencies, and by hedging some foreign currency cash flows.
Incoming CEO Donald Thompson commented on the company's continued market share growth around the world in an industry with minimal to negative growth in the Q1 2012 earnings call. He emphasized the three global objectives of menu optimization, modernization, and broadening the accessibility to brand McDonald's. The introduction in the U.S. during the quarter of Chicken McBites (originated in Australia, further developed in Europe) illustrated, he said, the power of people in the McDonald's system to learn from each other. Beverage unit sales grew by 6%, reinforcing the effort to partially rebrand McDonald's as a beverage destination. Tandem or side-by-side drive-thrus and nearly 1,200 handheld order takers were optimizing restaurant throughput and capacity. New value menus in Europe were helping to underscore the affordability of McDonald's in a region where consumers are facing severe economic pressures. Japan's recovery from the damaging events of 2011 remains uneven. A question about recent competitive sales promotion efforts by Taco Bell and Burger King elicited the response from outgoing CEO James Skinner that it was "business as usual" for McDonald's as the company continued to focus on its own core strategies while keeping an eye on the competition.
McDonald's sheer size, longevity and ubiquitous presence made it an icon of the 20th century, not just in the U.S. but also globally. Of course, major corporations must continue to develop their products and their brand, because standing still is effectively a euphemism for going backward in an overpopulated and cutthroat market. McDonald's is moving forward, but for the short term its stock price appears to have stagnated. The protected covered call mentioned above enables an investor to potentially generate income for a stagnant stock, while remaining protected from a large drop in stock price.
Disclosure: I have no positions in any stocks mentioned, and no plans to initiate any positions within the next 72 hours.