Equinix (NASDAQ:EQIX) reported Q1 2012 results last week on Wednesday, beating its own forecast, analysts' expectations and increasing 2012 guidance.
Here is a quick look at some of the quarter's highlights:
Q1 revenues were $452.2 million, a 5% increase Q/Q and a 25% increase over the same quarter last year;
Adjusted EBITDA was $215.2 million, an increase of 9% over the previous quarter and a 29% increase over the same quarter last year;
Net income attributable to Equinix for the quarter was $34.5 million, or a basic net income per share of $0.74 and a diluted net income per share of $0.71;
Gross margins for the quarter were 50%, up from 47% for the previous quarter and up from 46% for the same quarter last year, while cash gross margins were 69%, up from 67% for the previous quarter and up from 66% for the same quarter last year;
CapEx was $145.5 million, of which $102.4 million was attributed to expansion CapEx and $43.1 million was attributed to ongoing CapEx;
Churn was approximately 2.4% (more on this later)
Pricing was described as firm both on an MRR per cabinet equivalent and on a unit pricing basis - Equinix improved its reported recurring revenue per cabinet equivalent in all three regions;
The company also announced its plan to build a third data center in Florida. The new facility (MI3) will be located in Boca Raton, an area outside of the evacuation zone for up to category 5 hurricanes, and home to several major fiber-optic cable landing stations. The location will offer the lowest latency route to Brazil, where Equinix operates its ALOG South American subsidiary.
Business Outlook
For Q2, the company expects revenues to be in the range of $466.0 to $468.0 million, including $3.0 million of negative foreign currency headwinds.
For the full year of 2012, Equinix increased guidance to greater than $1,890.0 million, which includes $9.0 million of negative FX headwinds. Total year cash gross margins are expected to approximate 67%, and adjusted EBITDA for the year is expected to be greater than $860.0 million, including a $10.0 million increase in professional fees and $4.0 million of negative currency headwinds.
Analyzing Equinix's quarters is becoming a sort of "copy and paste" exercise, as most headlines remain the same: the company keeps delivering solid quarters, enjoys steady pricing, favorable supply and demand dynamics, new capacity additions are on schedule, on budget and well booked in advance, non financial metrics remain very strong, and the company reports healthy bookings and record sales in most markets.
To avoid repeating the obvious, we'll quickly go through some analysts' commentary to the quarter and then concentrate on a few issues, like pro-active churn and performance in the Asia Pacific region.
Analysts were quite pleased by Equinix's numbers. Jefferies reiterated its Buy rating, and raised its target price to $175, while Citigroup (NYSE:C) increased its EPS estimates for 2012. The company has a "buy" rating and a $180.00 price target on Equinix. Stephens increased its rating on the company from "equal weight" to "overweight", while Oppenheimer maintained its "Perform" rating on Equinix while noting that Equinix is well positioned to benefit from the ongoing shift to cloud computing, which seems to be accelerating.
The U-turn award of the year goes to Jim Cramer, who's now changed his 2009 "sell, sell, sell" recommendation for the company and the sector into a much more sophisticated analysis of Internet and cloud computing trends:
The huge number from Equinix bodes well for a continuation of the big data, big cloud secular growth stories. I regard EQIX, like F5 (NASDAQ:FFIV), as an integral manager to all of the data on the Web and where it gets stored.
Customer optimization, i.e. positive churn
Churn came at 2.4% in Q1 2012, slightly higher than in the previous quarters. Q1, however, included some early termination fees, such as with a large UK customer ($2.8 million). Here is how Keith Taylor, the company's CFO, described the situation during the conference call:
This quarter's churn reflects the renewed focus on IBX optimization as we work to maximize our return on invested capital across our asset base. The U.K. churn previously noted is a great example of our IBX optimization effort: a customer's picking us to downsize their footprint of unused space. Consistent with our strategy, we've already resold a portion of the space at higher prices to support the deployment of a large U.S. bank's critical trading platform. This is what we consider to be positive churn.

The benefits of this strategy are clear to us. It will improve our pricing and margins. We will recapture inventory in our most critical IBXs and will improve our ROIC. Given this strategy, we expect our MRR churn metric to fluctuate throughout the remainder of 2012. In particular in Q2, we expect to see slightly elevated churn all contemplated within our guidance.
With occupancy rates reaching 82% at quarter end on a global basis (excluding ALOG), these optimization efforts represent an interesting way to maximize profit in the long term, while dealing with strong customer demand. Excluding the data centers opened during the last 12 months, occupancy would be at about 85%. An analysis of the first eight U.S. IBXs built by Equinix, and now at ~88% utilization, shows a nearly 10% Y/Y revenue growth in Q1 2012 - a testament of the strength of the company's business model.
Asia Pacific
During the conference call, Equinix' s management disclosed a few additional data on its Asia Pacific operations:
Click to enlarge.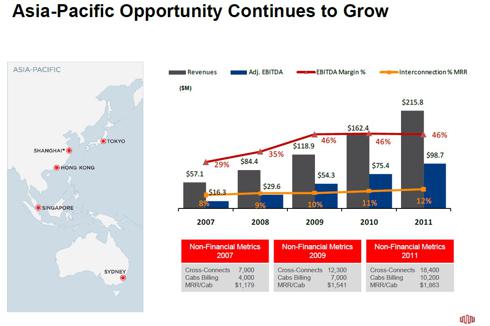 Source: Equinix's Q1 2012 investor presentation.
Asia Pacific is Equinix's fastest-growing region for the company, with a 39% compounded annual revenue growth rate.
Equinix is the only data center operator with a complete Pan-Asian offering, and the advantage of a single contract for its customers. Currently, 59% of the company's monthly recurring revenues come from customers deployed across multiple countries, reinforcing the value of its global platform. In Q1 2012 revenues improved 7% sequentially in the Asia Pacific region (6% on a constant currency basis), with strong net bookings across each of our countries. The region also benefited from large inbound deals from both the Americas and EMEA regions - however, with over 30% of the top 500 global companies now headquartered in Asia, we may expect the opposite to happen quite soon. The company has already turned from "we make Asia easy" to "we make global business easy" - we wouldn't be surprised to read "we make US easy" in Chinese at the next analysts' day.

From the 2010 analysts day.
Here is a quick look at how Equinix coped with expansion in the Asia Pacific region in the last few years, including future projects: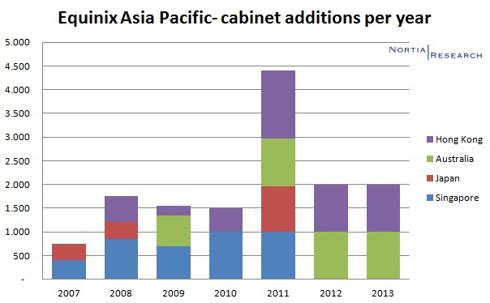 As you may notice, 2011 was a record year in terms of cabinet additions. Looking at the same data on a location basis, Singapore and Hong Kong appear the regions where demand (and expansions) have been more stable in the last few year: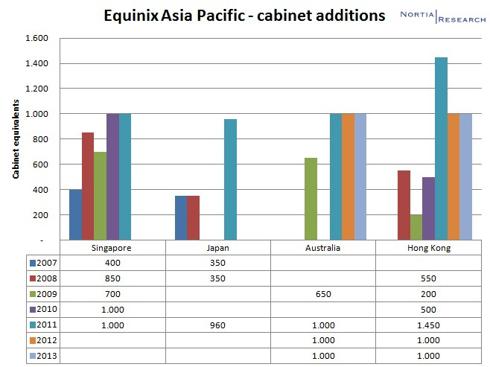 Disclosure: I am long EQIX.