Although the S&P 500 saw a decline of about 75 basis points in April, four sectors managed to post gains, while the remaining six sectors were down. Telecom Services was the month's best performing sector with a gain of 4.19%. Unfortunately, it is also the smallest sector in the S&P 500, so the odds are slim that it makes up a large percentage of your portfolio. Besides the Telecom Services sector, Utilities (1.77%), Consumer Discretionary (1.24%) and Consumer Staples (0.10%) were the remaining three sectors that managed to squeak out gains this month. On the downside, Financials (-2.49%) and Technology (-1.92%) were the worst April performers.
(click to enlarge)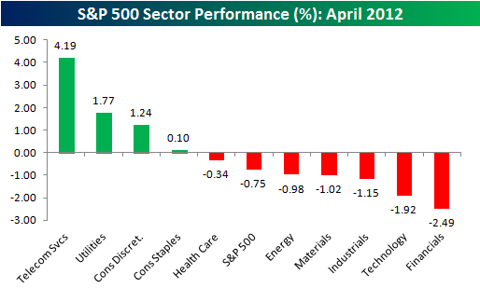 In terms of individual stocks, there were fifteen in the S&P 500 that saw gains of more than 10% during the month. Sunoco (SUN) and Expedia (EXPE) led the list with gains of more than 20%. Interestingly, although the Energy sector underperformed the S&P 500 with a decline of 0.98%, four of the fifteen stocks that were up by 10% or more came from that sector.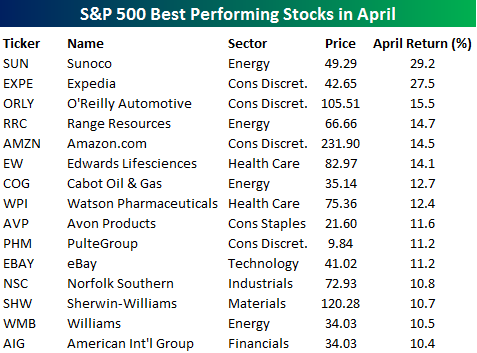 On the downside, there were 34 stocks in the S&P 500 that saw double digit percentage declines during the month. Leading the 'loser list' this month were Netflix (NFLX), Genworth Financial (GNW), First Solar (FSLR) and SanDisk (SNDK). Each of these stocks lost more than 25% of their value in April, so shareholders of these names had an especially painful month.
Just as there were four stocks from a losing sector on the list of top performers this month, there were also two big losers in the market's best performing sector. Within the Telecom Services sector, MetroPCS (PCS) and Sprint Nextel (S) both saw declines of more than 10% even as their sector rallied more than 4% during the month. What makes this especially noteworthy is the fact that there are only eight stocks in the sector! The fact that you can have four top performing stocks for the month coming from a sector that underperformed the overall market, and two of the worst performing stocks coming out of the month's best performing sector only further drives home the importance of not only picking the right sectors, but also the right stocks.