When he's introduced on CNBC, they refer to Dennis Gartman as the "commodity king." I'm not sure why a "king" would want to be a regular commentator on CNBC, but I did remember one thing he said back in December (video) about soybeans:
Watch the meal market. I tell everybody over the last 30 years, watch what goes on in soybean meal. Not enough people watch that. if the meal market starts to turn around and if the meal starts to become backwardated, you can see the soybean market and the grain market go higher.
Well, as it turns out, the soybean meal market is in backwardation as this chart shows: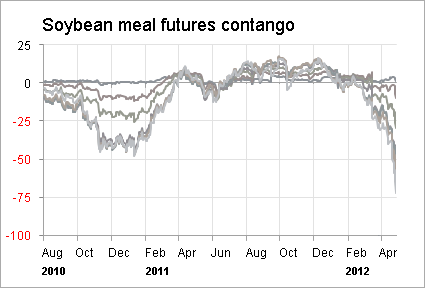 The lines moving into negative territory show that soybean meal for immediate delivery is more expensive that for delayed delivery - and that's what backwardation is, a negative premium for future delivery.
Yes, soybeans themselves are moving up in price, with "beans in the teens" now. Here's a look at the May, July, and November soybean contracts year to date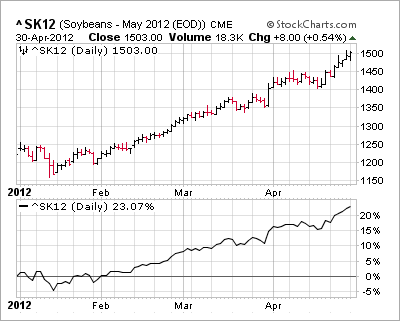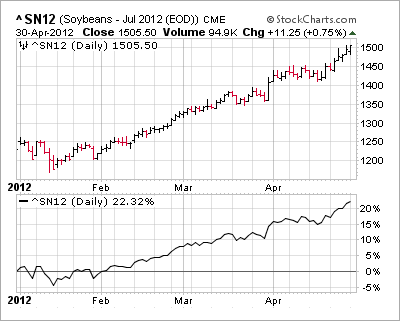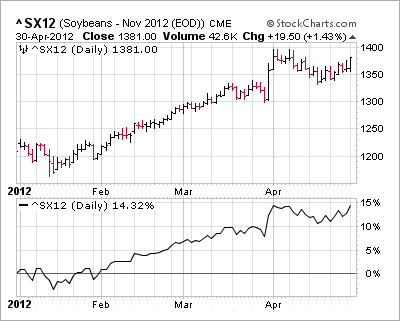 Unfortunately, the exchange traded fund I looked at that holds soybean futures contracts isn't doing as well as the soybeans themselves. That would be Teucrium Soybean Fund (NYSEARCA:SOYB). Here's a chart of that fund year to date: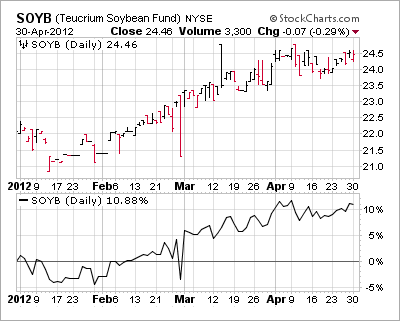 Why does this fund seem to be an underperformer compared to actual soybeans?
As it turns out, the fund has specific rules for the contracts it holds, with approximately one-third of its holdings in three separate soybean contracts. One of them is always a November contract - because November beans represents next year's harvest and is an important crop.
Also note that this time of year, the fund actually holds two November contracts, the November 2012 and November 2013 soybeans (along with July 2012 beans).
Agricultural commodities aren't like copper or crude oil. The contract specifications are far more nuanced because when the crop is harvested can make a big difference in how the contract is priced.
Here's the portion of the prospectus that covers how the fund rolls over its contracts:

Inside Futures says we might see soybeans go from the teens into the twenties. So if you want to take advantage of the trend in soybeans, you might want to consider SOYB. But read that prospectus very carefully. The fund has high fees (1.53% per xtf.com) and a net asset value of only $5 million.
Disclosure: I have no positions in any stocks mentioned, and no plans to initiate any positions within the next 72 hours.