My favorite dividend stock is American Capital Agency (NASDAQ:AGNC). The stock's core attributes are its peer outperformance and management's openness to shareholders. At the present time, however, the stock is overvalued and should be held and not bought. American Capital Agency offers shareholders a 16.1% annual dividend yield. I'll highlight why the stock is a hold at this time.

Background
American Capital Agency Corporation is a mortgage real estate investment trust (mREIT) that was formed in January 2008 under the sponsorship of American Capital, Ltd. (NASDAQ:ACAS). American Capital Agency is externally managed by an affiliate of American Capital and leverages American Capital's expertise, industry contacts, capital raising capabilities, financial reporting systems, infrastructure and legal resources as needed, thereby reducing its own overhead expenses.
American Capital Agency focuses purely on agency residential mortgage backed securities (NASDAQ:RMBS) where principal and interest payments are guaranteed by U.S. government agencies (such as Government National Mortgage Association, or Ginnie Mae) and U.S. government sponsored entities.
Stock Performance
As of December 31, 2011, American Capital Agency managed assets worth $54.7 billion. Over the years, American Capital Agency has consistently outperformed its peers by a significant margin and bolstered shareholder returns through dividends and an increase in the net asset value of shares.
A $100 investment in American Capital Agency in May 2008 would have grown to $301.6 at year end 2011 while a similar investment in the S&P 500 would be worth $98.57 and in its agency REIT peer group would have grown to $160.58.
Business Model Strategy:
American Capital Agency generates profits by borrowing money at low, short-term interest rates and investing its capital into RMBS' that deliver a significantly higher interest rate (2.3% higher or more). The three pillars of its investment strategy are asset selection, risk management and leverage.
It strives to deliver consistent profits by carefully selecting the assets it invests in to capitalize on pricing inefficiencies in the market, by managing capital risk through investment and hedging strategies that preserve its capital base and reduce the impact of interest rate changes and early principal repayments, and by prudently using leverage to boost returns. American Capital Agency has also successfully tapped the equity and debt capital markets to consistently grow its portfolio over the years.
Key to its strategy is staying focused on agency backed RMBS to reduce risk while also potentially reducing returns. Approximately 63% of its portfolio is backed by Fannie Mae, 36% by Freddie Mac and 1% by Ginnie Mae.
American Capital Agency typically invests in Residential Pass Through Certificates and Collateralized Mortgage Obligations (CMOs). With Residential Pass Through Certificates, American Capital Agency holds an interest in a pool of residential mortgages and is proportionally paid every month. Payments typically include interest and principal in some proportion tied to the age of the mortgage. With CMOs, American Capital Agency selectively purchases securities that reflect the macroeconomic outlook, interest rate environment and prepayment expectations.
Financials:
In fiscal 2011, American Capital Agency had net income of $770.5 million, more than double its 2010 earnings of $288.1 million, and almost seven times its 2009 net income of $118.6 million
Net Yield Spread
For 2011, American Capital Agency's average asset yield (average interest rate earned) was 3.19% and its average cost of funds was 0.89%, for an average net interest rate spread of 2.3%, which is down from 2.33% in 2010 and 2.93% in 2009. Its earnings, however, are higher in dollar terms because of the sheer growth in assets.
As of December 31, 2011, American Capital Agency's investment portfolio was valued at $54.7 billion, up 4x from $13.5 billion in 2010 and over 12x from $4.3 billion in 2009. Clearly, American Capital Agency has successfully grown its portfolio substantially while delivering market beating returns in one of the most volatile economic and real estate environments in recent years.
At year end 2011, American Capital Agency held total debt of $47.7 billion. This equates to a 7.7x leverage times its equity capital of $6.2 billion. Over the years, leverage has typically been over 7.5x times its equity base. American Capital Agency has also successfully grown its book value per share from $22.48 in 2009 to $27.71 by December 2011.
Dividends:
As a REIT, American Capital Agency is required to pay out at least 90% of its taxable net income. Over the past two years, American Capital Agency has consistently paid a quarterly dividend of $1.40 ($5.60 annually, up from $5.15 in 2009), most of which is treated as ordinary income for shareholder tax purposes, with only a small portion (roughly 5%) that qualifies as long-term capital gains. The 1st quarter, 2012, dividend was cut to $1.25. This was due to the flattening of the yield curve.
Book Value Per Share Valuation
With shares trading at $31.24 as of April 30, 2012, American Capital Agency has a rich dividend yield of 16.1%, a market capitalization of $6.8 billion and a December 31st book value per share of $27.71. Its share price largely reflects the book value per share. This is the company's CEO Gary Kain's goal of increasing book value per share over time. The book value has consistently risen from 2008 to date.
mREIT Risks
By all measures, American Capital Agency appears to be a solid dividend payer with an investment strategy that appears to have worked despite a rather volatile interest rate and economic environment. That said, American Capital Agency deploys high leverage to juice its returns and while this strategy works if you get it right, it could potentially cause large losses if managers fail to correctly hedge mortgage yields and mortgage backed security portfolios. So while this looks attractive overall, investors must maintain this as a small portion of a diversified portfolio.
Peer Group

CYS Investments (NYSE:CYS) is an agency mREIT. They increased their book value per share for the March 30th time frame. I would recommend not buying CYS Investments at this time until it reaches a 1-2% premium to its book value per share of $13.14.
Chimera Investment Corporation (NYSE:CIM) is a hybrid mREIT. The auditors were changed in the past few months. I would avoid this mREIT. The -25% total average annualized rate of return has not befriended any long term shareholders.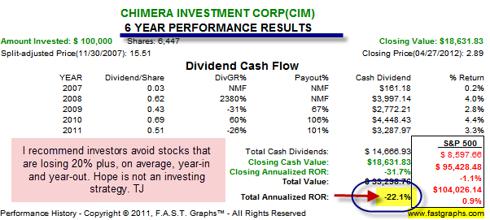 Hatteras Financial Corp (NYSE:HTS) is an agency mREIT. The company reported solid 1st quarter book value per share numbers. The 6.7% premium to book value makes Hatteras a hold. I recommend buying Hatteras closer to its book value per share of $27.30.
Annaly Capital Management (NYSE:NLY) is the largest market capitalization mREIT. The stock is trading at $16.32 on April 30th. The company has not filed their March 30th book value per share with the SEC. The company employed a 5.4x leverage as of December 31st. The December 31st book value per share was $16.06. I recommend shareholders avoid paying a premium for Annaly. Hatteras, CYS Investments, American Capital Agency continue to outperform Annaly. There are better, in my opinion, ways to make money in the mREIT space than with Annaly shares. The above chart highlights Annaly's peers outperformance.
Action
I recommend sideline investors wait for an American Capital Agency price pullback. American Capital Agency has a December 31st book value per share of $27.71. The current price is $31.24. This equates to an overvalued stock with a 12.7% premium to book value. This is unjustified and investors are likely to lose money if the company issues a secondary at a lower price.
I recommend waiting for the March 30th book value per share data to be filed with the SEC. There will always be time to buy the best run agency mREIT at a more attractive price.