Several important data points were released in the past week. The stocks started the week with a bearish investor sentiment. The U.S. markets joined the global sell-off on Monday. FTSE 100 was down by almost 2%, whereas Nasdaq composite was down about 1%. Nasdaq kept sliding on Tuesday, but other major indices were slightly up. Commodities ended the day with mostly positive gains. The following day, stocks supported a big rally lead by Apple. Tech stocks led the markets higher. Apple (AAPL) was up by almost 9% on Wednesday. Bernanke's remarks on possibility of another bond purchase round also boosted the stocks higher. The gains extended to Thursday. Stronger-than-expected earnings reports combined with a rise in home sales pushed the stocks higher. The earnings of industrial giants such as Boeing (BA) turned to be much better than analyst estimates. Thanks to the positive GDP growth of 2.2%, the stocks made a positive ending to last week. Industrials were the top performers, followed by technology and service stocks.
Amidst this investing atmosphere, several stocks made it to new highs in the past few weeks. A stock is usually considered overbought when the relative strength index reaches above 70. That does not mean that these stocks are expensive. I would rather consider them momentum stocks, supported by short-term catalysts. Nevertheless, overbought stocks signal a red flag for contrarian investors. Based on the Relative Strength Index [RSI] indicator, I noticed 5 stocks that are in overbought territory. Let's see, what is driving these stocks, and whether they are still worth considering after making significant recent gains.
Pfizer (PFE) - Hold
Pfizer is one of the most stable companies in its industry. Thanks to its durable business model and existing pharmaceutical products in its pipeline, it is able generate a solid cash flow from its operations. It also shares its profits with the shareholders through fat dividend checks. Current yield of 3.81% is among the top yields in the market. However, after returning almost 22% in the last 6 months, the stock is trading slightly above my target price.
(click to enlarge)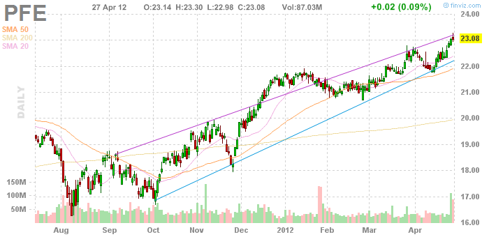 (Source: Finviz)
Founded in 1849, Pfizer is one of the oldest companies in the U.S. It has a history of almost 18 decades. Throughout this period, the company has seen several financial crises, but it emerged as a stronger one. Thanks to its increasing profits, it provided an annual return of 23% in the last 3 years.
However, I am not sure it is a good buy at the moment. While the forward P/E ratio is expected to be as low as 9.82, the growth expectations are very limited. Analysts estimate a modest growth of 3.8% for the next 5 years. Based on this estimate my FED+ fair value range for Pfizer is $20 - $31. At the current prices, it is trading within the range of my fair value estimate. Analysts also agree with me. Their mean target price of $25 fits perfectly within my range. While I think Pfizer is a good buy for the long-term, a pullback might create a better entry point.
AT&T (T) - Hold
AT&T is among my top dividend picks for the next 5 years. The company offers a yield of 5.4%, which is surely higher than the paltry yields of government bonds. Its dividends keep increasing year after year. AT&T has been a market beater for the last 5 years. The 5-year annualized return was slightly better than the market average. While the difference is pretty low, AT&T has outperformed the broad market indices with lower volatility. The company has a Beta value of 0.60. As such, it could be a good anchor for the portfolio. The stock returned 11% in this year alone.
(click to enlarge)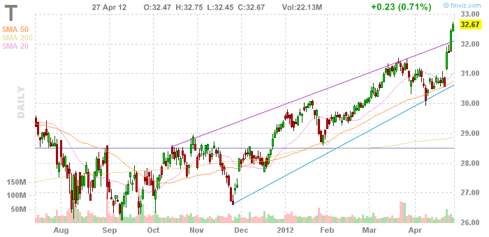 (Source: Finviz)
AT&T reported earnings in the last week. Its Q1 EPS of $0.6 was 3 cents above the consensus estimates, whereas revenues were in line with the analyst targets. The current P/E might look like a red flag, but this was due to one-time events, which include the break-up fee for T-Mobile deal, and spectrum purchase from Qualcomm (QCOM). Forward P/E of 13 suggests that AT&T is fairly valued. Therefore, I rate it as a hold.
Amazon.com (AMZN) - Sell
I think Amazon is one of the most speculated stocks in the market. Thanks to strong hedge fund and institutional support, the internet-based retailer is trading with a market cap of more than $100 billion. It has been a long time high-flier, trading near three digit trailing P/E ratios for a while. However, the stock lost its mojo in the last quarter of 2011. Investors abandoned the Amazon's ship, heading for safety. The stock, which was testing its resistance of $250 in last October, rolled off the cliff, and lost 25% in the last quarter of 2011. Since January, the stock is stabilized and it was trading within $170-$200 range until last week. On Thursday, the company reported an income of $192 million, which was well above the analyst estimates. Instantly, the stock jumped by almost 16%, and is currently trading at $226.85.
(click to enlarge)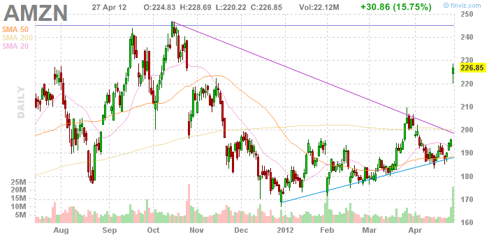 (Source: Finviz)
Amazon is a great innovation in the society. Its convenience allowed us to easily make online purchases through the Amazon.com website. It also provided a tax-free economy where thousands of retailers promote and sell their products online. However, Amazon might not be able to enjoy its tax-advantage over the traditional retailers in the near future. Its recent filing with SEC also suggests that the company settled a quarter billion tax bill by agreeing to collect sales tax as of July 1, and committing to create 2500 jobs over the next 4 years. California legislators are also in a long-term battle with Amazon regarding the online sales taxes. A national online sales tax might crush Amazon's already low profit margin. Besides, the stock is expensive, at a trailing P/E ratio of 186, and P/FCF ratio of 88. I would not recommend getting near this stock until it falls below $150.
American Capital Agency (AGNC) - Buy
Since its establishment, American Capital Agency has been one of the top performers in the market. AGNC has a three-year annualized return of 40.77%, which doubled the S&P 500 return of 20.33%. This year has also been a good one for AGNC shareholders as the stock returned 15% so far.
(click to enlarge)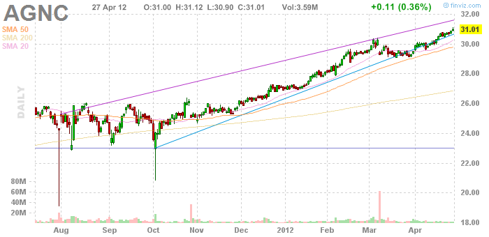 (Source: Finviz)
American Capital Agency operates as a real estate investment trust that invests in both agency issued mortgage-backed securities. The business model of AGNC is pretty simple. It operates as a pseudo-bank, acquiring short-term loans to invest in long-term mortgage-backed securities. As an agency-only mREIT, its portfolio consists of securities and collateralized mortgage obligations for which both the principal and interest is backed by state agencies. With a debt-to-equity ratio of 7.82, the company has one of the highest leverage ratios among its peers.
The distributions provided by mREITs are subject to favorable tax rules. mREITs are exempt from corporate taxes as long as they distribute at least 90% of their income in the form of dividend payouts. Thanks to this favorable tax status, mREITs are among the top dividend payers in the market. American Capital Agency is no exception. It offers a yield of 16.12%. I do suggest investors pay special attention to this yield. While fellow SA Contributor, Global Value Investor is bearish about mREITs, I think income-oriented investors should keep an eye on these stocks. At a P/B ratio of 1.12, AGNC is trading at a slight premium to book value, but given company's past performance, the premium it is well-justified.
Williams Companies (WMB) - Wait For A Pullback
The Tulsa, Oklahoma-headquartered Williams Companies Inc. engages in the energy infrastructure development in the continental U.S. The company operates in several segments, but it is most known as a pipeline operator. This segment owns and operates about 14,000 miles of natural gas pipelines. Besides transportation and storage of natural, Williams Companies is also involved in related energy and petrochemical services. The stock has been an outperformer, returning 26% this year alone.
(click to enlarge)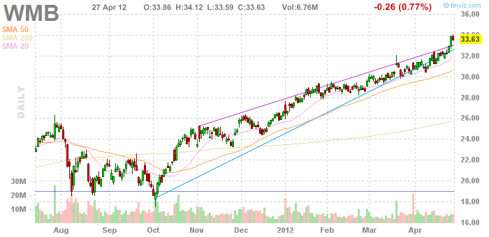 (Source:Finviz)
As a master limited partnership, Williams Companies offers a yield of 3.08%. MLPs are not tax exempt, but their distributions can be registered as capital depreciation, effectively reducing their tax base. Thanks to this favorable tax status, these companies offer substantial distributions to the unit holders. Given the low-interest environment, their distribution rates are much better than the paltry interests offered by government bonds. However, after its most recent run, Williams' yield falls short of the average yield of MLPs in the business.
The forward P/E of 20.63 suggests the stock as a fair deal, but the current price of $34 does not offer much margin of safety. Besides, there are some gaps within the $24 - $25 range, which I expect to be filled in the next market correction. While I do think the company still has upside potential left, I would rather wait for a pullback before buying this stock.