Market Recap: The market finished out April on a slightly weaker note to finish the month at a loss. It was not a great month for stocks and the market with a lot of volatility in the markets and rising fears over Europe continuing. Earnings have been solid and helped the month be decent, but we saw more weak data from Europe and the USA Monday.
Spanish GDP came in a bit ahead of expectations but confirmed that a recession is taking place in Spain. Further, personal spending was weaker than expected and Chicago PMI dipped to a 29-month low. Personal income was higher than expected, which was a positive for the day. Additionally, a bevy of M&A news was breaking today, which bodes well for the market.
Some of those M&A reports included Coca-Cola (NYSE:KO) interested in buying out Monster Beverage (NASDAQ:MNST). Additionally, Sunoco (NYSE:SUN) was bought out by Energy Transfer Partners (NYSE:ETP). Finally, Barnes and Noble (NYSE:BKS) got an investment from Microsoft (NASDAQ:MSFT) for its Nook. It was a nice day of M&A to finish out the month. With our continued neutral take on the market, here is a pairs trade we like right now:

Two Trades:
A position we recommended to our clients today was long Francesca's Holdings (NASDAQ:FRAN), short Smithfield Foods (NYSE:SFD). FRAN is looking very solid having formed a rounded bottom and spiked higher on large volume today. The young company is in a great uptrend and is bucking the market trend right now with its upside. We believe that FRAN has great upside this week on the back of today's breakout. Driving it is volume and solid growth fundamentals that include possible tripling stores in the next few years.
On the flip side, a company struggling with growth due to high cost inputs is Smithfield Foods . SFD looks like a nice complement to FRAN. The stock just signaled a death cross where the 50-day MA breaks the 200-day, and the stock dipped below the 20-day MA today. There is no upward catalyst right now as recent results from competitors have been disappointing. Trend is pointing down.
Pair Trade: Long FRAN, Short SFD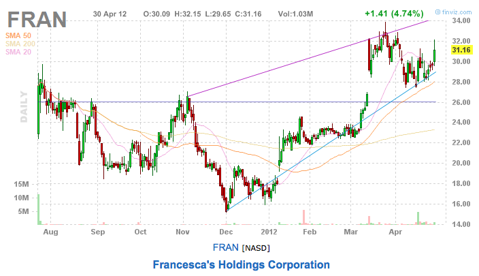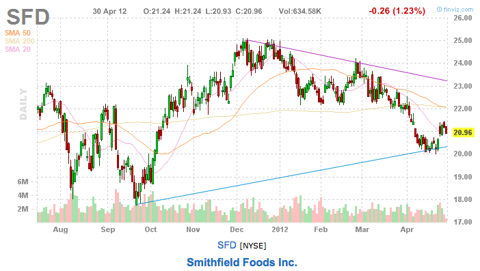 Tuesday's Outlook:
The market's outlook for Tuesday is looking a bit bleak unless we can get some better economic data from the market. Tuesday is a big day of data once again with the ISM Index, Construction Spending, and Auto Sales. All are important reports, and if we can get a surprise from ISM, we could get a nice day for the market. The issue is that we have seen most of the manufacturing indices come in weak, so our expectations are low for ISM to beat estimates. Homes have been stronger as of late, and we could see a nice tick from Construction Spending Tuesday. Europe and Asia will also come into play as we get German Retail Sales and China PMI Manufacturing report. Lots to digest.
Analyst Moves:
The interesting move for analysts was an upgrade of Dollar General (NYSE:DG) from Raymond James to Strong Buy from Outperform. The company is our top-rated discount/retail store under coverage, and we have a Buy rating and $60 PT on the company as well. It was a pretty light day for analysts though, and we did not see any really interesting upgrades/downgrades that match up with our coverage.
Commodity Talk:
Oil seems to be pretty range bound between $100 - $105 right now. That area is tough to break in either direction without major moving news. We believe a test of $105 into inventories will occur, but we would want to be short oil out of inventories as we do not foresee a breakout of oil occurring with the data we are seeing right now. Gold seems stuck between 1600 and 1700, and we believe it's a nice commodity to own as the market seems to be rolling over a bit here as of late.
Oxen Group Moves:
We had a nice day Monday as we took some solid gains off the table. We got a 17% gain on Monster Beverage bull put spread we were holding that sold off after the intraday pop in that stock. We also took a solid gain away in some sold puts we had in Ashland (NYSE:ASH) for a 41% gain. We had to take a slight loss on a long Ventas (NYSE:VTR), short Biogen Idec (NASDAQ:BIIB) pair trade we had in place. We added longs on Morgan Stanley (NYSE:MS) to our Equity Portfolio, pair trade mentioned above in FRAN:SFD, and long in Walgreen (WAG) with 33/32 bull put spread for May18 expiration.
We have the following positions. In our Short-Term Equity Portfolio we are long F5 (NASDAQ:FFIV), Vornado (NYSE:VNO), Teva Pharmaceuticals (NASDAQ:TEVA), Morgan Stanley and have pair trade in FRAN:SFD. In our Options Portfolio, we are long KO, WAG, Dollar General , Monster Beverage , Visa (NYSE:V), Polaris Industries (NYSE:PII). We are short United States Oil (NYSEARCA:USO). We have a reverse iron condor in Direxion Financial 3x (NYSEARCA:FAS). In our Earnings Portfolio, we are long Western Digital (NYSE:WDC), Ace Limited (NYSE:ACE), and Coinstar (NASDAQ:CSTR). We are short Amazon.com (NASDAQ:AMZN). We have reverse iron condor in Las Vegas Sands (NYSE:LVS).
Chart courtesy of finviz.com.
Disclosure: I am long FRAN.