Humana (NYSE:HUM) is a health insurance company which reported earnings the morning of April 30, 2012. One can find the press release here. HUM's YoY quarterly profit fell to $1.49 a share vs $1.86 a year ago. Analysts on average were looking for $1.53 a share. However, HUM raised its yearly guideance ,by a nickel, to $7.55-$7.75 a share.
After 3 hours of trading, since the release of its earnings, HUM was trading down over -7.5%; a much more significant decline than the SP500's -.5%. The bad news of the quarterly earnings drop and miss is greatly outweighing any raised guidance of the future.
I had an alert triggered Monday morning when HUM opened below $84. I set the alert 74 days ago to trigger if HUM traded at $84, or below, with a note saying, "Possible H&S Top 84 is neckline". H&S refers here to a Head and Shoulders technical pattern. This pattern was an area of research by the Federal Reserve Bank of New York in an 1995 paper, Head and Shoulders: Not Just a Flaky Pattern, which determined "significant profits" could be found in foreign exchange markets (page 38).
One can see that HUM actually formed a double right shoulder. Also, the 84 area is in the vicinity of the July 2011 high in HUM. $83.90 was at one point a high in HUM after Monday's open at $82.98. Traders could use this area to enter short positions and set stops above it.
Except for what looks like, 2 or 3 trading days all longs now have a loss in HUM since they bought back in November of 2011. Investment/Trading Psychology suggests a lot of buyers will be looking to get out at "even", which implies an overhang of stock available for sale at higher prices.
The "target" of the Head and Shoulders pattern is around $71.50. One can see that last year HUM put in a "double bottom" just above $65. Intraday, HUM was showing a trailing P/E of about 9.5 for an earnings yield of 10.5%.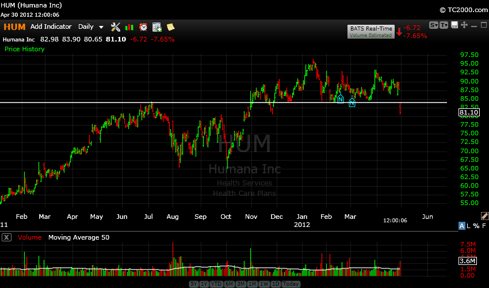 Bears certainly have the short term advantage. They can target the gap in the $79-$76 area and then $71.50. But between $71.50 and $65, I would expect "value" managers to enter the stock again, as long as the fundamentals don't deteriorate further. If HUM meets the low end of its yearly guidance, it would have an 8.6 P/E at $65 for an earnings yield of 11.62%.
Aggressive bears can short the stock with a stop-loss higher than 84. If the stock does move lower, short profits could be taken at technical objectives; such as $79, $76, $71.50, and $65.50. A close above $91 would have meant that the bearish Head and Shoulders pattern had failed.
If you are a looking to buy, it is usually prudent for the weak longs to be totally flushed out. Value managers set alerts in the $71.50 to $65 range, in order to buy, if the fundamentals are stable over the coming months.
Disclosure: I have no positions in any stocks mentioned, but may initiate a short position in (HUM) over the next 72 hours.