In this article, I will cover some catalyst trades with the primary focus being on MediciNova (NASDAQ:MNOV). MNOV is an interesting trade as it has a major catalyst upcoming, but has not seemed to attract much attention yet, so I see this as an opportunity to get in early on this one. Some catalyst bio's that have garnered a ton of attention include:
Arena Pharma (NASDAQ:ARNA) 4/30/12 pps: $2.44.
The Arena stock price should continue to move up ahead of The Endocrinologic and Metabolic Drugs Advisory Committee meeting on May 10, 2012. The stock saw a mini pull back in its last trading session on Monday, but this is to be expected. I still believe the stock will see around $3 a share this week.
New data on Lorcaserin is also being released, and the drug has a PDUFA target date of June 27, 2012.
I am leaning towards Lorcaserin being approved this time around, but barely. At the very least, Arena makes for a very good catalyst trade. If you decide to gamble and hold thru all the data and the drug gets approved, expect a triple in the Arena stock price.
As I remarked in my last article, Celldex (NASDAQ:CLDX) 4/30/12 pps: $4.56, is expecting top-line early data for PIIb CDX-011 vs investigator's choice in advanced refractory breast cancer before ASCO, then full Phase IIb study results of CDX-011 in refractory breast cancer released at ASCO.
Celldex enrolled 120 patients with advanced breast cancer that over-expresses a protein known as GPNMB (confirmed by an independent test). The patients, all of whom no longer respond to currently approved treatments, are then randomized to receive either CDX-011 or physician's choice of treatment. The primary endpoint of the study is overall response rate.
CDX-011 is a monoclonal antibody drug conjugate. The antibody portion targets cancer cells that express the GPNMB protein, which has been shown to correlate with poorer outcomes in breast cancer patients. When the CDX-011 antibody attaches to GPNMB-expressing tumor cells, it releases a toxic chemotherapy This is similar to what was licensed from Seattle Genetics (SGEN), and is the same one used in the newly approved lymphoma drug Adcetris. As of this writing, Celldex shares are already up substantially after my initial article mentioning it as a catalyst trade. It is my opinion Celldex will see near $5.50 in the short term which covers 1 week to 2 months for this particular trade.
Seattle Genetics has also had some big price moves up in the last 2 years and has basically doubled from 2010 to where it trades today, near $20 a share. These types of Orphan designated cancer drugs attract a lot of traders looking to ride the upward catalyst waves for nice short term gains.
Focus catalyst trade: MediciNova 4/30/12 pps: $2.97.
MediciNova expects to release results from two clinical trials in the current second quarter with its lead drug candidate, MN-221, opening the door to a possible pivotal trial.
"We'll have Phase 2b results by the end of May treating patients with acute exacerbations of asthma (AEA) in the emergency room and results by June from a Phase Ib multi-dose trial in patients with moderate-to-severe chronic obstructive pulmonary disease (COPD)," Chief Business Officer, Michael Coffee, says in an interview with BioTuesdays.com.
"Our hope is to move into a Phase III program in acute asthma at the end of 2012 or the beginning of 2013," he adds.
| | |
| --- | --- |
| Shares Outstanding: | 16.09M |
| Float: | 12.72M |
| % Held by Insiders: | 21.26% |
| % Held by Institutions: | 11.30% |
Pretty good insider and Institutional ownership for a stock selling around $3 a share. This one has a smaller market cap and float, so the run up should be hard and fast once it occurs.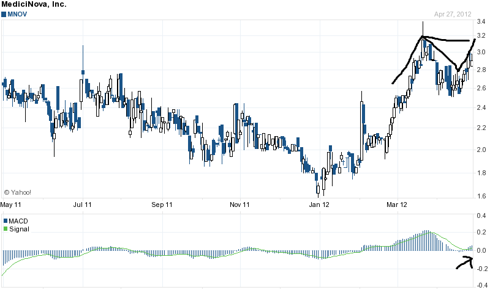 The MACD and signal are turning positive here, along with a continuation pattern forming which I have crudely marked above. We can see more savvy traders have begun to quietly accumulate shares here in advance of the expected run-up. Based on the chart above and because this is a low floating stock, I expect a nice move up to occur in the short term, with volume picking up each day as we get closer to this catalyst event.
Obviously it is a gamble to hold the stock thru the release of the phase 2b data, but if this data confirms, and it appears based on the interview with the CEO of the company it might, I would expect at least a 50% move upwards in the stock price from its current level of about $3 a share.
Short term price target opinion: $3.50 a share in a time frame that covers up to the end of May when the data is expected to be released. If the data is positive, then a move over $4.50 is in order.
Disclosure: I have no positions in any stocks mentioned, and no plans to initiate any positions within the next 72 hours.
Additional disclosure: DISCLAIMER: This article is intended for informational and entertainment use only and should not be construed as professional investment advice, but rather my opinions as a writer only. Always do you own complete due diligence before buying and selling any stock.