The E-Mini S&P 500 trended lower during the day session Monday as US data started to lose traction and Spain's economy was noted to have slipped into recession. Really, the momentum was due to slow especially as the Shanghai Stock Exchange was on holiday in China. The next couple of days are also holiday times for parts of Europe, Japan, Mexico, Brazil and Chile.
US Personal spending increases by 0.3% in March, down from a revised 0.9% pace in February. Incomes increased by +0.4%, giving a little better view of the economy. Chicago PMI decreased in April to 56.2% from 63.3% in March, while forecasts were for 60.8% increase. Please note that anything above 50% points to expansion.
Out of the 297 companies that make-up the S&P 500 that have reported to date, 72% have exceeded expectations. Sunoco Inc. (NYSE:SUN) was up 20.5% to $49.29. Barnes and Noble (NYSE:BKS) was up 52% to $20.75.
The view that the housing market may have bottomed may increase construction very slowly. Banks are seeing a slight rise in mortgage applications. House prices have dropped about 32% since 2005, but the strong demand for rental properties is helping the housing sector.
Ahead of the May Day holiday in Europe, trading was light. The European Central Bank meets on Thursday to discuss the fiscal health of the Euro Zone. As Spain falls back into recession, Portugal becomes vulnerable as about 20% of its exports go to Spain. Spain's economy is forecast to contract by 1.7% in 2012. Each of these nations are linked as the investors for one nation may be from the next vulnerable nation.
Last week, S&P's credit rating agency lowered the credit rating of Spain from A/A-1 to BBB+/A-2. The outlook for the long-term rating is negative for the moment. It is believed by the credit agency that the European Central Bank's cheap loans equaling over a trillion euros had supported Spain's rebalancing. The European Central Bank is expected to engage in another round of bond-buying within the next three months as the yields of some of the auctions remain relatively high and Europe is in a recession.
The $1 trillion euros in cheap loans issued by the European Central Bank is thought to have boosted the bond auctions of some of the indebted nations to date. European laws require that the European Central Bank may not make direct purchases therefore leaving the open market as the means for their buys. They have concerns regarding inflation of course but hope to keep it in check.
Iran and the six nations leaders had met to discuss the nuclear research sites in Iran and the sanctions imposed on the country. They are to meet again May 23rd in Baghdad. The International Atomic Energy Agency (IAEA) had said that it is to resume talks with Iran on May 14th and 15th to attempt to provide clarity on the issues and find constructive resolutions for the issues. Saudi Arabia and Iraq have already boosted their output to suffice for the lack of product from Iran.
On the stock side: JP Morgan Chase and Co. (NYSE:JPM) was down 0.83 % to $42.98. Citigroup Inc. (NYSE:C) was down 1.43 % to $33.02. Bank of America (NYSE:BAC) was down 1.82 % to $8.10. Alcoa Inc. (NYSE:AA) was down 0.19 % to $9.73. Boeing Co. (NYSE:BA) was down 0.60 % to $76.81. Caterpillar Inc. (NYSE:CAT) was down 1.73 % to $102.75. General Electric Co. (NYSE:GE) was down 1.01 % to $19.58. Halliburton Co. (NYSE:HAL) was up 2.80 % to $34.17. Hewlett Packard Co. (NYSE:HPQ) was down 0.25 % to $24.69. SPDR Select Sector Fund - Financial (NYSEARCA:XLF) was down 0.52 % to $15.43.
E- Mini S&P 500 Chart.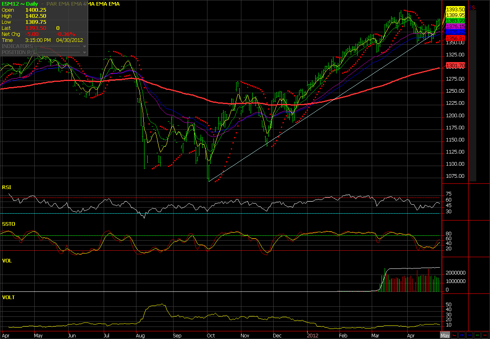 Click to enlarge
Tuesday, what to expect: We maintain a bullish bias unless the E-Mini S&P 500 penetrates $1356.75. Tuesday, we anticipate an inside to inside to higher day. Monday's range was $1402.50 - $1389.75. The market settled at $1393.50. Our comfort zone or point of control for this market is $1394.75. Our anticipated range for Tuesday's trading could is $1409.50 - $1392.50.
Disclosure: I have no positions in any stocks mentioned, and no plans to initiate any positions within the next 72 hours.