Last Friday we got a glimpse at the Q1 GDP for the US economy. The US GDP expanded at an annualized rate of 2.2%. This number will be revised at least twice more before we get the final picture, but nonetheless, it was disappointing. The number was disappointing on two counts. One, it came in below the expectation of 2.5% and two, it was much lower than the last quarter's GDP of 3%.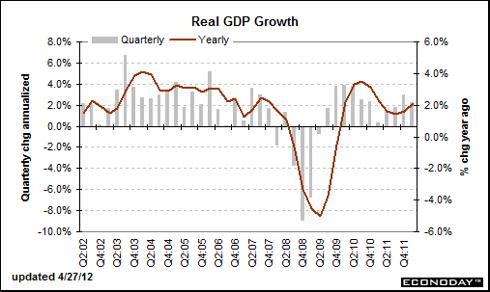 click to enlarge
There are 4 components that make up the US GDP, and below is an analysis of the message coming out of these numbers.
1. Business Investment
Business investment in equipment was positive but less so than in the fourth quarter. After almost two years of replenishing business inventories, companies are slowing down. This does not bode well for future corporate hiring. Additionally, a look at the Q1 corporate earnings reports shows a continuation of the disturbing trend in earnings growth that is driven not so much by an increase in the top line, but a reduction in the bottom line or cost cutting.
The hiring picture being painted by business investment is not rosy. The March jobs report, we received in early April was poor and I fear that another poor jobs report could seriously derail the equity market rally.
2. Consumer Spending
Real personal consumption expenditures increased 2.9% in the first quarter. But the interesting point to note is that while disposable personal income increased 2.8%, personal outlays increased 5.3%. This obviously means that the personal savings rate fell sharply from 4.5% down to 3.9%.
The consumer, who so far had been rebuilding his balance sheet by increased savings seems to be taking a breather. This can be attributed to a rebound in confidence from rising jobs and a rising stock market as well as a certain degree of austerity exhaustion.
The danger point here is that if slowing business investment leads to another poor jobs report, consumer spending which accounts for 2/3 of the US economy could seriously suffer.
3. Government Spending
The continuing theme of global government austerity meant that federal government consumption expenditures decreased 5.6%. One of the sectors to see a large decline was defense spending which dropped 8.1%. This means fewer government contracts for the private sector and therefore fewer new jobs for the economy.
4. Net Exports
Net exports were marginally positive but essentially neutral. With a contracting Europe and slowing Asian economies, it will be difficult for US companies to increase their exports in a meaningful way going forward.
4 years after facing a massive recession, the unemployment rate is still stuck above 8% and the economic growth is starting to slow. Many of my colleagues in the hedge fund circles are calling for a return to negative growth or recession in the US by the end of 2012. This does not bode well for the retail investor, who after missing the Q1 rally has decided to jump back into the markets only to see the rally dissipate.
Disclosure: I have no positions in any stocks mentioned, and no plans to initiate any positions within the next 72 hours.