Since the housing market peaked over 5 years ago, investors have been longing for any signs of a recovery. However, the housing situation in the U.S. still remains relatively bleak and investors received two more negative reports to digest last week.
Sales of new homes fell 7.1% in March, the largest amount in more than a year, indicating that the U.S. housing market remains under strain despite some modest signs of improvement. Sales of new homes stand at just about half the roughly 700,000-a-year pace that analysts consider evidence of a healthy market.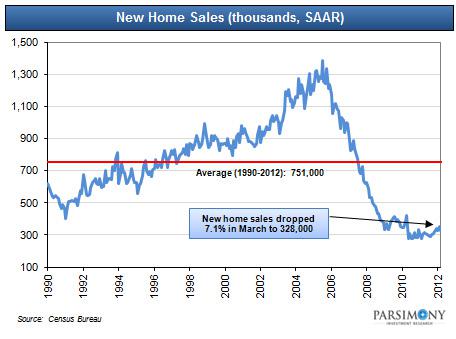 In addition, home prices dropped in February in most major U.S. cities for a sixth straight month, a sign that modest sales gains haven't been enough to boost prices. The Standard & Poor's/Case-Shiller home-price index shows that prices dropped in February from January in 16 of the 20 cities it tracks.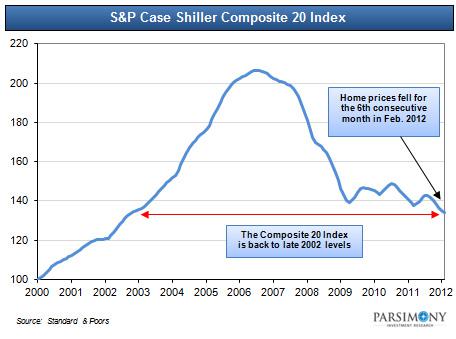 As shown in the graph above, the Case-Shiller Composite 20 Index is now back to a level not seen since late 2002.
The Housing Market and Mortgage REITs
We have written many articles about the mortgage REIT space over the past year or so (mostly bullish) and we often get questions about the relationship between the housing market and mortgage REITs.
On the surface, you would intuitively think that the housing market implosion would have sent mortgage REITs spiraling into the abyss (much like it did the banking sector). However, despite pulling back initially, mortgage REITs (especially those focused primarily on agency securities) have performed surprisingly well over the past 5 years.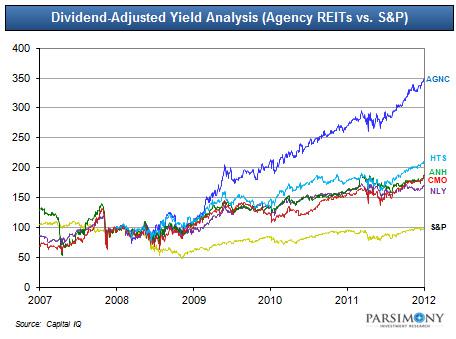 As shown in the chart above, over the past 5 years, a basket of agency-focused mortgage REITs (including American Capital Agency Corp. (AGNC), Hatteras Financial (HTS), Anworth Mortgage Asset Corp. (ANH), Capstead Mortgage Corp. (CMO), and Annaly Capital Management (NLY)) would have generated an average annual dividend-adjusted yield of over 25%... while the S&P 500 was essentially flat.
Limited Credit Risk
The main reason that agency mortgage REITs have such a low correlation to the housing market is because they are not exposed to the credit risk of the underlying borrowers. Agency mortgages are guaranteed by government sponsored entities (implying limited credit risk).
A mortgage REIT's principal business objective is to generate income for distribution to its stockholders from the interest rate spread (i.e., the spread between the interest income received on its mortgage-backed securities and the cost of borrowing to finance its acquisition of mortgage-backed securities). In other words, the slope of the yield curve is the main factor that drives mortgage REIT profits.
As we have written in previous articles, interest rates and prepayment rates are the key risks for agency mortgage REIT investors to consider. All else being equal, a stagnant housing market is an ideal environment for mortgage REITs. The yield curve is likely to remain very steep until interest rates rise significantly... and the Fed can't afford to raise interest rates until the housing market shows signs of a meaningful recovery. In addition, banks are still very reluctant to lend as housing prices continue to fall, which should keep prepayment rates in check for the foreseeable future.
Agency Mortgage REITs to Consider
Below is a list of agency-focused mortgage REITs to consider:

Annaly Capital Management and American Capital Agency have a high concentration of fixed rate securities in their portfolio, while Anworth Mortgage Asset Corp., Capstead Mortgage Corp. and Hatteras Financial Corp. have a bias toward floating rate securities. That said, investors should consider buying a basket of agency REITs to help mitigate the portfolio biases of specific managers.
Conclusion
Generally speaking, we think agency mortgage REITs continue to offer investors the most compelling risk/reward profile due to:
limited credit risk,
a relatively steep yield curve,
slower expected prepayment speeds, and
an accommodating Fed that has a stated plan of maintaining short-term interest rates for nearly two more years (late-2014).
We are long-time holders of Annaly and American Capital Agency, which continue to be our two favorite mREITs in the space. Please see the links below for further details.