China Shenghuo Pharmaceutical Holdings, Inc. (AMEX: KUN), a Kunming, China based company involved in the research, development, manufacture, and marketing of pharmaceutical, nutritional supplement and cosmetic announced its unaudited financial results for the Q3 2007. Revenues were short, and investors were not happy.For the third quarter, the company reported net sales of US$4.2 million, a decline of 17.6% from the same quarter last year. Gross profit for the second quarter was $3.2 million with gross margins of 75.3%, up from 74.4% the prior. The increased gross margin was attributed to an increase in sales prices. Net income during the quarter was $0.9 million, or $0.04 per diluted share.
The company attributed the sales decline to a tightening of credit policy, reporting that an adoption of more stringent credit policies caused a shift in its customer base and led to a shortfall in sales volume. In addition to the revenue shortfall, management also revised guidance downward. In the second quarter the company was anticipating revenues of between $24.0 million and $26.0 million and earnings of between $5.0 million and $6.0 million for the year. The company now expects full-year revenues of between $20.0 million and $22.0 million and net earnings of between $4.0 million and $5.0 million. The Company forecasts earnings per share of between $0.20 and $0.25 for the full fiscal year.
"The tighter credit policies posed a short-term challenge for China Shenghuo, but we have since replaced these customers with larger, more established buyers, which should help to bolster sales during the typically strong fourth quarter," stated Lan Guihua, Chairman and Chief Executive Officer of China Shenghuo.
Investors were clearly displeased with the results. After reaching an all-time high of US$16.35 on Oct. 4th, shares had slid over 38% to US$6.24 as of Nov. 13th. In front of the earnings report, shares rose 17.3% to close at US$7.32. The surprise revenue shortfall and negative guidance were met with brisk selling by investors today, with shares falling over 25% to close at US$5.45. With investors lacking visibility as to the revenue picture, shares of China Shenghuo will likely remain under pressure in a difficult market.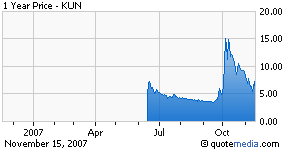 Disclosure: none