While the Great Recession may have been the worst market shock to strike in the past few decades, the recovery that has since followed has resulted in one of sharpest rebounds in history as far as stock prices are concerned.
As the market continues to teeter near recent historical highs, with the Dow Jones Industrial Average marking 13,228 as of April 29, caution has become the name of the game for investors looking at the charts with reserved optimism. While still under the bullish trend, fundamental anxiety wonders if the market can continue its climb, as the real economy appears to have difficulty finding a strong foothold in the uphill battle for sustained growth.
Indeed, with much of the past progress predicated upon government intervention as a catalyst, the uncertain times ahead suggest the need for a more defensive strategy.
Click to enlarge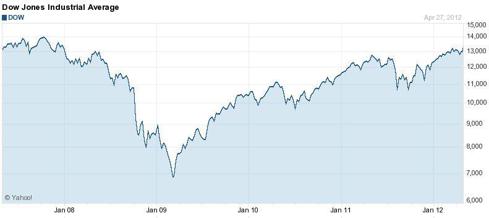 In basketball, a good defense wins championships. So too can a defensive strategy win on the stock market, wherein pursuing a stable defensive portfolio can mitigate the downside, while still prospering during times of economic growth. Yet, seeking protection for the downside, while still garnishing that growth, is a delicate balance to juggle.
The following companies when combined offer a pretty stable portfolio of defensive stocks that are still poised to prosper with larger overarching growth trends. Essentially consisting of four long positions and a hedging short position, the portfolio still allows for growth, while controlling the damage incurred in a falling market. The portfolio consists of the following:
Active Bear ETF (NYSEARCA:HDGE)
The Active Bear ETF is an actively managed fund that specializes in short selling a portfolio of mid- to large-cap US-traded equities. As a result, the holdings do not suffer from the value deterioration problems normally found in inverse funds. This position acts as a managed hedge for the possibility of a falling market, and has historically performed in a manner relatively true to its investment objective.
When the market goes up, HDGE should go down and vice versa. The graphic below shows the 1-year history when compared against the Dow Jones Industrial Average, a measure of the general market performance. This unique position in our holdings has a role to play. It is both the lifeline in a falling market and the counterbalance during a growth marathon in order to provide the relative stability in this defensive portfolio.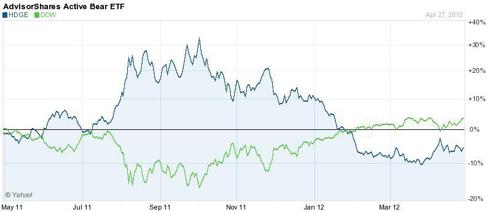 National Presto Industries (NYSE:NPK)
Though operating in markets often considered far from exciting or uniquely advantageous, National Presto's holdings offer a formidable formulation of stable industries. The company specializes in armaments for the Department of Defense, small consumer appliances for the kitchen, and absorbent products such as adult diapers.
Despite fears of a defense spending cut on the horizon, the company has actually managed to increase its backlog as late as early April with this contract win. Growth remains on the agenda in the absorbent products division with the aging population in sure need for adult diapers and a new generation of elderly about to come into being.
The company has no long-term debt, distributes 90% of its earnings back to its shareholders via a special dividend, and is well capitalized to sustain its operations. Historically, National Presto has distributed dividend yields of 8.51% in 2008, 7.51% in 2009, 5.73% in 2010, 6.08% in 2011, and 6.23% in 2012. Though predicated on performance, the income component of National Presto serves as core position for this portfolio.
Teva Pharmaceutical Industries (NYSE:TEVA)
Teva takes the title as the largest generic drug manufacturer in the world. As the Baby Boomer generation enters into old age, the need for cheap generic drugs will have never been more necessary. Combined with a large library of expiring patents from brand name drug manufacturers, Teva remains poised for extended growth. With future earnings in 2013 expected to come in around $6.05, the company sports a forward price-to-earnings ratio of 7.54. With this growth trend, the company grew its quarterly revenues 28.5% year over year and yet retains a stable beta of 0.58.
Chevron (NYSE:CVX)
Chevron provides the portfolio with access to an oil exploration giant that continues to pay a respectable dividend of 3.4%. With the likely scenario of continually rising oil prices, investing in a company like Chevron can help further diversify the industry base, while tapping into a larger long-term trend. The company has also taken the initiative to invest in growing biofuel plays to help secure an even further long-term future. Companies like Codexis (NASDAQ:CDXS), KiOR (NASDAQ:KIOR), and Solazyme (SZYM) have all found support from Chevron on some level.
Bunge (NYSE:BG)
The stability of agribusiness is the key to Bunge's position in the portfolio. Bunge purchases and distributes grains and oilseeds, while also maintaining a wide variety of the basic infrastructure needed by the agricultural sector. The company also participates in the growing fertilizer sector, which continues to prosper in light of changing dietary habits and overall growing demand for food.
Yet some of the hidden growth of Bunge might actually be found in its sugar operations. Bunge recently formulated a joint venture with renewable oils company Solazyme - which is sure to increase its market range through the ability to convert sugar into jet fuels and chemicals in a sustainable fashion. Such an arrangement will be sure to help diversify its already existent ethanol operations.