INVESTools (SWIM), according to their most recent 10-k calls themselves "a leader in investor education," helping users achieve their goals by using the "INVESTools method." The company consists of four subsidiaries including ZiaSun, Telescan, and SES Acquisition Corp., and Prophet Financial Systems. INVESTools recently acquired retail broker Think or Swim, rated highly by Barron's (.pdf), for what that is worth.
Business Strategy
The company's business strategy raises concern, and their products are gimmicky and misleading. INVESTools products and services are built around "a 5-Step Investing Formula that is designed to teach both experienced and beginning investors how to approach the stock selection process and actively manage their investment portfolios." The stated end goal for INVESTool customers is to "take control of their financial futures," just like every other infomercial I have seen. Investools courses range from a basic 5-step course to the laughable "Master Investor Program," and "Program of High Distinction." However, if INVESTools customers are truly interested in learning about financial markets instead of falling victim to another get rich quick infomercial, why don't they sign up for a course at their local university, consider a career change to the financial services industry, or visit their local library, which costs nothing. INVESTools' management team should not kid themselves into thinking that their product is somehow unique, special, or proprietary.
Sources of Revenue
According to the company's 10-k, revenue comes from (i) the initial sale of the company's products and services as a result of marketing efforts across multiple acquisition channels which include, but are not limited to, television, print, postal mail, radio, online banner, paid and organic search and email direct marketing campaigns driving customers to either a free preview of investor education products offered at locations near the prospect or the opportunity to speak with a telesales representative about the products offered; and (ii) the additional sale of products and services to graduates as a result of continued interaction with us in workshops, periodic email and direct mail communications and through access to coaches and instructors. In a nutshell, revenues for the INVESTools' segment come from continued marketing efforts.
Holes in the INVESTools Story
I believe that when the company's customers start to realize that this product does not work after several diligent efforts to get rich quick with INVESTools, the company's business model will crumble. The large increase in earnings growth is mainly a result of the ThinkorSwim acquisition in February, which provided $32.586 million during Q307 in additional revenue, and increased revenue for nine months ended September 30, 2007 of $69.441 million, with both increases coming from an easy comp base of zero. Comps for the investor education segment were actually down yoy Q307 by 20%, and for the nine months ended September 30, 2007 were down by 13%.
Bottom Line
With what appears to be growth mainly from the ThinkOrSwim acquisition, the quality of INVESTools' earnings must come into question. Although ThinkOrSwim may be a viable brokerage business, management needs to divest or liquidate their investor education unit and focus on the ThinkOrSwim segment, or risk wasting valuable resources on basically an infomercial business that is not viable long term. Management's exit strategy should be to continue to grow ThinkOrSwim before selling out to a strategic acquirer such as TD Ameritrade due to the intense competition and commoditization in the brokerage industry. However, this appears unlikely based on CEO Mr.Lee Barba's comments to SeekingAlpha.com contributor Joseph Citarella. With a fairly successful career on Wall Street managing the global trading business of Banker's Trust, as well as stints at Paine Webber and Lehman Brothers, it's astonishing that Mr. Barba can't see the weaknesses in his own company's business model.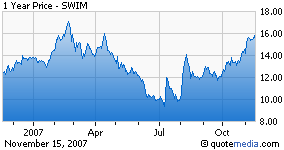 Disclosure: none