Consolidated Edison "Con Edison" (NYSE:ED) is an electric and natural gas utility serving customers primarily in the NY Metro area. The company operates out of three segments with CECONY, a fully regulated utility, being the most important in terms of revenue (81% of total in 2011) and operating profit (93%). CECONY owns electricity, natural gas and steam distribution and transmission assets in New York City as well as a very limited amount of generation capacity in order to produce steam. CECONY provides electricity to 3.3 million customers, natural gas to 1.1 million customers and steam to 1,735 customers. The electricity, natural gas and steam businesses have authorized returns on equity of 10.15%, 9.6% and 9.6%, respectively.
The company's second largest segment is O&R which produces 7% of the company's revenue and 5% of operating profit. O&R owns two small regulated utilities serving 300,000 customers in southeastern New York, New Jersey and Pennsylvania. O&R also serves 100,000 customers natural gas in New York and Pennsylvania. Authorized returns on equity for electricity and gas are 9.2% and 10.4%, respectively.
Competitive Energy is Con Edison's third segment and it produces about 12% of revenue and 2% of operating profit. The segment primarily acts as a middleman in the sale of power to end users and manages output and fuel requirements for a set of third-party operated generating assets.
Con Edison has seen flat revenue over the historical period due to the impact of reduced costs for purchased power and natural gas and to a small extent, the divestment of certain generating assets in 2008. EBITDA has grown at a 5.6% compound annual rate since 2007 from $2.5 billion to $3.1 billion in 2011. Growth in EBITDA has not translated into growth in EPS from operations due to much higher depreciation expense and significant equity issuance to help fund the company's capital program.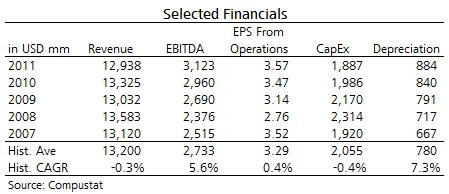 Cash flow and profitability have been mostly stable over the period with the exception of 2008 where issues developed in the competitive energy business impacting cash generation and depreciation and share issuance related to CECONY impacted earnings on a per share basis. Cash flow and profitability have slowly grown back to level prevailing in 2007.
Capital investment has been running well ahead of depreciation over the period and the company expects such investment to remain near current levels over its three year forecast period.
For 2012, analysts are expecting $3.75 of earnings, a healthy increase over 2011, supported by increased rate base at the regulated utilities. Based on this level of EPS, EBITDA should be about $3.2 billion, implying gross cash flow of about $3 billion.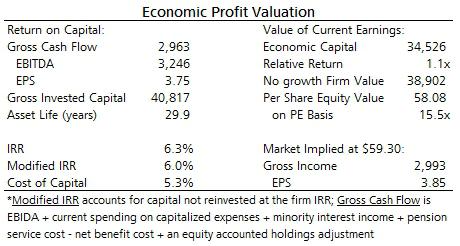 After restating assets in terms of current costs, Con Edison's gross capital is $40.8 billion with an asset life approaching 30 years. Using estimated gross cash flow, this translates into an IRR of 6.3% and a MIRR of 6%. Given a real cost of capital of 5.3%, Con Edison is producing a relative return of about 1.1x. On economic capital of $34.5 billion, the justified no growth firm value of the company is $38.9 billion or on an equity per share basis, $58.00. Future real growth may be worth an additional 1-2% of the share price.
The current value of the shares is about $59.30, implying the market may be looking for slightly higher earnings or is just giving the firm the aforementioned growth value. The difference is too small to be material in light of the number of assumptions made in the valuation process. In my view, the stock is trading at about fair value, given current earnings.
Moving on from valuation, there are a couple points that investors should consider. Con Edison is in the middle of a major structural change in the amount of capital it will be employing. Throughout this process there is always the risk that in response to higher bills, regulators find ways to hold down rate increases, for example, through lower allowed ROEs. Lower U.S. Treasury and corporate bond rates may be a trigger for regulators in this regard as they are able to make the argument that an observable variable is showing costs of capital decreasing for competing assets. Some utilities even have ROEs explicitly tied to debt costs. Acting as an offset is decreased energy costs which will soften the blow of higher distribution and transmission costs, but consumers usually notice the puts and takes in the total energy bill and Con Edison is not free from oversight in this regard.
It is also not clear that the company's cash flows are 100% stable due to the difficulties suffered in 2008. If this is the cash perhaps normalized cash flows are slightly less than current cash flows. Finally, while there are some risks, which is to be expected, there does not appear to be much upside to earnings. There is little the company can do to materially drive earnings higher and therefore the opportunity for an upside surprise is limited. On the whole, I see the shares as neither overvalued, nor particularly interesting.
Disclosure: I have no positions in any stocks mentioned, and no plans to initiate any positions within the next 72 hours.