As a rocky month of April comes to a close, the month of May looks to be very exciting for the Healthcare and Biotech sectors. There are 14 events scheduled for May, including a few very high profile treatments. Healthcare and particularly biotech trading can be very lucrative due to wild swings in the share price dependent upon the word given by the FDA. Intuitively, these share price swings can cripple a trader's bankroll if the FDA rules in opposition to the trader's investment. Nevertheless, let us get started in order to see what will take place this month.
May 1st
The FDA is scheduled to deliver Pfizer (NYSE:PFE) and Protalix (NYSEMKT:PLX) a decision regarding the firms' Taliglucerase alfa. Taliglucerase is intended to treat patients with Gaucher disease. Gaucher disease is a lack of a particular enzyme called glucocerebrosidase. Taliglucerase has been developed via a plant cell recombinant that was mutated, or recombined, to mimic glucocerebrosidase. It is quite the incredible development and an approval may possibly be a tiny step towards human stem cell research funding that can be used to cure other incurable diseases.
Nevertheless, this is not a reason to expect an approval from the FDA. But there are several other reasons as to why the FDA will approve taliglucerase. Five of these positives can be found be reading SA's Joe Gantoss's March 19th article:
It is an NDA resubmission and under SPA protocol.
The FDA did not request long term or new clinical trials in the previous Complete Response Letter [CRL].
Had good results of the Switch-Over trials presented at the 8th Annual Meeting of the Lysosomal Disease Network: WORLD Symposium 2012, held on February 8th in San Diego, California.
The FDA is already allowing Protalix and Pfizer to treat Gaucher's patients under a compassionate use program so the drug's efficacy and safety are not an issue.
Have passed a "GMP" good manufacturing practices, audit of the Company's manufacturing facility was performed and it was found compliant with the FDA, the Israeli MOH, ANVISA and the IMB on behalf of the EMA.
However, it is important to keep in mind that four of these reasons are not home run guarantees. The Switch-Over trials is the best of the lot. The SPA protocol and the fact that the FDA did not require further trials do not necessarily mean that the FDA will send an approval. We have seen biotechs receive a CRL time and time again under these same circumstances.
With that said, the trial results are positive across the board. Taliglucerase's efficacy is very strong, as patients in the initial Phase 3 trial and the extension trial showed strong results regarding the endpoints studied. Also, the switchover trial results were similar to the extension trial, which indicates that taliglucerase is efficacious. The most important adverse effect was that one patient failed to complete the trial due to hypersensitivity. In the extension trial, one patient also suffered hypersensitivity, but this was treated with permedication from a physician, and that particular patient finished the trial. Perhaps the same patient elected not to finish the switch over trial. Either way, this is important because it indicates that this may in fact be an isolated case that will not effect the FDA's decision.
I am optimistic towards taliglucerase. It appears from the disclosed material that taliglucerase will be approved. Traders and investors appear to agree with me as well. The share price soared 19.5% over six trading days from April 17th through the 25th. The stock has given a little back since the peak, but with the PDUFA a day away, we may see traders and investors wait for a decision before taking any positions. I am expecting an approval, but it is important to keep in mind that the FDA delayed this PDUFA three months. The usual culprit for a delay is an issue with the chemistry, manufacturing, and controls [CMC] section of the NDA. Keep in mind the FDA does not shy away from sending a CRL for a slip up in the CMC section.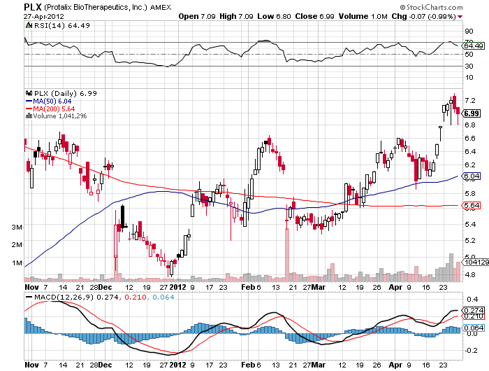 (Source: StockCharts.com)
May 4th
Another very closely watched PDUFA is for Alexza's (NASDAQ:ALXA) Adusave (Staccato Ioxapine). Adusave was also delayed three months. The PDUFA was delayed due to an amendment to Adusave Risk Evaluation and Mitigation Strategy [REMS] portion of the NDA. Adusave is intended to treat agitation in patients with schizophrenia and bipolar disorder. I have not been a fan of Adusave for over a year now. Nevertheless, an FDA Advisory Committee voted 9-8, with 1 vote abstained, in favor of approval of Adusave.
This same Advisory Committee also voted 17-1 in favor of Adusave's efficacy. The red flag comes from the safety vote. The group of experts voted 1-17 against Adusave's safety when used with Alexza's REMS program and 5-12, with 1 vote abstained, against Adusave's safety when used with the FDA's REMS program. Luckily for Alexza, the Committee voted 11-5, with 2 votes abstained, in favor of Adusave's safety when used once every 24 hours under the FDA's REMS program.
As you can see, this is not an easy decision to make. It is clear that Adusave is efficacious, but with regards to safety, there are several red flags. Although, remember Alexza sent the FDA the REMS program that was suggested. Therefore there is a chance that Adusave will be approved. I still have my doubts, though, and I am not expecting an approval here. However, I would not be utterly shocked to see an approval based on the fact that the Alexza submitted a new REMS program that mimics that of the FDA's requests.
Whichever the case, the downside in the stock is limited. The stock is already at all time lows, and a reverse split may be in the making due to Nasdaq regulations. A rejection will still send the stock slightly lower. An approval will turn Alexza into a multi-bagger. But, again, I do not expect this to happen.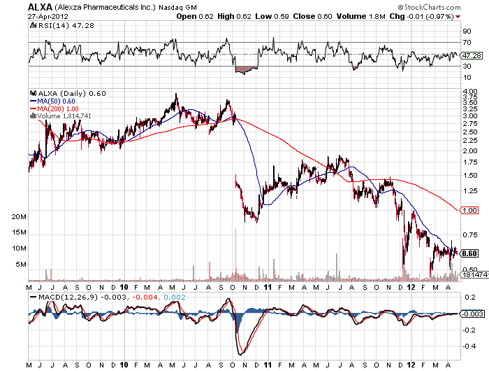 (Source: StockCharts.com)
Also on May 4th, GTx (NASDAQ:GTXI) is supposed to received a notification from the FDA regarding a clinical hold on the firm's phase two clinical trial of Capesaris, which is a secondary hormonal therapy for advanced prostate cancer. The announcement led to the share price dropping 36% in one trading day. The FDA's final day to rule on GTx's response letter is May 4th. We may see the FDA decide sooner than this, but for now, traders and investors will patiently wait.
Regardless of the decision, on a long term time frame, this may be a red flag. If the FDA already has major issues with the phase 2 trial, then we will likely see the trial miss the endpoints or have severe adverse effects. On the other hand, if the FDA allows continuation of the trial the share price will likely surge 15-20% on the news.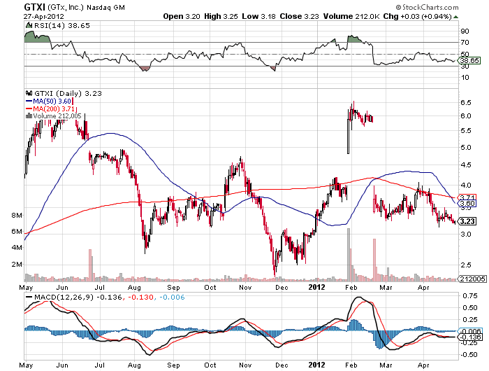 (Source: StockCharts.com)
May 8th
Regeneron (NASDAQ:REGN) will face an FDA Advisory Committee for the firm's sBLA for Arcalyst. The indication the FDA will discuss is for the prevention of gout flares in patients initiating uric acid lowering therapy. Arcalyst is looking good going into the Advisory Committee. The efficacy and safety of the treatment were not bad. However, the difference between placebo and Arcalyst is not impressive. The most important aspect of the sBLA the Advisory Committee will look into is the fact that Arcalyst was not studied beyond 16 weeks. This can pose a problem, because the FDA will likely want to see results from a longer term study before committing to Arcalyst.
May 9th
Another Arthritis Advisory Committee will meet to discuss Pfizer's tofacitinib tablets. Tofacitinib is intended to treat patients with moderate to severe rheumatoid arthritis and who did not respond to disease-modifying anti-rheumatic drugs. Pfizer is very confident regarding tofacitinib. Both the efficacy and safety seem strong. However, it is important to note that Pfizer acknowledges weaknesses, but according to the Investor and Analyst Meeting, Pfizer feels that because they understand the safety issues, the FDA will be favorable towards tofacinitib, and therefore, will set several label restrictions post approval.
In my mind, a treatment's safety is most important. Pfizer spends a moderate amount of time discussing this in their Investor and Analyst meeting. To sum it up, while the adverse reactions were "moderate" in severity, there are some red flags. Two of these are the fact that two of the adverse reactions Pfizer mentions are upper respiratory and urinary tract infections. These are important to note, because the FDA has been very stringent in the past with regards to treatments that cause upper respiratory or urinary tract infections. Furthermore, two patients died from cardiac events in the tofacitinib arm. This is a cause for concern.
This Advisory Committee has their work cut out for them. They will have to determine whether the efficacy and need for the new treatment outweighs the possible safety issues. Pfizer acknowledges several times in the Investor and Analyst Meeting that tofacitinib does have safety flaws, but Pfizer thinks these flaws are outweighed by the efficacy of the drug.
May 10th
May 10th will be the most active day for biotech stocks. Advisory Committees will be meeting to discuss two blockbuster treatments. The first is Arena's (NASDAQ:ARNA) hotly debated Lorcaserin and the second is Gilead's (NASDAQ:GILD) sNDA for Truvada.
Lorcaserin has been in the spotlight recently due to Vivus's (NASDAQ:VVUS) Qnexa causing quite the stir in the biotech community. Qnexa was ultimately delayed three months, which gives Lorcaserin the opportunity to reach the market over a month before Qnexa, assuming that both are approved and equal marketing techniques are used. Nevertheless, lorcaserin and Qnexa bulls are willing to go to war over which will be approved.
Lorcaserin appears to be efficacious, therefore, as usual, the concern will be with safety. Some of the biggest issues were with rat tumors of different types. These issues appear to be cleared up, with Arena providing evidence that lorcaserin is in fact safe and that the original tumors that were found were simply coincidental and/or will not effect humans in the same manner as the rats used for the study.
While all this is fine, one problem I have is complexity. In the past, the FDA has a tendency to reject new treatments over and over again because there is simply too much to do by the sponsoring firm. For instance, the FDA asked Arena to complete four actions:
Provide a detailed accounting of all slides prepared from female rats that contributed to mammary tumor incidence data in each update to the FDA and to the final study report;
In consultation with the FDA, identify an independent pathologist or group of pathologists to re-adjudicate all mammary and lung tissues (neoplastic and nonneoplastic lesions) from all female rats;
Demonstrate that the apparent increase in aggressiveness of adenocarcinoma in rats administered lorcaserin is reasonably irrelevant to human risk assessment, and;
Provide additional data/information regarding the distribution of lorcaserin to the CNS in animals and human subjects that would clarify or provide a better estimate of astrocytoma exposure margins.
As I mentioned previously, Arena has addressed these issues over the past year and half. But the issue I have is that the FDA will not be satisfied. It may be clear cut to outsiders (or in other words, biased investors), but if the NDA is not in perfect order, we will see the Advisory Committee hesitate. Even if lorcaserin is efficacious and safe, if Arena has not responded to the CRL issues well enough, we will see a lackluster Advisory Committee followed by a CRL. This is not a guarantee that lorcaserin will be rejected, but it is a serious concern that Vivus does not have to worry about.
Arena's share price has surged higher recently, and a positive Advisory Committee will send the share price at least 100% higher. Similarly, a disappointing review will drop the stock. I am interested to see what the Advisory Committee rules here. Lorcaserin's NDA is more complex than Qnexa's, but that does not mean the Advisory Committee and FDA will reject lorcaserin.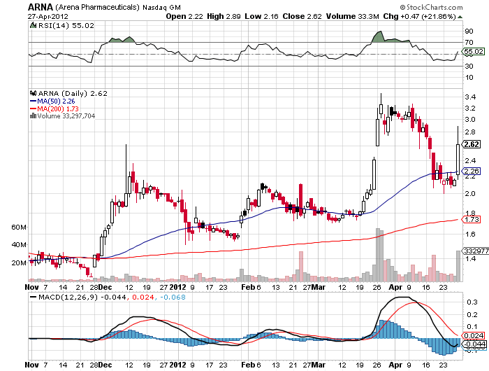 (Source: StockCharts.com)
Another highly anticipated Advisory Committee on May 10th is for Truvada, which has already been approved to treat HIV-1. The indication to be discussed is for the prevention of HIV-1 for uninfected individuals. This would be an incredible product to hit the market. Because of this, the FDA has granted a fairly speedy six month priority review for Truvada.
While the priority review is not an indication that the treatment will be approved, it is usually an indicator that the FDA will be slightly more lenient due to the nature of the drug. Another selling point for Truvada is the fact that Truvada has been approved for eight years. The Advisory Committee is likely a simple precaution to make sure that Truvada is safe. I am expecting a positive review of Truvada followed by an approval in June.
May 11th
The following day another Advisory Committee will discuss another HIV product by Gilead (GILD) that is known as the Quad. The quad is composed of four different HIV treatments, including Truvada, that is intended to treat patients that are not resistant to any of the four drugs in the treatment. The quad was found to be non-inferior compared to current treatments. There was not an eye popping difference in the results from the study, but the quad was safer than current treatments and more efficacious. While the quad's results are not incredibly impressive, I am expecting to see a positive review. It may not be a pretty drug, but it does get the job done, and that is what the FDA is looking for.
If Gilead receives two positive recommendations, the share price will likely surge higher. Gilead's share price is up over the past year, and two positive reviews for HIV treatments will definitely send the stock higher.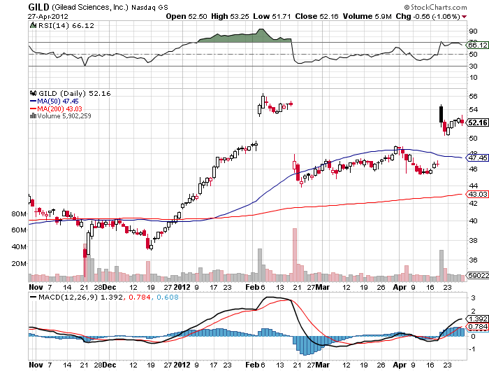 (Source: StockCharts.com)
May 13th
Another closely watched PDUFA is for Talon's (OTC:TLON) Marqibo. Marqibo is intended to treat patients with Philadelphia chromosome [PH], negative acute lymphoblastic leukemia. Marqibo received a positive 7-4 vote, with 2 votes abstained, from an Advisory Committee. This is not a unanimous decision by any stretch of the imagination, but it is positive nonetheless. Also, Marqibo's phase three trial was conducted under the FDAs SPA. As I stated under the Protalix discussion, this does not mean the trial was perfect. If it was the Advisory Committee would have voted more favorably.
For a company with zero revenue, an approval will turn the stock into a rocket; or possibly a buyout target. A buyout may in fact be better for Talon, because Talon may not have the marketing prowess to get the drug to market in a timely and clean manner. I am indifferent about Marqibo. There are some red flags surrounding the NDA, but Talon is hoping that the FDA grants an approval based on the fact that Ph is very rare, and patients are nearly out of luck when it comes to treatments. I am not certain the FDA will agree.
May 15th
OraSure's (NASDAQ:OSUR) OraQuick In-Home HIV Test will face an Advisory Committee to determine if the device can be sold over the counter. The version of the OraQuick series being discussed is currently used by physicians to determine if a person is HIV positive in about 20 minutes. The Advisory Committee will likely take an in depth look at any problems this device could cause by being sold over the counter. OraQuick Rapid is already approved by the FDA, therefore I am fairly certain a positive review is forthcoming. This will set up Orasure to be a takeover target from a medical device firms such as Medtronic (NYSE:MDT) or Abbott Laboratories (NYSE:ABT). With a market cap of $500 million, this is a possibility.
May 23rd
Janssen Pharma will face an Advisory Committee regarding the company's sNDA for Xarelto, which is intended to reduce the risk of thrombotic cardiovascular events in patients with acute coronary syndrome in combination with aspirin or aspirin plus clopidogrel or ticlopidine. Xarelto is already approved to treat the risk of strokes, and the new indication will lower the risk of clotting that can cause strokes in the cardiovascular region. Xarelto will likely receive a positive recommendation from the Advisory Committee. However, this decision will likely be swept under the rug because Johnson and Johnson already has a large list of approved drugs and Xarelto is already approved.
May 24th
FoldRx (Pfizer) will face an Advisory Committee for Vyndaqel. Vyndaqel is intended to treat patients with transthyretin familial amyloid polyneurpathy. Vyndaqel has already been approved in Europe, and I expect to see a positive review by the Advisory Committee. Similarly to Xarelto, many will look right past this meeting because it is just another drug to add to Pfizer's long list of treatments. It is important to discuss, because the rarity of the disease may cause the treatment to have a hefty price tag, which will continue to pad Pfizer's revenue and income levels.
Other May Events
There are two other speculative events in May that will cause for serious share price movement one way or the other. The first is a phase three data disclosure by Ventrus BioSciences (VTUS). Ventrus's Diltiazem is intended to treat anal fissures. Enrollment for the phase three trial was completed in December, and the results are expected in May. It would not be surprising to see the data released late, but whichever the case if the results are positive, the stock price will soar; if not the share price will turn downwards.
The second event is an FDA meeting regarding Repros's (NASDAQ:RPRX) Androxal. After the phase 2b trials Androxal is looking very good for approval in the long term. Nevertheless, the meeting in May is to discuss the procedure for the phase three trials. This can cause Repros's share price to surge if the FDA does not require any super long term trials and/or expensive and complicated trials.
As you can see, May is a very hectic month for the biotech and healthcare sector. Several prime time treatments are up against the FDA this month, and investors and traders will see these stocks as well as related stocks swing wildly throughout the month as traders attempt to anticipate and react to the decisions. I am more optimistic this month regarding several events, but many of these optimistic views have red flags. This is what makes biotech trading similar to a casino. You place your bet based upon the current knowledge and hope no curve balls are thrown your way.