Overview
U.S Bancorp (NYSE:USB) is a diversified financial services provider operating in 25 states in the western and northern U.S. It is primarily funded by low-cost core deposits from the communities it serves. The company operates in four profitable segments: 1) wholesale and commercial real estate banking, 2) consumer and small business banking, 3) wealth management and securities services, and 4) payment services. The company primarily operates in the Midwest and Western U.S. It has 3,085 offices in the U.S., employs 60,584 people, and has ~$340 billion in assets.
Currently, the stock is trading at $32.17, with a 52-week range of $20.10-$32.55. As of April 30th, USB has a market capitalization of $61.3 billion. Analyst consensus pegs the fair value of USB at $33.00, but could there be something that points to a higher valuation? Let's look further.
Competitive Advantage
U.S. Bancorp is a clear leader in capital management, with redeployment remaining a top priority. Over the next 10 years or so, USB expects to return 60-80% of capital to shareholders in the form of dividends and share repurchases. Its projected dividend yield is 2.4% with the most recent dividend being $0.19 per share.
In addition to capital management, U.S. Bancorp has a solid stream of diversified revenues. Revenue breakdown is as follows: 28% payment services, 44% consumer & small business banking, 20% wholesale banking & commercial real estate, and 8% wealth management & security services.
(Click to enlarge images)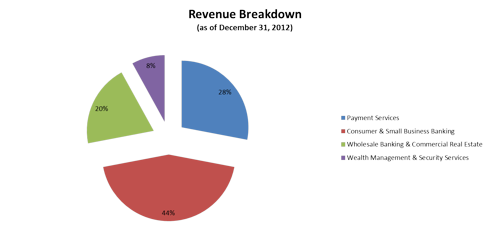 Click to enlarge
In addition to the aforementioned, U.S. Bancorp historically has displayed constant leadership among its peers in growth throughout some of the most important metrics. The graphs below are evidence to this: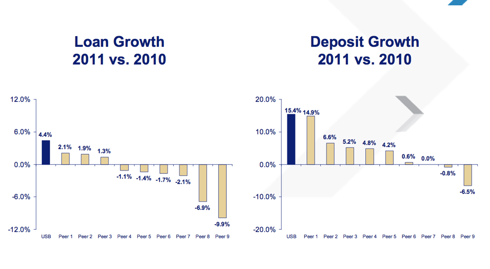 Click to enlarge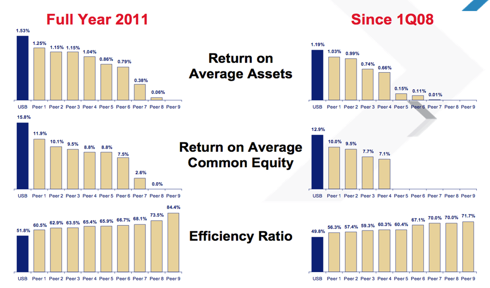 Click to enlarge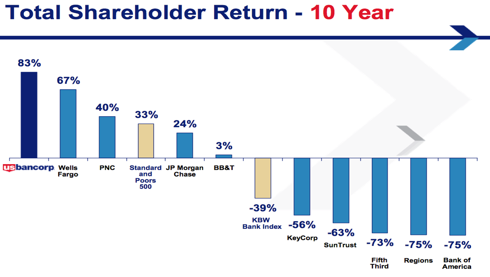 Click to enlarge
Macroeconomy
While most of the industry is rushing to comply with the new regulatory environment through layoffs and spinoffs, U.S. Bancorp is arguably one of the best, if not the best, positioned banks in terms of capital requirements. Proprietary trading is not a part of the bank's operations, thus the proposed Volcker Rule would not materially affect its operations. Basel III is the closest threat to USB's operations. Because of the required implementation of higher capital reserves for different capital tiers that Basel III has brought about, many banks are scrambling to meet strict capital requirements. U.S banks have particularly been rushing to meet the proposed 7% capital buffer imposed on them by the regulation. U.S. Bancorp, however, is already fully compliant with said buffer.
Interest rates present another challenge to the industry. With the fed pledging to keep interest rates near zero until at least 2014, the banking industry has seen a squeeze in interest margin income. The outlook, however, is not as bleak as it appears. Recently, the FOMC (Federal Open Market Committee) announced that QE3 was not something on their agenda, which means that banks' short term profit will not take a hit from the time lag that generally exists between deposit and loan demand. USB is one of the best positioned banks when it comes to interest rates, regardless of what monetary police is. As the graphs above show, U.S. Bancorp has fared better than its peers at keeping its interest margin wider during times of monetary uncertainty.
Financial Performance
The most compelling evidence lies in U.S. Bancorp's financial performance over the past 5 years. While other players in the industry were facing the risk of bankruptcy and financial uncertainty, USB kept performing well and at some metrics even seeing growth during times of great uncertainty. Net interest income as well as net income have seen a period of relative stability over the past 5 years, as the graphs below will show. In addition to this, operating cash flow, a metric that gauges operational efficiency as well as strength, has seen a dramatic increase over the past 5 years. Profit margins have seen a steady increase as well, while interest expense as a percentage of revenue also saw a steady decrease. As for shareholder metrics, earnings per share has seen a strong rise over the past 5 years as has operating cash flow per share. Finally, balance sheet metrics show a bank with increasing growth and a rapidly expanding market share, as both loans and deposits saw steady growth throughout the past 5 years. These financial metrics show both value and growth for the stock of the company.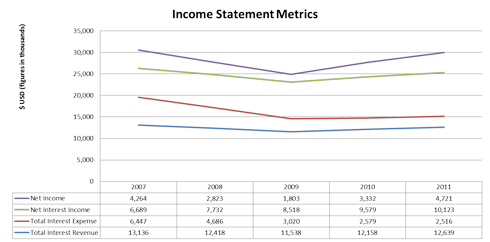 Click to enlarge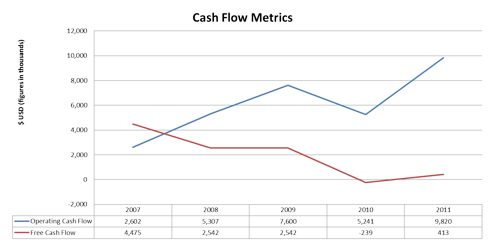 Click to enlarge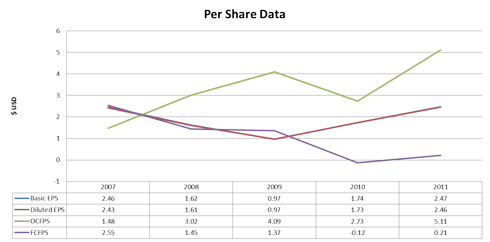 Click to enlarge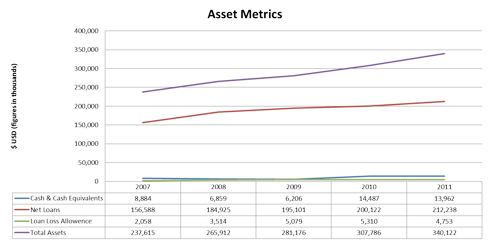 Click to enlarge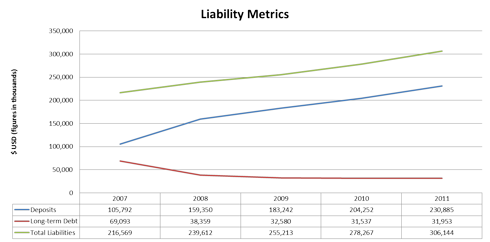 Click to enlarge
Conclusion
Running a three-stage dividend discount model with a cost of capital of 7.91% and a weighted average growth composed of historical growth, outside estimates, and fundamental growth of 9.62% during a 5 year growth phase yields a current fair value of $38.13 per share. While most analysts place the stock's fair value anywhere between $33-35, their valuation is based on very conservative projections. Seeing as how analysts also predicted the stock to not fare well after the financial crisis, there is a high probability that U.S. Bancorp will continue to demonstrate why it has beaten the odds time after time. With a great competitive advantage and a relative leading protection against regulation, USB is certainly poised to gain market share and create superior value for its shareholders. U.S. Bancorp will build upon its already admirable 162 year history with great service and continued leading operations.
Disclosure: I have no positions in any stocks mentioned, and no plans to initiate any positions within the next 72 hours.
Additional disclosure: The fund I work for is long USB.