There is good news for income investors. With Nasdaq's (NASDAQ:NDAQ) initialization of its first dividend on April 25th, the number of dividend payers in the S&P 500 (NYSEARCA:SPY) is now at 402, a dozen year high. Eight companies have initiated new dividend payments this year: the aforementioned Nasdaq; largest S&P 500 constituent Apple (NASDAQ:AAPL), who last paid a dividend in 1996; Agilent Technologies (NYSE:A), a technology leader in chemical analysis, life sciences, electronics and communications; American Tower (NYSE:AMT), the wireless tower operator who transferred to REIT status earlier this year and will now be paying 90% if its earnings out as dividends; Coventry Health Care (CVH), the Maryland-based managed healthcare company, Gamestop (NYSE:GME), the video game retailer, SAIC (SAI), a Virginia-based scientific, engineering, and technology applications company; and Thermo Fisher Scientific (NYSE:TMO), scientific instrument and laboratory supply maker. In addition to the eight companies that initiated new recurring dividends, 122 companies increased their dividend against only three companies decreasing their dividends in the first quarter.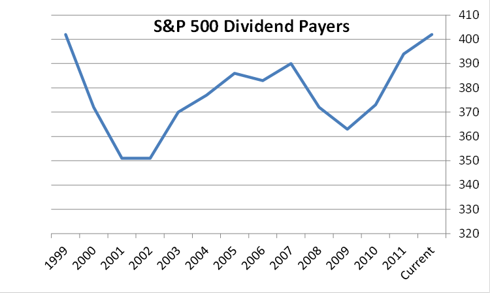 Click to enlarge
Source: Standard and Poor's, Bloomberg

Click to enlarge
While the number of dividend payers has been rising quickly post-recession, do not expect this trend to abate anytime soon given the health of corporate balance sheets. As I wrote in mid-February in "A Stock Market Catalyst for 2012", cash on the balance sheet of S&P 500 companies is more than twice the level it was five years ago as constituents hoarded cash amidst the economic downturn.
Net debt relative to EBITDA is nearly two turns less than its trailing ten year average for constituents of the S&P 500 as corporate balance sheets have de-levered and de-risked amidst continued economic uncertainty. The dividend yield of the benchmark equity index; however, is only 0.2% higher over this period despite the increased liquidity. Companies are paying out a historically low level of their earnings to shareholders as seen below.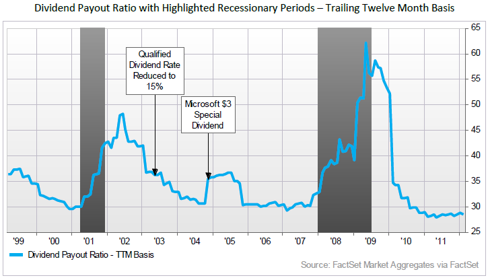 Click to enlarge
Expect the number of dividend payers and the amounts of dividends corporations pay to continue to increase in coming periods as businesses choose to return cash to shareholders.
Disclosure: I am long SPY.