Exxon Mobil (XOM) is an incredible long term stock to hold. I have written about it before and the present trading pattern continues to also draw me toward short term income along with a long term hold philosophy for this company. The stock continues to hold against a ceiling of around 87 and it has done this since the beginning of the year.
So what is Exxon Mobile going to do? Is it going to break out or is it going to retreat? And if we are also interested in short term income opportunities, what direction should we trade in?
Common sense would tell me to trade bullishly because of the stellar performance of the stock. It is true that earnings were below analysts expectations of $2.11 (it came in at $2.00), and its revenue expectations fell short, coming in at $9.45 billion while expectations were around $10.7 billion. But when you have a company sitting on $60 billion in cash at its disposal I don't think the markets are reacting too badly. And it does not hurt the investor when the company just raised dividends 21% and is the largest dividend payer in the world. I don't think the boat was rocked too badly. After all, they did profit $9.45 billion.
But - I would like to bring attention to a fantastic article by Nicholas Pardini of Seeking Alpha. He wrote a very good article recently about oil prices in an election year. In a nut shell, oil prices fall in an election year. When do they fall? Mr. Pardini wrote:
…oil prices clearly react negatively to political pressure. So what does this trend mean for investors? I believe that due to the assistance of weakening European economies and a reduced threat of a war in Iran, this trend of falling oil prices heading into the November election will continue.
Clearly, this would make sense in an election year-compounded with the weak European economies. For this reason, we would choose a short term bearish direction again for an income play.
(click to enlarge)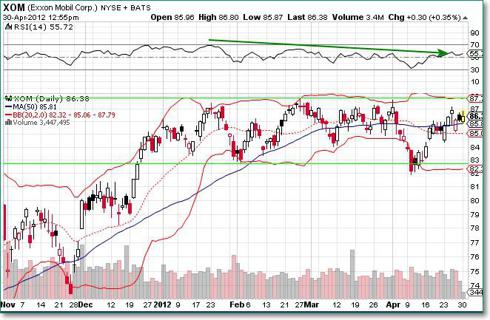 The Options Play
Since the is stock closing in on the resistance level, presently trading at 86.28, we are looking for a Bear Put Spread with about 8 weeks or so in time decay protection.
Buy a July 2012 put with a '85' strike (priced at $2.10)
Sell a July 2012 put with an '82.5' strike (priced at $1.31)
Net Debit to Start: $0.79
Maximum Profit: $1.71
Reasoning behind the Trade
European Oil demands will remain soft.
The company did miss analysts this quarter which won't motivate the stock to increase in value.
A negative divergence does exist in the RSI which may mean a weakening of bullish tendencies.
It is an election year and oil prices tend to go down by November.