We all know that the Coca Cola Company (KO) is a great company to own long term. There is no doubt about that. With the steep climb we have seen as of late, long term investors may have a good chance at a short term income plays to increase the value of their portfolio.
The stock has risen sharply in the last two months and continues to defy any bearish awakenings in the market as it grows in value. Did you know around the world, 1.8 billion bottles/cans of Coca Cola products are drunk on a daily basis? And it increased market share in all of its beverage categories. Its sparkling beverage portfolio grew by 4% and beverage volume by 8% globally. It gained market share again in every nonalcoholic beverage category where it chose to compete. And if you are unfamiliar with its dividend, it recently announced a 50th consecutive annual dividend increase, raising the dividend to 8.5%.
Enough said about the company, it is solid and there are many other articles written about how good it is and about the 2 for 1 split it is asking for.
We wanted to point out some short term plays on the stock that will help create additional income for long term investors in the stock. We have two plays to consider. It looks like both might be in order to initiate. Since the stock has risen so quickly, it shows signs of being over bought. This is a good sign of a pullback. We have very strong support at the '74' level. When the stock pulls back we do not expect it to go past this level so we like a straight option purchase here.
(click to enlarge)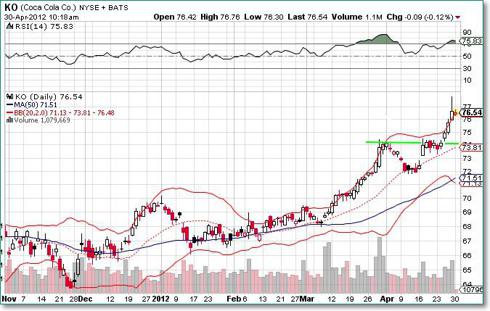 Look at a June 2012 put with a '75' strike (presently priced at $0.93)
We believe the stock has a good chance of dipping before it continues to move up and it easily could dip this far. When it moves, resell with a price increase. Now, if the stock dips to the '74' level and it does not look like the stock will go lower, it would be advantageous to turn right around and buy a call with a '75' strike about 6 weeks out.
As a strong stock like Coca Cola pulls back, an investor can count on a continue move up. As the stock moves up - especially with a strong short term move like we have seen as of late, one can expect a pullback before it continues up. This is where a good short term income strategy works well.