The market peaked on the first day of third quarter earnings season on 10/9. The unofficial end to earnings season came on Tuesday when Wal-Mart (WMT) reported quarterly results. During earnings season, valuations change significantly along with earnings estimates. Below we highlight the change in next year's estimated P/E ratios for the 30 Dow stocks from the October 9th peak. As shown, Citigroup's (C) estimated P/E ratio is down 18.54% since 10/9 from 9.82 to 8.00. The stock is down 27% over the same time frame. AIG's (AIG) P/E is down 16.63%, 3M's (MMM) is down 15.59% and IBM's (IBM) is down 13%. In general, the stocks that have seen price declines have also seen P/E declines. General Motors (GM), however, has seen an 18% rise in its estimated P/E ratio, but its stock price is down 21%.
click to enlarge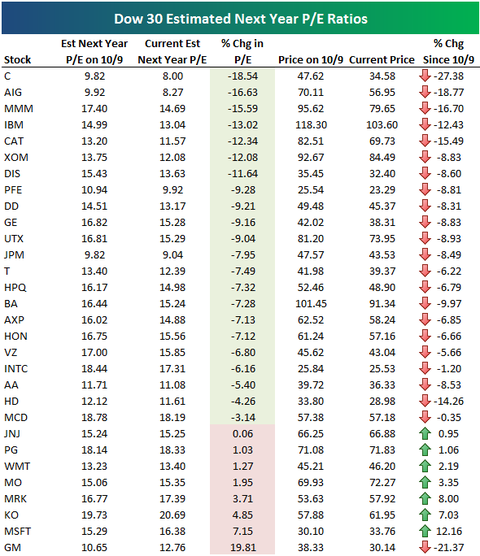 We also found the stocks in the Russell 1,000 with the biggest declines and increases in estimated next year P/E ratios since the 10/9 market peak [we only looked at stocks with positive earnings]. Pulte Homes' (PHM) estimated P/E has actually gone from 115 down to 14.45. The stock is down 12%, but that's not bad for a homebuilder. Liberty Global's (LBTYA) P/E has declined 68%, Ambac Financial's (ABK) has declined 58% and Leap Wireless' (LEAP) has declined 53%.
We also list the stocks in the Russell 1,000 with the lowest estimated next year P/E ratios at the moment. As shown, Ambac is at 3.44, AmeriCredit (ACF) is at 4.55, E*Trade (ETFC) is at 4.68, MBIA (MBI) is at 5.52 and US Airways (LCC) is at 5.56. Countrywide Financial's (CFC) estimated P/E is at 6.13, and the only big broker on the list is Morgan Stanley (MS) at 6.94. It's also surprising to see NutriSystem (NTRI) on the list with an estimated P/E of 6.77, giving it a PEG ratio of 0.34. Now that's a low value growth stock!