Nokia (NYSE:NOK) was very much involved in developing the early technology of cell phones, and had mobile radio phones for cars as early as 1971. Nokia's mobile phones got a huge publicity boost in 1987, when Soviet leader Mikhail Gorbachev was pictured using a Nokia device to make an international call from Helsinki, Finland to his communications minister in Moscow.
Nokia was one of the key developers of GSM (Global System for Mobile Communications, which was adopted in 1987 as the new European standard for digital mobile technology and is the standard for most of the cell phones in the world. Its high-quality voice calling, easy international roaming and support for SMS text messaging made possible a global boom in cell phone usage and which made Nokia a cell phone giant.
The stock peaked in late 2007, and has since fallen on hard times as the chart below shows.
(Click to enlarge)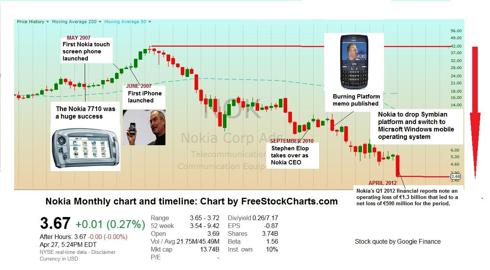 Nokia introduced its first touch screen phone the Nokia 7710 in May, 2007, little more than a month before Apple's Steve Jobs introduced the first version of the sleekly styled iPhone that was to capture the heart and wallet of the world in the years to come.
As you can see from the chart, the Nokia ADR traded on the New York Stock Exchange peaked a few months later at $42.22 and then embarked on a remarkable decline. Less than five years later it was trading at $3.67.
In September, 2010 Nokia appointed a new CEO, Canadian Stephen Elop, the first non-Finnish CEO, who was clearly tasked with the job of turning the company around.
It was already apparent that the company was failing to innovate or respond to the marketplace quickly enough. For example, Nokia was very slow to come out with dual SIM phones, which many customers like in certain markets, where they can subscribe to more than one cell phone service. Why would they do this? Well, if you had unlimited weekend calling to your mother with one company's prepaid service, and unlimited night calling to your daughter with another company, you might want to subscribe to both.
When Nokia eventually did get dual SIM phones to market in mid 2010, they were well received and, for example, had grabbed 19% of the (large) market for dual SIM phones in India by September, 2011. On February 8th, 2011, an internal memo or speech written by Elop was leaked on the website Engadget, which became known as the Burning Platform Memo.
Elop said things like:
The first Apple (NASDAQ:AAPL) iPhone shipped in 2007, and we still don't have a product that is close to their experience. Android came on the scene just over 2 years ago, and this week they took our leadership position in smartphone volumes. Unbelievable.
And:
The battle of devices has now become a war of ecosystems, where ecosystems include not only the hardware and software of the device, but developers, applications, e-commerce, advertising, search, social applications, location-based services, unified communications and many other things. Our competitors aren't taking our market share with devices; they are taking our market share with an entire ecosystem. This means we're going to have to decide how we either build, catalyze or join an ecosystem.
Three days later, on 11th February, 2011, Nokia would unveil a new strategic alliance with Microsoft, and announced it would replace Nokia's in-house operating systems for smartphones, Symbian and MeeGo, with Microsoft Corporation's (NASDAQ:MSFT) Windows Phone operating system; except for mid-to-low-end devices which would continue to run under Symbian. After this announcement, Nokia's share price fell about 14%, its biggest drop since July 2009.
More than a year has gone by and Nokia's sales have continued to fall, with the company just last week being officially overtaken by Samsung (OTC:SSNLF) as the world's leading manufacturer of cell phones by number.
There is a lot of red ink in the first-quarter 2012 results showing that not only did smartphone sales decline (to 11.9m units from 24.2m a year ago, and 19.6m in the previous quarter) but so did mobile phone sales (70.8m, down from 84.3m a year ago, and 93.9m in the typically higher winter holiday season quarter).
However, the Nokia empire has shown some signs of striking back with the release of the generally well-received Nokia Lumia 900 smartphone running Windows Mango operating system. It has been well reviewed by early adopters on Amazon.com (NASDAQ:AMZN) and has sold out in the U.S., apparently causing a delay in the roll-out of the phone in the U.K. while stocks are marshaled.
The Lumia phones have a higher average selling price than the Symbian models - €220 (US$291) against the average selling price for Symbian smartphones of €127.67 (US$169.26).
Clearly, the Lumia is more profitable on an individual phone basis, but the big question is whether Nokia can sell enough of them to compensate for the loss of Symbian sales. Moody's (NYSE:MCO) has downgraded the company's credit rating and says it is 'concerned that sales in Symbian-based smartphones are falling faster than Windows Phone-based Lumia devices are ramping up'.
The future of Nokia has been the subject of hot debate. The company has valuable assets such as its valuable patent portfolio, royalties from Apple from every iPhone sold, ownership of Navteq, which makes it possible to use its smartphones as a navigational aid for vehicles, distinctive advances in cell phone camera technology, a partnership with Siemens AG (SI) in its networks business (currently leaking cash), and a distinctive brand name that is known worldwide and associated with quality phone hardware.
But from the investors point of view, it all seems to come down to whether the Microsoft Windows ecosystem for mobile devices takes off as an alternative to Apple's iOS and Google's (NASDAQ:GOOG) Android. Betting against the might of Microsoft is a risky proposition, but there is no guarantee of success either.
Windows 8 is expected to launch in late 2012 and will include mobile touch screen versions for phones and tablet computers. Nokia is expected to release a Windows 8 tablet computer as well as a range of phones in time for the winter holiday season of 2012.
If Nokia can ride this wave well enough to make up for the losses in the declining parts of the business, then it might see the company return to a healthy profit, though it is hard to see the company returning to its former spot as #1 cell phone maker.
My own perspective is that the huge profits that have been made by Apple and Samsung so far in the short career of the smartphone (or hand-held computer as we should probably call it) may only be the start of mobile computing. We are perhaps in the same position as the automobile industry in 1908, when Henry Ford introduced the Model T. At that time it would have been difficult to anticipate the scale of the automobile industry in the years to come. The Interstate road system was only started in 1956, 48 years after the Model T. The information superhighway of today will probably look very primitive from the perspective of a few years down the road, so there is probably room for a third operating system for mobile devices.
Like the introduction of New Coke, the study of Elop's Burning Platform memo and the ecosystem strategy will probably become a business school case study of the future. Was this a classic case of the Osborne Effect, when a company announces future products with the unexpected effect that this guts sales of current products, or was Elop's hand forced by the release of the Burning Platform memo? Was it better to be honest and announce the Microsoft partnership early, or to shock the world when the announcement came later?
Either this was a classic stroke of business genius, or one of the worst blunders in business history. Or, alternatively, perhaps it was just a case of making the best of an impossible situation. At this point in time, all three theories have some support and we will just have to wait to see how business history reveals itself.
It seems likely that, regardless of the success of Elop's strategy, for a few months it will be possible to buy NOK very cheaply relative to the book value of the company, currently shown by Finviz as $4.20 per share. The stock is currently trading around $3.67 and the ex-dividend date for the 25 cents 2011 annual dividend is in the first week of May. The stock may go lower when it goes ex-dividend.
The January 2014 $3.50 calls are currently selling for $1.09, and the bid for the January 2014 $5.5 calls is 50 cents, so you would only pay 59 cents per share for the bull call spread for a shot at $2 by January 2014, breaking even at $4.09. Worst case you would lose 59 cents per share, but it could be a big winner.
Disclosure: I am long NOK, MSFT.
Disclaimer: I am not an investment professional and the contents of this article should be taken as purely intended for discussion and not as an investment recommendation.