The five companies covered in this article are S&P 500 large-cap energy stocks with an average upside of approximately 30% based on the discount between their current share prices to mean consensus analysts' estimates. Furthermore, these stocks are trading at bargain basement prices based on the fundamental indicator known as the PEG ratio (Price/Earning/Growth). The PEG ratio is a widely accepted indicator of a stock's prospective value. It is favored by many analysts over the price to earnings ratio for the reason that it also accounts for growth. Similar to the price to earnings ratio, a lower PEG means that the stock is more undervalued. Many investors use one as the cut-off point for PEG ratios. A PEG of 1 or less is believed to be a promising indication that significant value exists.
As Warren Buffett would say, "Price is what you pay, value is what you get." There is one caveat regarding the use of the PEG ratio though, and it's a big one: You need to perform additional due diligence and determine if the projected growth of the company is from healthy growth sources such as organic growth versus growth by acquisition or stocks buy backs, which are not necessarily bad, but may be unsustainable.
This screen is a value investing screen. Value investing is an investment paradigm based on the investment philosophies on of Ben Graham and David Dodd. Graham's most famous student is Warren Buffett. Value investing comprises purchasing securities whose shares seem under-priced fundamentally. Value securities predominately are stocks in public companies that have low price-to-book ratios.
Value investing has proven to be a successful investment strategy. Studies have consistently found that value stocks outperform growth stocks and the market as a whole. The question is ... are these value trades or traps? Is the deep discount justified or does the market have it wrong and an opportunity exists? With the recent run up in the market, I believe investors may take profits on the winners and rotate into these value plays.
Now, simply screening for top S&P 500 energy stocks trading with PEG ratios of less than one and significantly below consensus estimates is only the first step to finding alpha. In the following sections, we will take a closer look at these stocks to determine if the discounts are justified. I will perform a brief review of the fundamental and technical state of each company. Additionally, we will discern if any upside potential exists based on sector, industry or company specific catalyst. The following table depicts summary statistics and Monday's performance for the stocks.
(Click to enlarge)

EOG Resources, Inc. (NYSE:EOG)
(Click to enlarge)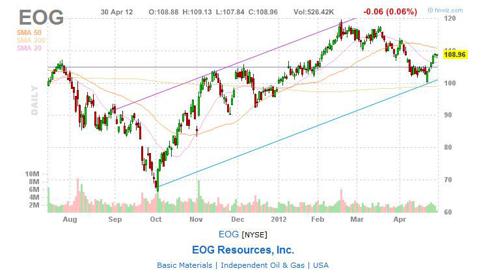 Being a former oil and gas man from San Antonio Texas, I know EOG very well. The company held an approximate 572,000 net acreage position in the oil window of the Eagle Ford Shale Play near San Antonio as of December 31, 2011. The thing I like about EOG is the extremely conservative management. Now, this is completely subjective and only my opinion, but I would say they are the exact opposite of a company like Chesapeake Energy (NYSE:CHK). They are a solid conservative oil company you can count on. Additionally, they are all about liquids rather than natural gas. EOG had a total estimated net proved reserves at the end of 2011 of 2,054 million barrels of oil equivalent (MMBoe), of which 517 million barrels (MMBbl) were crude oil and condensate reserves, and 228 MMBbl were natural gas liquids reserves; and 7,851 billion cubic feet were natural gas reserves. When you are drilling for oil you inevitably capture some natural gas in the process.
EOG has many positive fundamentals. The company has a PEG ratio of .67. EOG has a forward P/E ratio of 16.25 and an EPS growth rate of 28.79% for next year. EOG has a price to book ratio of 2.32. The company has a profit margin of 10.78%. EOG has a quarterly earnings growth rate of 124%, a quarterly revenue growth rate of 53% and a 5 year average cash flow of $9.71. Net income nearly doubled from $547 million in 2009 to $1.09 billion in 2011. The stock is a well-defined uptrend. EOG recently bounced off its 200 day SMA and broke out 10% to the upside from $100 to $109. The mean consensus price target of 25 analysts is $127.9 which provides 17.9% upside potential. The stock is a buy at this level.
Halliburton Company (NYSE:HAL)
(Click to enlarge)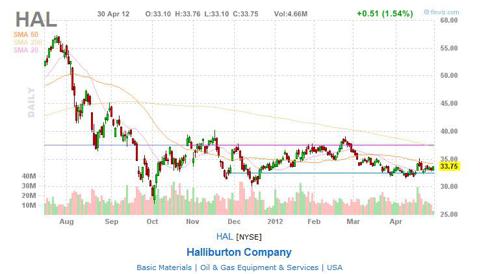 Halliburton was up 2% yesterday while the market was trading down. HAL is one of the oldest energy companies in the world. Halliburton was founded in 1919 and is based in Houston, Texas. The bottom line is Halliburton knows what they are doing. They are experts in what they do and energy companies call on Halliburton often because they know the job will get done correctly. HAL operates in two segments, Completion and Production, and Drilling and Evaluation. HAL is a top notch company.
HAL has many positive fundamentals. The company has a PEG ratio of 0.39. HAL has a forward P/E ratio of 8.37 and an EPS growth rate of 25.15% for next five years. HAL has a price to book ratio of 2.22. The company has a profit margin of 11.87%. HAL has a quarterly earnings growth rate of 23% and a quarterly sales growth rate of 30.03%. The stock is trading down 40% from its 52 week high. The mean consensus price target of 25 analysts is $47.28 which provides 40% upside potential. The stock is a buy at this level.
This is a tremendous buying opportunity. Last year I bought the stock after the BP (NYSE:BP) oil spill for $30 and watch the share run up to $55. I see no reason this won't happen again once the global economy picks up steam. Moreover, regardless of the price of oil, oil companies have to drill lease hold wells. Halliburton may be trading lower due to the shift from dry gas to liquid wells, but this is only a transitory event.
Marathon Petroleum Corporation (NYSE:MPC)
(Click to enlarge)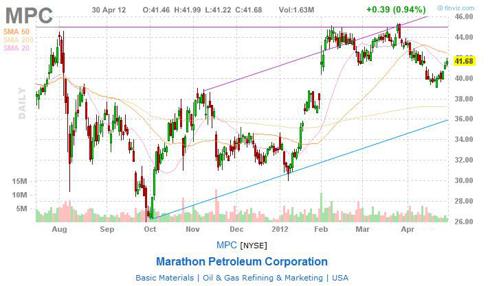 Marathon is not a Texas oil company; nevertheless they are one of the best. Marathon Petroleum Corporation is headquartered in Findlay, Ohio. Marathon Petroleum Corporation operates independently of Marathon Oil Corporation as of July 1, 2011. The company operates six refineries in the Gulf Coast and Midwest regions of the United States, which refine crude oil. It also purchases and distributes ethanol and refined products for resale. Sunoco Inc.'s big rally on a $5.3 billion buyout deal is telling of the vast level of value in refining stocks.
MPC has many positive fundamentals. The company has a PEG ratio of 0.19. MPC has a forward P/E ratio of 6.71 and an EPS growth rate of 32.75% for the next f iveyears. MPC has a price to book ratio of 1.55. The company has a ROE of 26.92%. MPC has a dividend yield of 2.42%. The stock is in a well-defined uptrend and up over 3% for the week. The stock is 11% off its 52 week high. The mean consensus price target of 11 analysts is $50 which provides 20% upside potential. The stock is a buy at this level. Dahlman Rose just initiated coverage on Marathon Petroleum with a constructive outlook, as "the North American upstream renaissance continues to provide beneficial effects, setting up a potential long-term advantage."
SandRidge Energy, Inc. (NYSE:SD)
(Click to enlarge)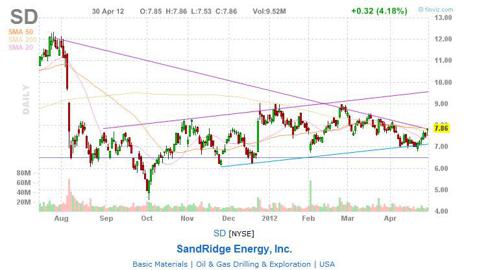 I have been pounding the table on SandRidge for quite some time. The stock is up over 5% based on an upgrade from JPMorgan to Overweight from Neutral with a new $13 target price, up from $9.50. Calling SD "one of the cheapest stocks in our coverage," the firm sees catalysts including "successfully bridging the funding gap, spending within or close to its guidance, and hitting production targets." All I have to say is it is about time. If you are interested in SandRidge you have to read an SA in-depth interview with CEO Tom Ward.
SD has many positive fundamentals. The company has a PEG ratio of 0.17. HAL has a forward P/E ratio of 20.38 and an EPS growth rate of 85% for next year. SD has a price to book ratio of 1.71. Analysts expect earnings to grow exponentially over the next two years. In the interview with SA Ward stated he expects to triple the stock price in three years. The stock is in a slight uptrend and recently bounced off the bottom of the trading range channel. The stock is selling for less than seven times cash flow. The stock is 38% off its 52 week high. The mean consensus price target of 20 analysts is $10.45 which provides over 30% upside potential. This one is a fast mover. I would suggest getting in on this one now.
Valero Energy Corporation (NYSE:VLO)
(Click to enlarge)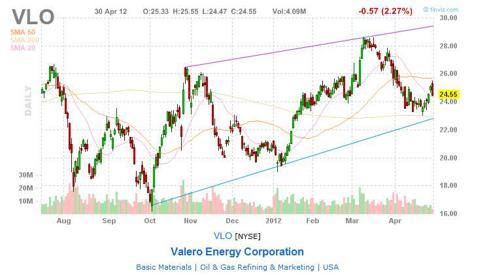 Everyone else can write articles about what a great company and value Valero is, but it is my hometown stock. I live in San Antonio, Texas, the home to Valero. I can't help but root for my hometown company. I just filled up my truck at the local Valero Station on my way to watch the Spurs win their first game on the road to the 2012 NBA crown. Valero has several positive catalysts for future growth and has performed very well since the start of the year. I rode the stock from $16 to $26 and I'm looking to get back into the stock once the controversy over the Keystone Pipeline is resolved. Once the pipeline controversy gets settled and the sour crude from Canada can reach the Gulf Coast, Valero will benefit greatly.
Valero's CEO Bill Klesse recently stated,
There will be no light sweet crude imports into the U.S. Gulf Coast by 2015. I believe increasing U.S. onshore shale oil output likely will displace light sweet crude imports to the U.S. Gulf Coast by 2015. The increased sweet crude going to Gulf Coast refineries also is expected to narrow heavy crude differentials to the point that Valero aims to shelve plans to add a coker unit to its 292,000 barrel-per-day refinery in Port Arthur, Texas, because it won't be economical. A big factor in the equation is uncertainty as to when TransCanada's proposed $7 billion Keystone XL pipeline can move forward to transport Canadian heavy crude from Alberta to U.S. Gulf Coast refineries with coker capability to process it.
A new proposal was submitted recently. I suggest sitting this one out until some positive movement is made regarding the pipeline. Avoid this stock for now. There are some big changes coming in the way crude oil will be distributed and refined in America. This issue is likely to be used as a bargaining chip by the politicians, so I do not see a quick resolution coming anytime soon.
Conclusion
These oil and gas stocks are presenting great value propositions currently. Nevertheless, regarding Valero I would hold off until a decision is made regarding the Keystone Pipeline. This is a change in my position on Valero. I had to shake off the "hometown" favoritism and face the facts. The pipeline is key to Valero's prospects for growth going forward in my view.
Use this information as a starting point for your own due diligence and research methods before determining whether or not to buy or sell a security. If you choose to start a position in any stock, I suggest layering in a quarter at a time on a weekly basis to reduce risk and setting a 5% trailing stop loss order to minimize losses.
Disclosure: I am long SD.